Southeast Asia's internet economy has reached US$100 billion for the first time and is expected to triple by 2025.
This year's edition of the e-Conomy Southeast Asia report released by Internet giants Google, Singaporean sovereign wealth fund Temasek and global consultancy firm Bain & Company last week showed how Southeast Asia's internet economy has more than tripled in size over the last four years amidst a fundamental shift in the way people shop, eat and get around. 
Southeast Asia currently has 360 million internet users, an increase of 100 million from four years ago – paving the way for a 39 percent increase in the value of Southeast Asia's internet economy, from US$72 billion in 2018 to US$100 billion in 2019.
Another key finding would be that the region's internet economy will be worth US$300 billion by 2025. Crucially, the 2016 and 2017 reports foresaw a US$200 billion regional Internet economy by 2025 while last year's estimate was US$240 billiion thanks to "drastic market acceleration".
The fourth in a series of annual reports, the e-Conomy Southeast Asia study is a multi-year research program aimed at providing insights into the region's internet economy and covers the six largest markets in ASEAN; Indonesia, Malaysia, the Philippines, Singapore, Thailand and Vietnam. 
This year's edition covers five key sectors of the internet economy: online travel; online media; ride hailing; e-commerce; and a first in the series – digital financial services.
E-commerce, Ride Hailing
Both e-commerce and ride hailing, which includes food delivery services, are experiencing a burst of demand as a result of both, rapid adoption and fundamental shifts in consumer behaviour according to the report. 
Both have become an integral part of daily life for millions of Southeast Asians – especially those living in big cities – as they offer convenience, value and access to services and products that were previously difficult to obtain.
E-commerce is the biggest and fastest-growing sector in the report, and with more than 150 million Southeast Asians now buying what they need online, the sector is valued at US$38 billion today – seven times more than the US$5.5 billion it was valued at in 2015.  
While in the past, e-commerce consumers would visit such marketplaces hoping to get discounts on big-ticket items such as electronics; today's shoppers are turning to the internet for more frequent purchases of lower-cost items including groceries, personal care and apparel.
Ride hailing has also exploded over the past few years, with 40 million people ordering transport, food and other services on demand compared to just eight million people in 2015. 
Now worth US$13 billion, the ride hailing sector is especially popular in cities where private vehicle ownership is costly and traffic jams are the norm. Similarly, an increasingly time-conscious middle-class segment is relying on food delivery services for meals they would otherwise have to cook at home or buy from vendors.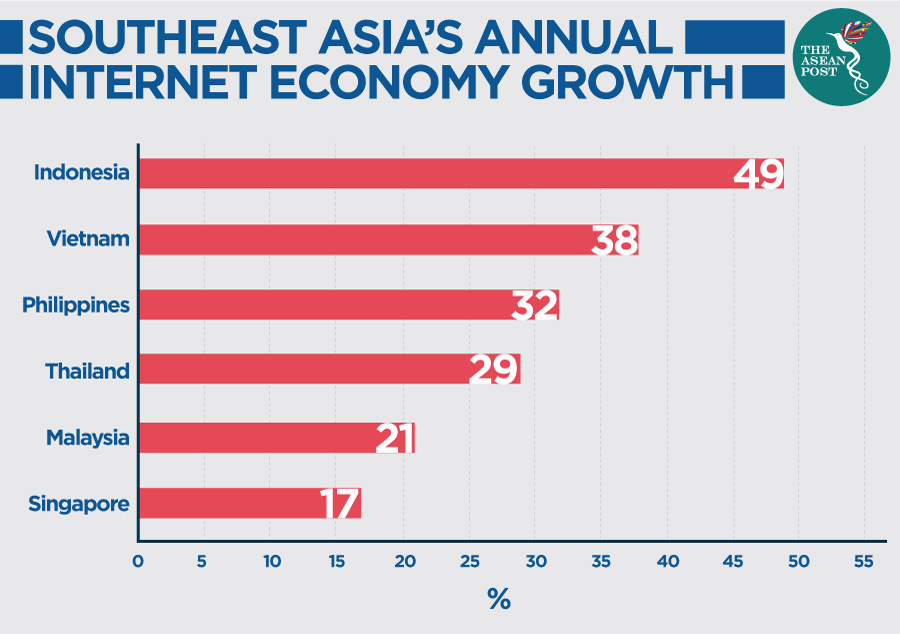 Growth
While the internet economies in Malaysia, the Philippines, Singapore, and Thailand are growing between 20 and 30 percent annually, in Indonesia and Vietnam, growth rates average out at more than 40 percent a year.
Estimated at US$40 billion in 2019, Indonesia's internet economy has more than quadrupled in size since 2015 at an average growth rate of 49 percent a year. As the largest and fastest growing internet economy in the region, Indonesia is well on track to cross the US$130 billion mark by 2025.
At 4.2 percent, Vietnam's internet economy was the largest relative to gross domestic product (GDP) in Southeast Asia last year. Vietnam's internet economy recorded an average growth rate of 38 percent a year since 2015 and e-commerce has been a key driver behind the impressive numbers – with home-grown marketplaces like Sendo and Tiki competing with regional players like Lazada and Shopee.
"Southeast Asia has an incredibly exciting digital economy as consumers are turning to digital to complete millions of tasks daily, resulting in unprecedented growth," said Stephanie Davis, Managing Director, Google Southeast Asia.
"However, there's more to be done to realise digital's incredible potential (such as) providing support for small businesses to grow, teaching Southeast Asians digital skills, expanding internet access to more people or advocating for smart policy and regulation," Davis added.
While the region has successfully overcome roadblocks in the initial stages of its internet economy journey such as affordable internet access, trust in digital services and usage of digital payments,certain stumbling blocks such as lack of talent still remain.
With increased consumer trust, steady investor confidence and critical enablers like internet access, logistics and payments being addressed, the different pieces of the internet economy puzzle are falling into place in Southeast Asia. 
Related Articles:
Region's digital economy exceeds expectations
Digital payments are the future of transactions in Southeast Asia