Some of the most rapidly ageing countries in the world can be found in Southeast Asia. The population of Singapore over the age of 65 is expected to reach 26.6 percent in 2035, whereas the ageing population in Thailand is expected to reach 22.8 percent. The International Monetary Fund (IMF) forecasts Thailand's old-age dependency ratio to rise to more than 50 percent by 2050. 
In Vietnam, government statistics shows the Communist state has 11.3 million old people, with 1.8 million over the age of 80. According to the same study, that proportion will rise to about 20 percent by 2038. 
An ageing population shifts the narrative of ASEAN's growth prospects because it means there will be a decline in working-age populations. Countries affected by a growing ageing population are building policies to address both, the growth of their economies and the rights of the elderly. Living arrangements and family support for older people have become increasingly important. 
In almost all Southeast Asian nations, a majority of the elderly – ranging from 60 to 80 percent of older adults – live with their children. Family is a critical social institution in providing support to its members, and children are expected to provide support to ageing parents.
Thais are ageing  
Just last year, it was reported that Thailand has 8.6 million people over the age of 65 and will become an aged society by 2021. Over the next 15 years, more elderly Thai people will need healthcare support, raising the annual healthcare spending to THB1.4 trillion (US$44.8 billion) to meet their needs. 
The number of intergenerational families – where two or more generations live under the same roof – is rising globally amid ageing demographics that call for more caring relationships. 
In 2019, the 'Intergeneration Family Living Forum,' by Magnolia Quality Development Corporation Limited (MQDC), a property developer in Thailand, gave valuable insights into the attitudes of Thais with regards to intergenerational family living. At the forum, Pimonpan Isarabhakdi, Ph.D., of Mahidol University, shared the results of a survey which found that 70.8 percent of Thais want to live in intergenerational households.
The survey polled people aged from 15 to 65 years, and revealed that 80.7 percent of Thais over the age of 40 prefer intergeneration family living. 92 percent of respondents strongly favour a 4-generation family living arrangement. It is normal to have 3-generations living in a single Asian household, because the culture is grounded in a structure that supports familial development and well-being.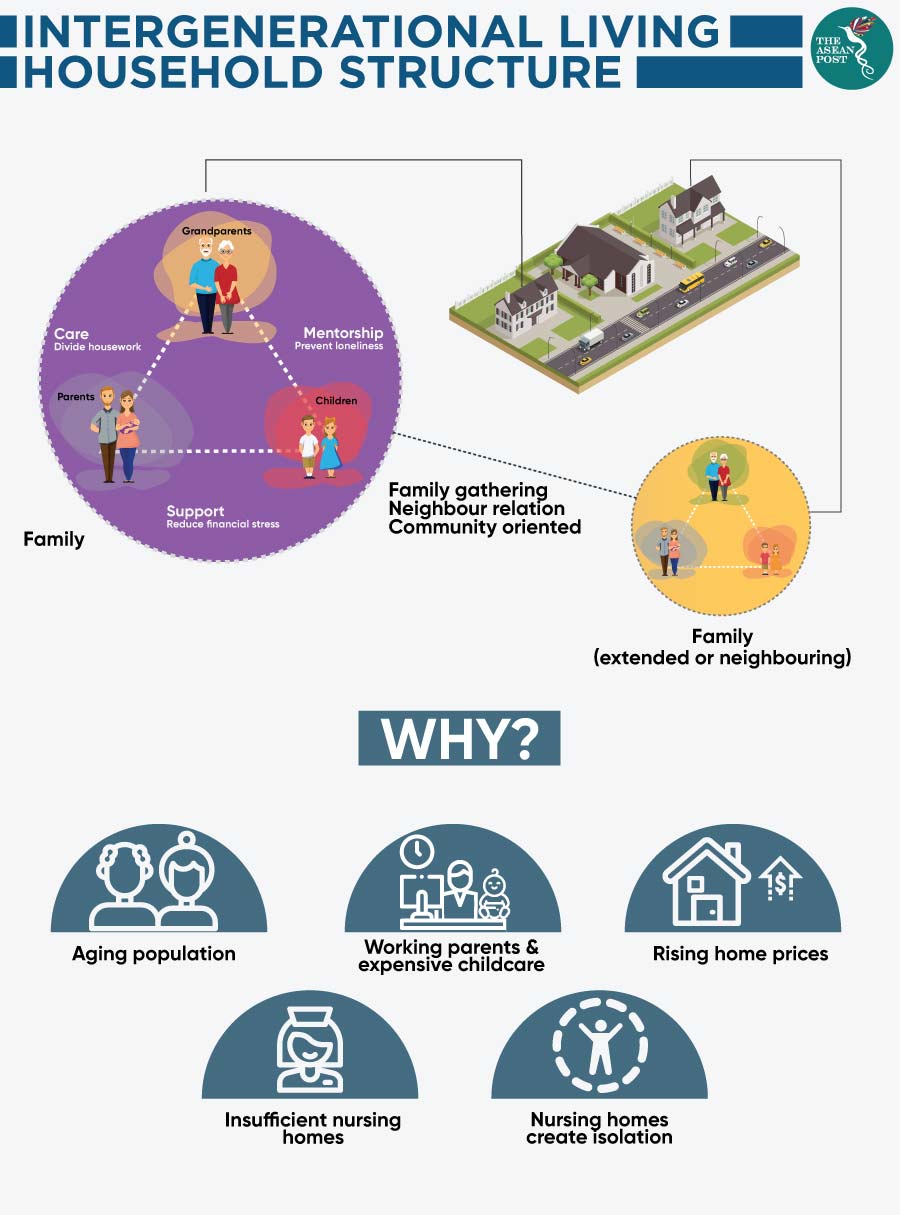 Intergenerational living significantly improves the emotional health of elders, and a majority of older people in the region live with or near their children and have frequent interaction with them. In Vietnam, living with married sons is deemed more beneficial to parents' wellbeing, but in Thailand there is a slight preference among the elderly to live with their daughters.
A study conducted by Hayon Kim on 'Intergenerational Living in Urban Environment', revealed that intergeneration living benefits all, including fostering strong relationships across generations, social connection for the elderly and sharing of living expenses and housework. Intergenerational support matters for the psychological health of elderly parents, boosting wellbeing of family members towards happy and secure relationships. 
Living environment
Nursing homes are not enough to meet the ever-growing number of aged people. The services provided at these homes are also inadequate, affecting the quality of life and creating isolation among residents. Property developers are also taking into account the issue of an ageing society when creating housing for urban dwellers. 
Vipan Prachuabmoh, Ph.D., Dean of College of Population Studies at Chulalongkorn University said that "Thailand should have better options for elderly nursing care." He added that building relationships within families is important rather than relying on nursing homes or other institutions. 
Unfortunately, the typology of mass housing in cities has not responded to the shifting needs of intergeneration households. Uniform spaces limit extended families from taking ownership of the spaces they inhabit. Living spaces must be adaptable to evolving family dynamics and needs. Shared responsibility provides support for all types of multigenerational connections by sharing activities and daily routines between the living units. 
This trend could redefine the way people live together, encouraging more interaction between residents and a sense of belonging within the community rather than living alone or exclusively among other older people. 
It is important that built environments support the living arrangement of growing families. Property developers must focus on the intergeneration family model if they really wish to be part of the solution. 
Related articles:
Making the most of Asia's aging populations