To consolidate its growing economy, Vietnam is looking to launch Special Economic Zones (SEZs) to boost growth and to attract foreign investments to the country.
The three SEZs are slated for development in Van Don, North Van Phong and Phu Quoc. According to Vietnam Investment Review in January 2018, draft laws for the SEZs are being discussed and are nearing completion.
Vietnam's economic growth
Vietnam's economy in 2017 was deemed to be one of the best performing in the region. Its economy saw a 6.8 percent increase in gross domestic product (GDP) – higher than the government's initial target of 6.7 percent - making it one of the fastest growing economies in Southeast Asia.
Furthermore, Vietnam predicted in August 2017 that foreign direct investment (FDI) into the country could reach up to US$28 billion by the end of 2017; an all-time high for its economy.
Despite good economic performance, Vietnam has much greater ambitions. Speaking at the Vietnam Economic Forum held by the Communist Party's Commission for Economic Affairs in January 2018, Vietnamese prime minister, Nguyen Xuan Phuc declared, "…we must try to transform Vietnam from a beautiful girl into a new economic tiger in Asia."
Nguyen Xuan Phuc's ambitions to establish Vietnam as not just Southeast Asia's but Asia's economic tiger might explain Vietnam's eagerness to launch these new SEZs.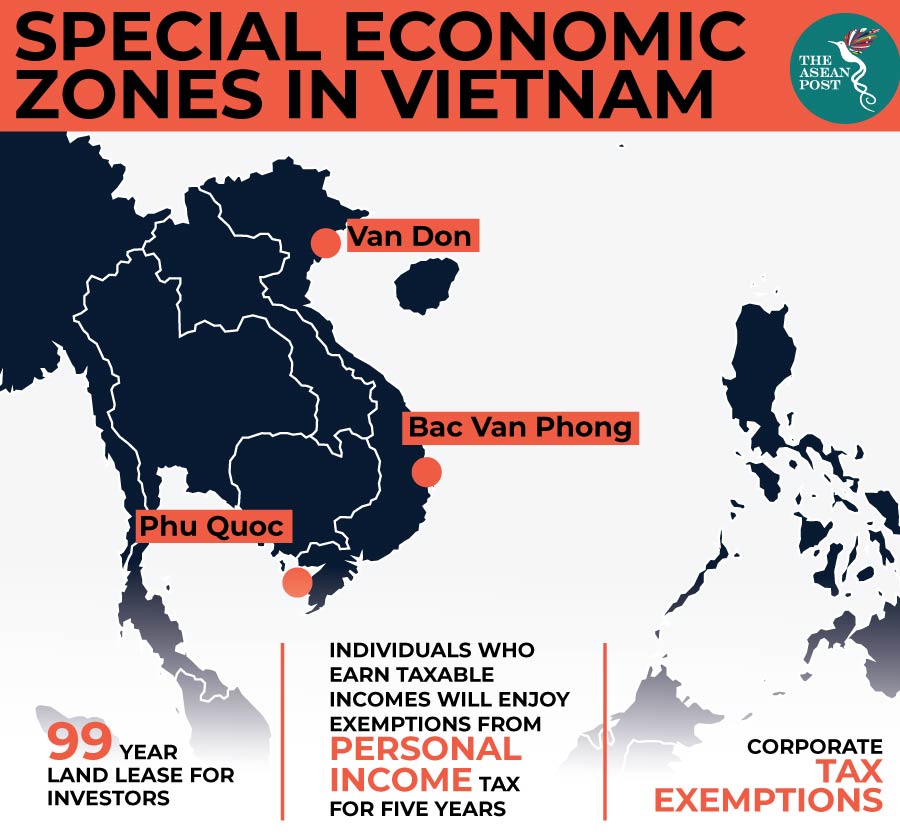 Van Don, Phu Quoc and North Van Phong
The three areas earmarked for the development of the new SEZs are Van Don, North Van Phong and Phu Quoc. Previously developed as economic zones by the government, these areas will receive extra investment to elevate their status to SEZs.
For example, the Van Don island district located in Quan Ninh province is well known for it's collection of small islands and beautiful beaches. Van Don was first made into an economic zone in 2007 to establish itself as a hub for eco-tourism and international trade.
To upgrade the district into a SEZ, various projects have been planned. It was reported by local media in 2017 that over US$2.5 billion had been spent on infrastructure projects there. Among the infrastructure projects in the pipeline is an international airport which would connect Van Don with other Asian cities such as Shenzen, Shanghai and Hong Kong. This is in line with the government's plans to establish Van Don as a tourist hub first and foremost. Aside from that, the aviation and trade sectors in Van Don are also scheduled for development by the government.
Similar to Van Don, the government's plan for the Phu Quoc Special Economic Zone is to also bank on its beautiful beaches to attract tourism and investments. Huynh Quang Hung, vice chairman of Phu Quoc People's Committee said in 2017 that the number of tourists coming to Phu Quoc in 2016 increased by 63% compared to 2015 figures.
At the moment there are 265 projects planned for the island, covering a total area of 10,500 hectares. Only 197 projects have been approved for now, but these projects have already secured over US$9.5 billion dollars in investments.
Meanwhile, the main focus of the Special Economic Zone in North Van Phong will be the port and the businesses surrounding it. The government is looking to develop an industrial center closely attached to the nearby seaport to create investment opportunities for various sectors ranging from logistics and shipbuilding to sea freight and other related businesses.
Chinese presence
Despite the economic benefits the SEZ could bring, many observers are wary of the presence of Chinese companies in the country. The draft law which would allow foreign investors to lease land in the SEZs for up to 99 years have sparked fears that Chinese companies would dominate these zones. Many citizens have criticised the government for "selling out" Vietnamese land to foreigners. Last week, the government was faced with demonstrations against the planned concessions for foreign companies in the SEZs. Various media reported that the protest was attended by several thousand people and over 100 protesters were arrested. There were also reports that some protesters and policemen were injured due to clashes.
The government has tried to allay locals' fears by delaying the passage of the draft bill and even mentioning that it could be adjusted. The protest comes at a time when tensions between Vietnam and China are high as the dispute in the South China Sea between the two countries remain unresolved.
The SEZs may be a boon for Vietnam's economy but no business can run smoothly if the citizens are disgruntled. Its decision to delay the bill and reconsider the 99-year lease shows that the government there is listening – a rare feat for the Vietnamese government – but necessary if it is to placate the fears of its people and ensure the SEZs go on as planned without any hitches.