Ever since the advent of the internet and the proliferation of smartphones, traditional media such as television and radio no longer have the same kind of mainstream influence as they used to. With growing high-speed internet penetration all over the world, streaming platforms are now raking in the big bucks. According to the We Be Social and Hootsuite 2018 digital report, consumers worldwide spent US$11.2 billion on digital music streaming in 2017.
The music streaming industry in the region is rapidly growing. Chinese and Taiwanese companies such as Joox and KKBox have made inroads into the region, becoming two of the more popular streaming platforms there. Aside from that, local startups are beginning to launch their own streaming services, only with more localised content to promote their respective music industries. Not to mention that big streaming conglomerates such as Spotify, Tidal and Apple Music are also looking to penetrate markets in the region.
Diversity is a good thing
The diversity of music streaming apps available for the region is indirectly related to the higher Internet penetration in Southeast Asia. In the We Be Social and Hootsuite digital report, 81 percent of Southeast Asia's population uses a broadband mobile connection. Furthermore, the middle-class segment of the population in the region is growing. The increase in disposable income allows people to pay more for entertainment which has also led to the growth of streaming services.
The growth in internet penetration has also consolidated the region's digital economy. In a report released in 2017 by Google in collaboration with Singapore's Temasek, it is believed that Southeast Asia's digital economy is forecasted to grow more than six-fold, becoming a staggering US$200 billion economy by 2025.
Meanwhile, revenue in the Asian music streaming industry in 2017 was US$1.2 billion. In a report from McKinsey & Company in 2016, the digital music streaming business in Asia at the time was growing 20 times faster than the global rate. The report also indicated that one of the main engines of growth was the youth market, particularly listeners under 35 years of age.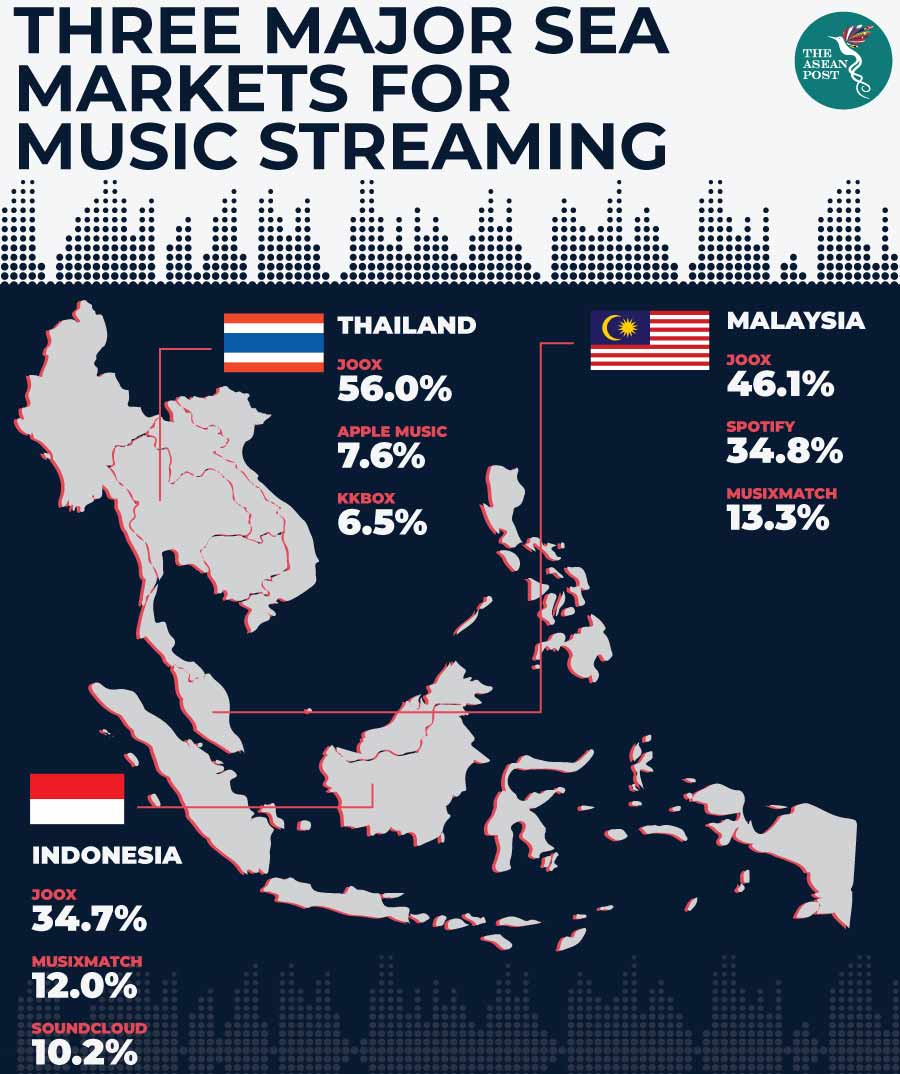 It's not all Spotify and Apple Music
While Spotify and Apple Music might dominate the music streaming market in the west, Tencent's JOOX is dominating the market in this part of the world. JOOX made inroads into the region early, making a presence for themselves in Hong Kong, Thailand, Malaysia, Singapore and Indonesia. According to the McKinsey report, JOOX accounts for more than 50 percent of all music streaming app downloads in Asian markets with over 50 million downloads.
Tencent are also looking to further consolidate their dominance in the music streaming industry with their recent strategic partnership with Spotify. Spotify is hoping that Tencent could help them make inroads into the China market.
Another big music streaming platform in Southeast Asia is Taiwan-based KKBox. Established in 2004, KKBox is a big player in countries like Malaysia, Singapore and Thailand. KKBox mainly caters to Mandarin-speaking users by collaborating with Mandopop and Taiwanese artistes.
Global streaming giant Spotify is also relatively big in the region. Unlike their rivals Apple Music that is available worldwide, Spotify is available in just eight countries in Asia, with five in Southeast Asia. At the moment, Spotify is only available in Singapore, Malaysia, Thailand, Indonesia and the Philippines. However, there are talks that Spotify is looking to expand to Vietnam.
One of the main reasons JOOX and KKBox are so successful in the region is their localised content. JOOX curates its selections based on its users and their locations, while KKBox works with artistes that are popular in the region. Spotify is trying to catch up by offering playlists that include local music and by also hosting events that include local talent.
Aside from the main players, there are also local startups in the region looking to offer a different approach compared to the bigger companies. For example, Thai startup Fungjai was established to promote less commercially viable artistes, such as indie and underground bands. In the future, we can expect more of this. As bands and artistes in the region rarely ever expand outside their borders, regional and local music streaming platforms will be essential in helping them gain a larger audience. Part of this is largely because the algorithms implemented by streaming giants such as Spotify and Apple Music target mainstream and international artists, dismissing local hidden gems that many listeners would like to discover.
The growth of music streaming platforms in the region could be a boon for the local music industry too, as it allows up and coming bands and musicians to connect to a much wider audience, transcending national borders.