Rio Tuba, located in the Municipality of Bataraza on the island of Palawan in the Philippines is a predominantly mountainous region with roads riddled with potholes making it almost inaccessible especially during bad weather conditions.
This makes it difficult for households in the area to be connected to the national grid. Instead, they are powered by isolated grids which are standalone grids involved in small scale power generation of between 10 kilowatt (kW) and 10 megawatt (MW) and are usually deployed to power small rural villages.
Such forms of power generation and distribution are becoming increasingly popular in the Southeast Asian region as governments here have been attempting to improve electrification rates. The electricity generated is increasingly sourced from renewable sources like wind, small hydro and solar energy. A key component of the isolated grid is the electricity storage device which would ensure a reliable supply of electricity since such renewable sources can occasionally be irregular due to the unpredictability of nature.
This has made the region a lucrative market for energy storage devices. According to a World Bank report, energy storage deployments in emerging markets around the world is expected to grow by over 40 percent annually in the coming decade. This would add another 80 gigawatts (GW) of new storage capacity to the pre-existing two GW readily available today. Across the developing economies of the Asia Pacific region, there is currently 1,784.5 MW of energy storage system capacity in the pipeline.
Most of this is derived from pumped hydro storage but battery storage is starting to become a more popular choice. 70 percent of the 141.5 MW of lithium ion (li-ion) storage projects in the pipeline are in the Philippines (100 MW) with the remainder located in China. In 2016, the Philippine subsidiary of global power company, AES Cooperation completed a 10 MW installation in the country, the first grid-scale battery energy storage facility in Southeast Asia and the largest such facility in Asia.
"Battery-based energy storage will play a critical role in tomorrow's grid, helping to improve stability, lower total system costs, and incorporate higher volumes of renewable energy projects," said AES Philippines Managing Director Neeraj Bha.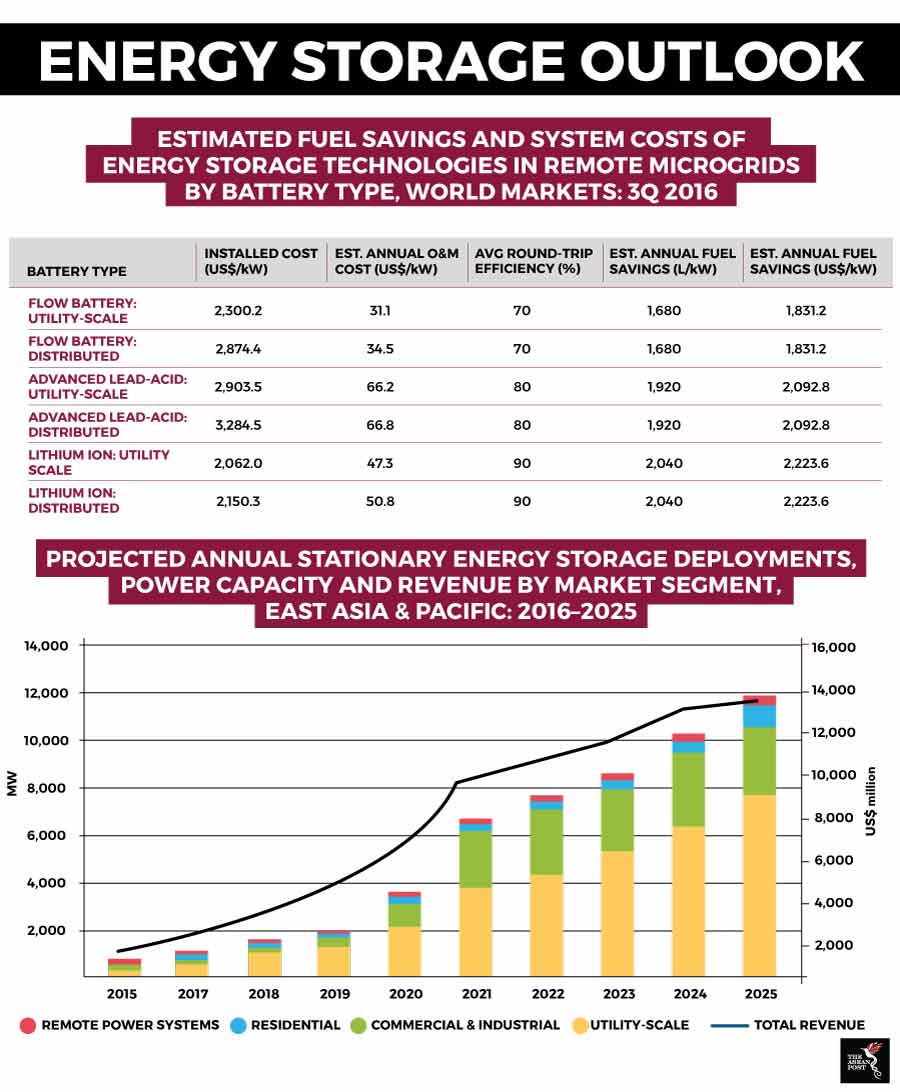 Source: World Bank
Nevertheless, battery storage is still in its nascent stages of development within Southeast Asia. While most governments, grid planners and operators across the region do acknowledge its potential, due to inadequate financial resources and technical capabilities, it is difficult to encourage the development of standalone battery storage systems.
However, Southeast Asian countries still interested to develop such systems can look to China for inspiration.
Chinese initiative
The Asia Pacific market for battery storage is expected to grow thanks to policy initiatives from Beijing. China's target for 10 GW capacity of concentrated solar power by 2020 and its advancements in thermal energy storage are set to change the market for energy storage systems in the coming years.
China has also been successful in its experimentation with isolated and distributed grids for rural and urban areas. State-owned State Grid Corporation of China - the world's largest utility - has already been deploying energy storage systems to provide various services throughout its grid. Moreover, from a policy perspective, China is in the midst of reforming its energy markets so that non-state power providers are able to enter the local market, which would open more opportunities for independent power producers to provide ancillary and capacity services with energy storage systems.
Southeast Asia is expected to become a major market for isolated grids which would only increase demand for energy storage systems. Governments in the region are now racing to tackle issues related to low electrification, underdeveloped power grid infrastructure and lack of financial stimulus to underwrite such projects.
There must be a viable solution in bringing electricity to the thousands of communities living on remote islands and other places with challenging terrain. The urgent matter that needs to be dealt with is power supply. On the one hand, renewable energy derived from wind, solar and hydropower, help with the question of power source. But in sustaining that power and ensuring it can be stored for later use or when the source of energy is undermined, it becomes a different matter altogether.
This article was first published by The ASEAN Post on 29 July 2018 and has been updated to reflect the latest data.
Related articles: