Human rights are rights that are fundamental to all human beings, regardless of race, sex, nationality, ethnicity, language, or religion. However, due to the diverse cultures and varying political structures in Southeast Asia, tackling human rights issues remains a major hurdle for the region. The issues faced by all 10 countries in the region tends to overlap each other, ranging from press freedoms, religious freedoms, blasphemy, extrajudicial killings, right up to the issue of gender identity.
While some Association of Southeast Asian Nations (ASEAN) member countries have made efforts to address the vast range of human rights issues and to protect the rights of vulnerable groups in their communities, there are others still finding it a challenge to move forward.
For example, according to Human Rights Watch (HRW), Indonesia's government tackled a gender identity issue by withdrawing a job notice that barred lesbian, gay, bisexual and transgender (LGBT) applicants from applying for a job.
Despite these positive developments, international non-governmental organisation, Human Rights Watch (HRW) has still criticised the Indonesian government by stating in its 'World Report 2018', that the government has "…consistently failed to translate the president's rhetorical support for human rights into meaningful policy initiatives."
In other countries in the region such as the Philippines, HRW stated that the Philippines has "…plunged into a worse human rights crisis since the dictatorship of Ferdinand Marcos in the 1970s and 1980s" when President Rodrigo Duterte came into power.
Up till today, authorities across the ASEAN region continue to arrest and imprison people under draconian laws to stifle freedom of expression, religion and blasphemy. Religious and gender factions are also still being harassed and threatened by some authorities and religious extremists.
Human rights defenders
In Thailand, the killing of more than 30 human rights defenders and other civil society activists since 2001 remain largely unsolved while the government pledges to develop measures to protect human rights defenders continue to go unfulfilled.
Apart from that, defamation lawsuits are frequently used to react against individuals who report on human rights violations. One example would be the case of Sirikan Charoensiri of Thai Lawyers for Human Rights (TLHR) who was charged with sedition that could result in at least 10 years imprisonment if found guilty.
The same pattern is seen over in Myanmar as well where human rights defenders are under the constant threat of arrest and murder due to the country's corrupt judiciary practices and weak rule of law.
Freedom of religion and blasphemy
The Vietnamese government constantly scrutinises, harasses and conducts crackdowns on religious groups outside government-controlled institutions. Some examples of institutions that face endless surveillance mentioned in the 'World Report 2018' include the unrecognised branches of independent Protestant and Catholic house churches, Khmer Krom Buddhist temples, and the Unified Buddhist Church of Vietnam.
The ethnic Montagnards also face surveillance and mistreatment by security forces which has caused hundreds of them to flee to Cambodia and Thailand for sanctuary. Citing HRW's report, it was stated that according to the United Nations Refugee Agency (UNHCR), Vietnam has pressured the United Nations and refugee resettlement countries to not accept Montagnards.
In Myanmar, a country that is more than 80 percent Buddhist, religious minorities, including Hindus, Christians, and Muslims, continue to face threats and persecution.
In May last year, Myanmar authorities sent a letter to a Christian man in Rangoon, warning him not to continue praying in his home with others without first receiving approval from them. Local officials also charged seven Muslims for holding public prayers under the Ward or Village Tract Administration Law.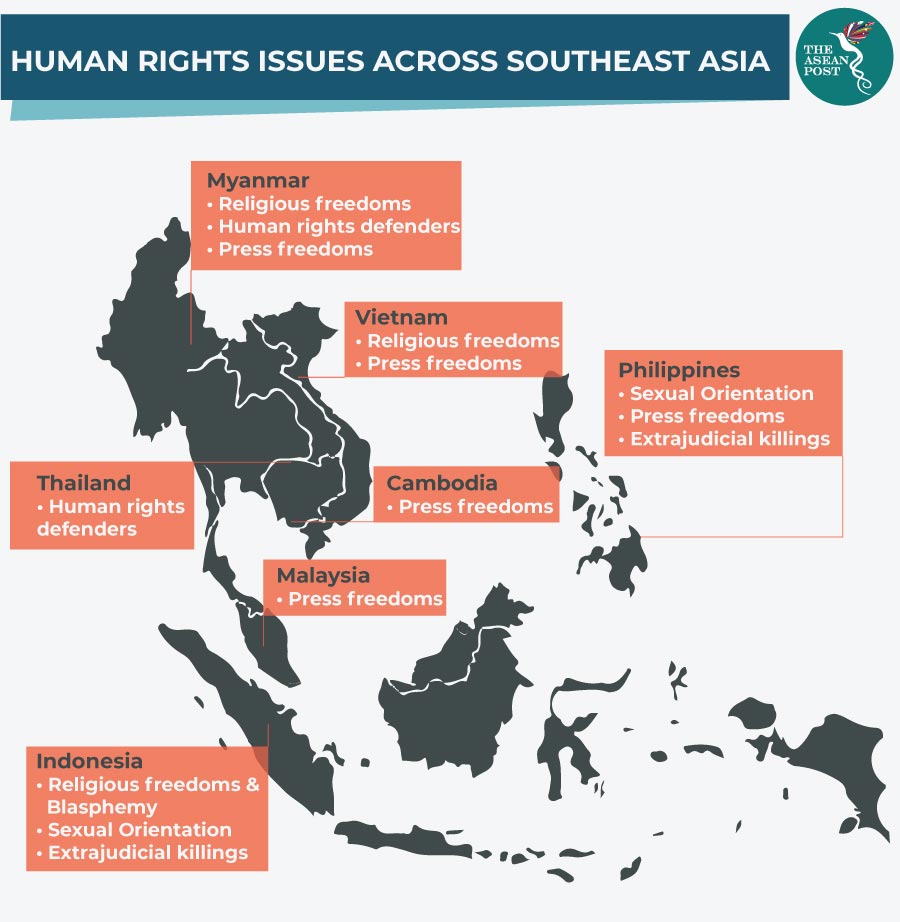 The archipelagic nation of Indonesia as well, continues to suppress the religious freedoms of its people. One infamous incident last year was the arrest and sentencing of former Jakarta governor Basuki "Ahok" Purnama, a Christian, to a two-year prison term for blasphemy against Islam. According to HRW, the Ministry of Religious Affairs has also drafted a "…religious rights bill that would further entrench the blasphemy law as well as government decrees making it difficult for religious minorities to obtain permits to construct houses of worship."
Sexual orientation and gender identity
In late 2016, HRW documented a range of abuses against lesbian, gay, bisexual, and transgender (LGBT) students in Philippines' secondary schools. These abuses included bullying, harassment, and discriminatory policies by teachers and school administrators. It also highlighted the absence of supportive resources that challenges the right to education under international law.
Sexual orientation in Indonesia is a contentious issue. Throughout the past year, the police have arrested and detained a number of individuals as well as conducted unethical restraints towards individuals who were 'suspected' of belonging to the LGBT community.
What does the future hold for human rights in ASEAN?
If human rights issues are not tackled seriously, development in other areas would seem relatively hollow and meaningless to those being persecuted on a daily basis. Efforts to address such issues together as a region must be done immediately, so that the ASEAN community can live in greater harmony, and continue to strive towards a better future.
There is a genuine need for ASEAN governments to step up and take a stand against human rights abuses. Nevertheless, with changing political climates within each nation, the protection of human rights is not so straightforward. Still, human rights should be the responsibility of all members of society; with all parties acting fast when the need arises.
Recommended stories:
ASEAN, making India great again
Animal cruelty rife in tourism industry
India seeks to counterbalance Chinese geopolitical ambitions