To date, the COVID-19 virus has infected over 20 million people worldwide, taking with it some 700,000 lives. The new coronavirus does not discriminate when preying on its next victim. The old, the young, rich, or poor – have all been infected with the disease. Unfortunately, the COVID-19 crisis does not just affect one's physical health. It kills in many ways.
Earlier this month, it was reported that a Malaysian pilot who had been terminated from popular budget airline, AirAsia had committed suicide possibly due to stress from losing his job. The 35-year-old man died from injuries after jumping from the residential unit on the 12th floor of his condominium.
"Police inspection around the area, however, did not find any suspicious elements or foul play," said district police chief, ACP Ismadi Borhan. "The pressure of the problems he was facing is believed to have led to his decision to jump off his condo building," he explained.
Local media reported that his close friends said the pilot, A Sanjiv Daevin, had shown no signs of stress or depression. A senior AirAsia staff said the deceased was in the office not long ago to get a reference letter, and that he seemed "very okay."
Unfortunately, when it comes to mental health such as depression and anxiety, symptoms and signs are not as visible as other health diseases such as the coronavirus.
According to media reports, Malaysian firemen have been busy handling cases of people threatening to take their own lives since the country's partial lockdown – also known locally as the movement control order (MCO) – started five months ago. 
The country's National Fire and Rescue Department Operations Director, Nor Hisham Mohammad told reporters that their busiest month was June with 21 cases across the country. Between March and July this year, the department had attended to more than 80 cases, with 78 people rescued, seven injured and three fatalities, he added.
Nor Hisham Mohammad said that some of the reasons for suicide attempts include depression, bipolar, failed relationships or financial distress.
"The economic impact of the MCO has been hitting the public harder now compared to the first few months as many who had lost their jobs are still unable to find new ones," said James Ho, who runs a local non-governmental organisation (NGO). 
"Businesses are also scaling down and are unable to employ more workers. This causes anxiety among many," he continued.
Suicide attempts or suicide cases amid the pandemic have been reported not only in Malaysia, but across the world.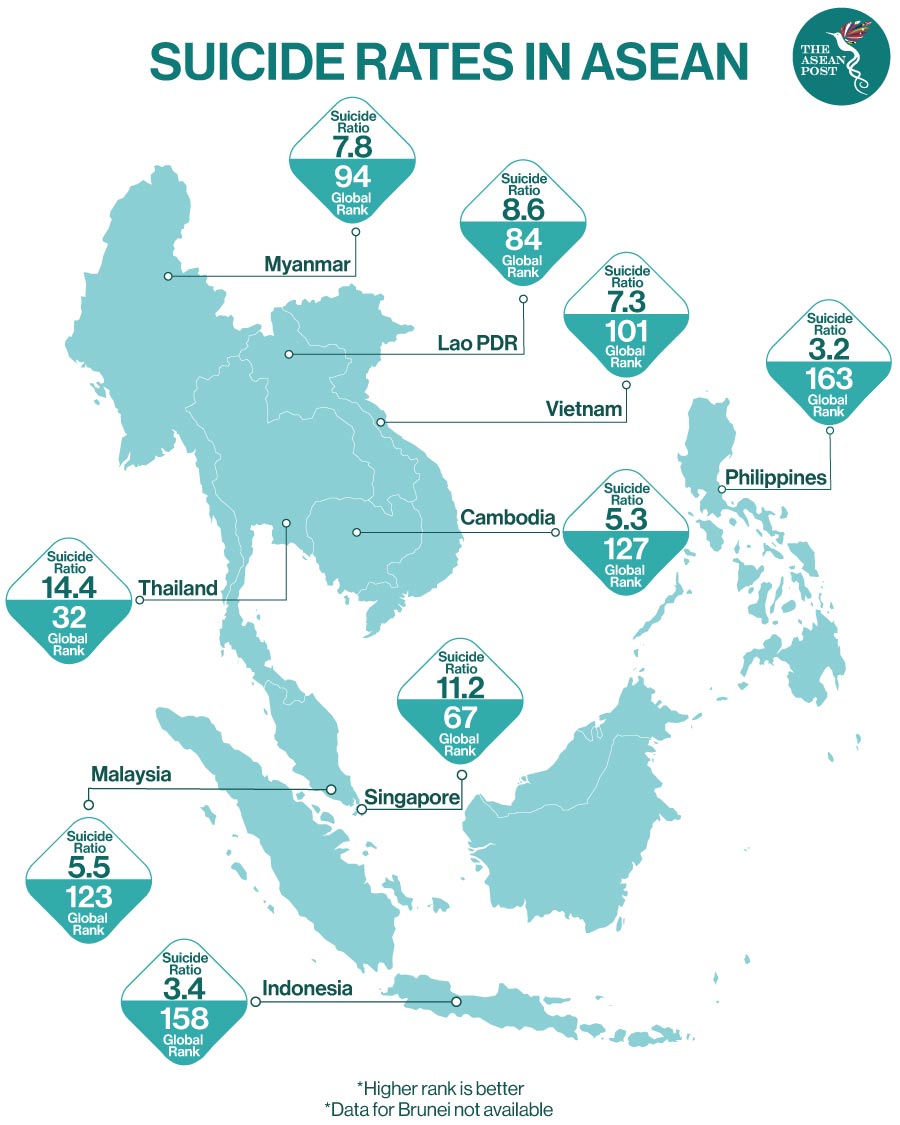 With only 3,351 coronavirus cases, Thailand has been praised for keeping its COVID-19 infections down in recent weeks. Nevertheless, it was reported that many of its citizens have attempted suicide as the pandemic has ravaged livelihoods and left many jobless, and in great debt.  
Local media in Thailand published sad cases amid the crisis, such as the story of Irada, a mother of two from Maha Sarakham province who hanged herself back in April after having problems supporting her children. 
Prior to Irada's death, the bodies of a 41-year-old father and his 5-year-old daughter were discovered floating in the Pa Sak river in Ayutthaya, north of Bangkok. Although the reasons for their deaths are uncertain, many believe that it was due to the stresses of the economic downturn. Residents told local authorities that the father had been unemployed and struggled to earn an income. A witness said he heard the father jump into the water first, and his crying child followed next. 
In the Philippines where over 136,000 cases of COVID-19 have been reported – the highest in ASEAN, the Hopeline hotline, a suicide prevention and crisis intervention helpline, has seen a 200 percent rise in calls in April.
"We're getting calls that we never did before – 70 to 85 percent are high anxiety. We had a 13-year-old who called to ask, 'Do you think my family will get the virus? We are very poor,'" said Jean Goulbourn, the hotline's founder. 
The World Health Organisation (WHO) stated that the pandemic highlights the need to urgently increase investment in services for mental health. The issue of mental health, although taboo in some conservative countries and cultures, has come to light everywhere across the globe in recent months. 
"The impact of the pandemic on people's mental health is already extremely concerning," said Tedros Adhanom Ghebreyesus, director-general of the WHO. "Social isolation, fear of contagion and loss of family members is compounded by distress caused by loss of income and often employment."
Those in need of help can contact local hotline services such as the Befrienders for Malaysians, National Center for Mental Health for Filipinos and, the Samaritans of Singapore for Singaporeans, among others.
Related Articles: