With the current COVID-19 health crisis looming – infecting close to two million people worldwide, governments have imposed drastic measures to contain the virus. It was reported that three billion people are currently under lockdown worldwide in an effort to flatten the curve. Other than that, authorities have urged citizens to practice social distancing and have even released hygiene tips to show people how to protect themselves from the coronavirus. Viral videos showcasing the proper way to wash hands and sanitise have gone viral on social media.
But what about those with limited or no access to clean water and sanitation supplies?
According to the World Health Organisation (WHO), access to safe water, sanitation, and hygienic conditions are essential in protecting one's health during the COVID-19 pandemic. Unfortunately, it was reported that 40 percent of the world's population live in regions where water is becoming increasingly scarce. Moreover, an estimated 1,000 children succumb to preventable water-and-sanitation-related diseases each day. 
According to the United Nations (UN), the problems of water shortage and sanitation scarcity have been around for decades due to bad economics and poor infrastructure. The issue has negatively affected the livelihoods of billions of people, food security and educational opportunities for impoverished families around the world. According to the UN, "… by 2050, at least one in four people is likely to live in a country affected by chronic or recurring shortages of fresh water." 
Experts and organisations are calling on governments to provide water free of cost for the duration of the crisis to those in poverty and affected by the related economic hardships.
"People living in informal settlements, those who are homeless, rural populations, women, children, older persons, people with disabilities, migrants, refugees and all other groups vulnerable to the effects of the pandemic need to have continuous access to sufficient and affordable water," said independent experts appointed by the UN Human Rights Council.
Water Shortage
According to the World Water Development Report 2015 published by the United Nations Economic and Social Commission for Asia and the Pacific (ESCAP), progress has been made towards universal access to water in the Asia Pacific region. Especially in efforts to fulfil the Sustainable Development Goals (Goal six: Clean water and sanitisation) by 2030. 
Nevertheless, many are still living without adequate water supply in the region. It was reported that more than 100 million people live without access to safe water in Southeast Asia.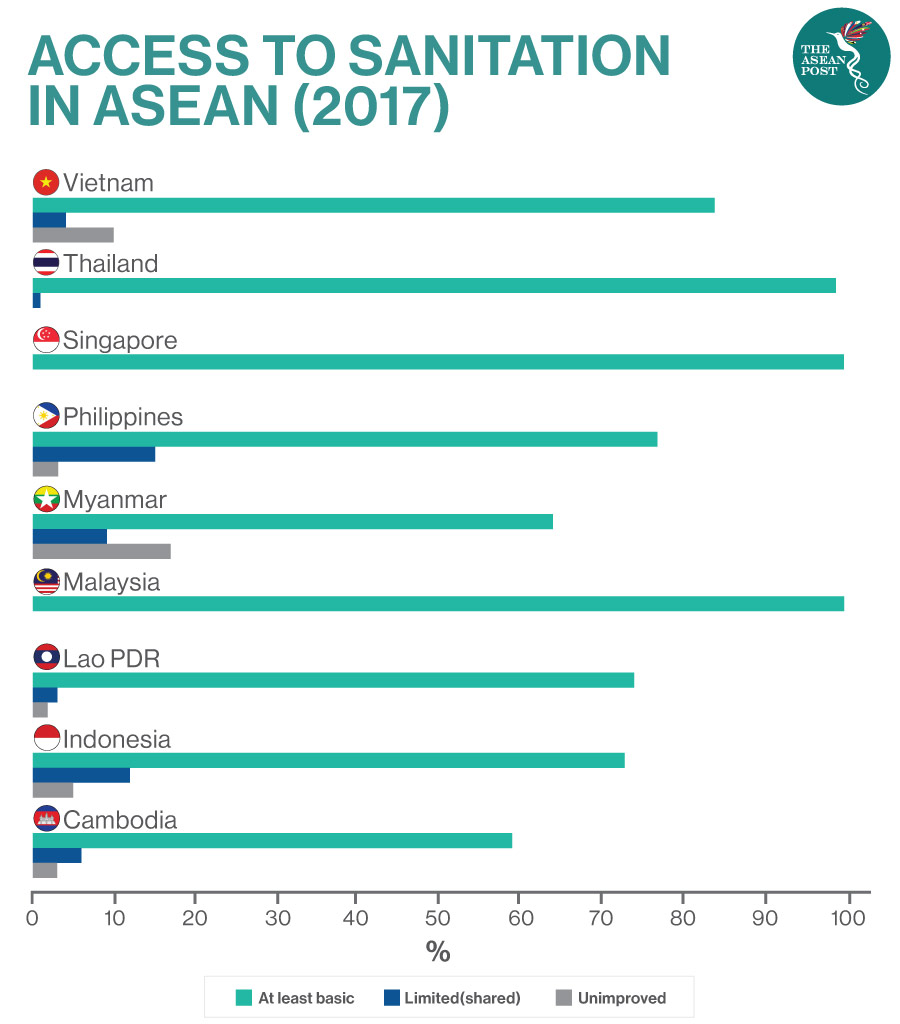 According to Water.org, a global organisation working to bring water security and proper sanitation to the world – nearly seven million people in the Philippines lack access to safe water while 24 million lack access to improved sanitation. Based on a report by the WHO, acute watery diarrhoea was one of the top 10 leading causes of death in the Philippines in 2016. The disease claimed 139,000 lives.
"Water is an extremely important resource that we cannot live without. But there are Filipinos who are still being left behind in terms of access to improved water sources, especially in rural communities," said Dr Gundo Weiler, WHO Representative in the Philippines.
According to local media reports, in some urban slums in the Philippines, daily necessities such as cooking and personal hygiene are done in common spaces filled with people. Not only are water points limited, but self-isolating and social distancing are also difficult to achieve in these settlements amid the pandemic. As of 12 April, the Philippines has reported 4,648 cases of COVID-19 with 297 fatalities – one of the highest number of deaths in the region after Indonesia. 
Over in Indonesia, the most populous ASEAN member state with 273 million people, it was reported recently by local media in the country that millions of its citizens lack access to clean water and sanitisation. In 2019, only around 76 percent of Indonesians had access to public hand-washing facilities that provided soap. 
On 12 April, Indonesia had nearly 400 cases of COVID-19 infections reported in a single day, and over 4,000 total confirmed cases of infection. The death toll in the country is the highest across Southeast Asia with 373 people having succumbed to the deadly virus.
Nevertheless, it was reported that testing rates in the country are among the lowest in the world. This has raised concerns among many observers that the actual number of cases could be higher. The University of Indonesia's public health department has warned that the country could see a death toll of more than 240,000 if testing and quarantines are not ramped up.
The best prevention method against the new coronavirus is by hand washing and taking care of one's personal hygiene. It was reported that hand washing alone may reduce 40 percent of the risks from various infectious diseases. Unfortunately, many are facing water shortages around the world which leaves them vulnerable to many types of diseases. 
"We don't have enough water to drink and cook our food, so where will we get water to wash our hands frequently?" asked a distraught resident from a slum area, as reported by UN Habitat.
Related articles: