Seattle coffee franchise, Starbucks Inc. recently opened its largest store in Southeast Asia – the Starbucks Dewata Coffee Sanctuary, in partnership with licensee PT Sari Coffee Indonesia. The store is a tribute to Indonesia's role, as the fourth largest Arabica coffee growing region in the world, and for bringing Starbucks customers the highest quality coffees. The Sumatran single-origin coffee has been a staple offering at Starbucks since 1971. 
Coffee's slightly acidic taste and stimulating caffeine content makes it one of the most popular drinks in the world. Its popularity has made it a key commodity for Southeast Asian countries, worth US$6.2 billion or 16 percent of the world's coffee exports. In 2017, Indonesia and Vietnam were among the world's top coffee producers, contributing 18 percent and six percent, respectively to the global output. 
Coffee exporters
Vietnam is the second-largest coffee exporter in the world and the biggest in Southeast Asia. In 2017, a total of 29.5 million 60-kilogram (kg) bags were produced, with the Robusta and Arabica type as the prime sources found in Vietnam. Robusta and Arabica along with Liberica and Excelsa are the four main types of coffee beans sold commercially. Robusta has a higher yield than Arabica even if the latter covers about 75 percent of the global production. 
Based on the 2018 ASEAN Briefing produced by Dezan Shira & Associates, Vietnam's local coffee chains, Trung Nguyen, Phuc Long and Highlands do face competition from specialist coffee franchising companies like Starbucks. However, their traditional product is still more aligned to Vietnamese palettes. 
Indonesia's 'kopi luwak' remains the most expensive coffee in the world. 'Kopi luwak' comes from coffee cherries eaten and defecated by the Asian palm civet which could cost up to US$700 per kg. 
Indonesia's overall coffee export for the year 2018-2019 was 7.2 million bags. 
Although Lao is considered the third-largest producer of coffee in Southeast Asia, it is better known for its production of higher quality Arabica beans. In 2017, the International Coffee Organization (ICO) revealed that total coffee production in Lao stood at 475,000 60kg bags. Local Laotians, however, prefer to drink instant coffees.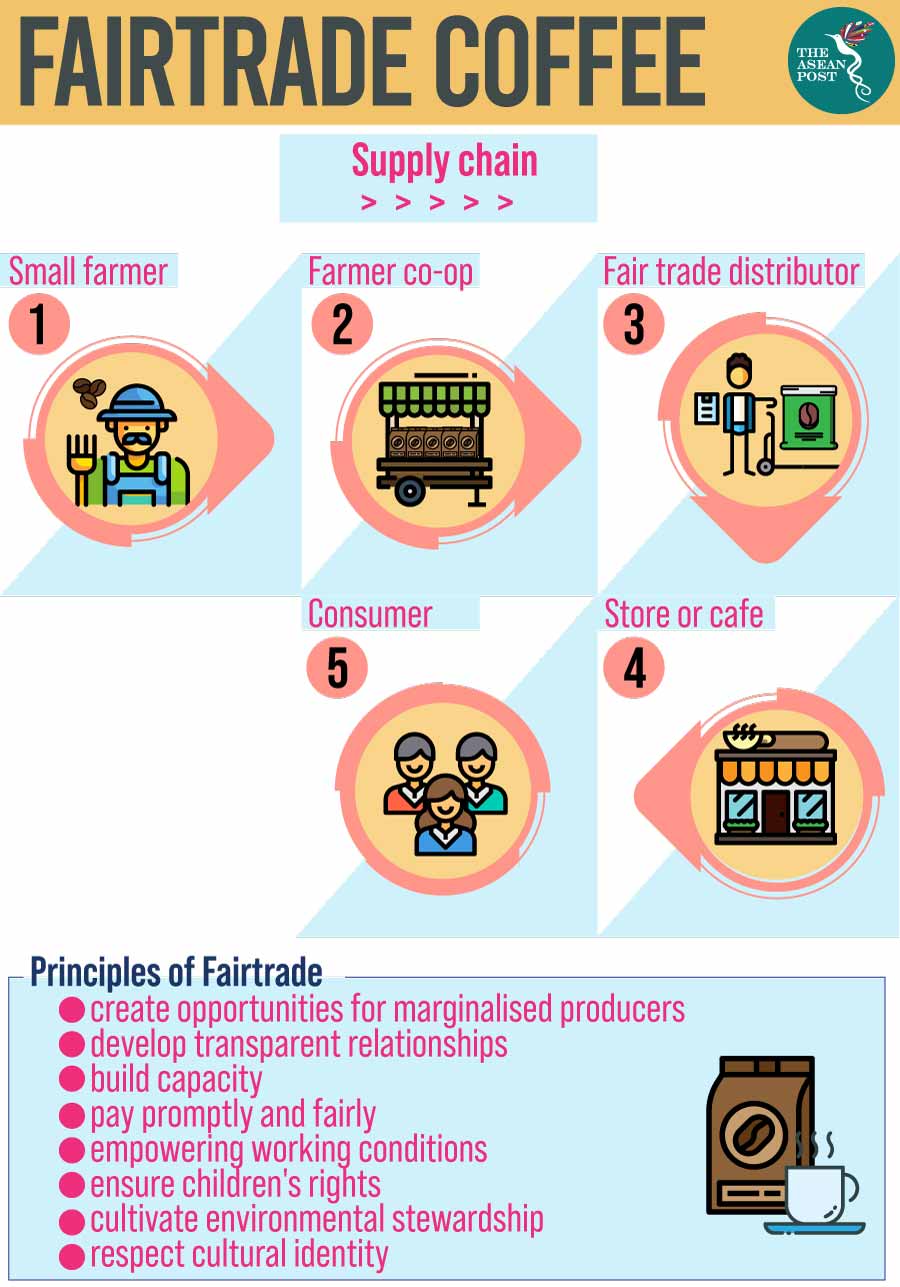 Source: Various
In the region, instant coffee mixes remain popular as an inexpensive and convenient option. The market in Malaysia is dominated by instant coffee with rising demand for flavoured products. The average annual growth of instant coffee sales in Malaysia has ranged between eight and 10 percent. 
Fairtrade 
The much-loved coffee is being developed into a more highly sustainable commodity due to consumers' demand and cooperation and commitment of the world's farmers. Fairtrade is also driving positive changes in the coffee industry by enabling producers to gain greater control over their supply chains. Based on a 2016 monitoring report by Fairtrade Foundation, Vietnamese coffee producers at Ea Kiet Fair Agriculture Cooperative are now processing and commercialising the coffee they produce. 
According to the World Fair Trade Organization (WFTO), "Fairtrade is a trading partnership, based on dialogue, transparency and respect, that seeks greater equity in international trade." 
Many of the most famous and coveted Indonesian coffees, like Sumatran and Sulawesi coffee, are produced on small farms. Fairtrade Foundation states that there are 25 Fairtrade certified coffee cooperatives in Indonesia, with 98 percent of them also organic certified. In North Sumatra, farmers intercrop their organic coffee bushes with fruit trees to create healthy synergies in the environment which also enhance the flavour profile of their coffees. 
Starbucks has been working with Indonesian farmers to ethically and sustainably produce high-quality coffee beans. In 2015, Starbucks opened the Farmer Support Center in Berastagi, North Sumatra where Starbucks agronomists led by Dr Mawardi, conduct research to develop coffee bean variants to make coffee the world's first sustainable agricultural product.
Coffee farmers in Vietnam previously relied on the use of chemical fertilisers and pesticides to increase productivity and yields. Now they are moving closer to organic practices, with members of the coffee cooperative working towards organic certification. Phan Minh Thong, chair of Phuc Sinh JSC, a top 10 coffee exporter in Vietnam says that the country has been making sustainable coffee in accordance with UTZ, Fairtrade and 4C standards (which are all sustainable coffee cultivation labels) for years. 
According to the 2019 report by USAID on 'Women in coffee,' females participate at least in half the work on coffee farms in the region but their lack of visibility is significantly undermining their role in the industry. In Vietnam, women lead at least half of all domestic trading companies, but their roles are often masked. "While in many cases businesses are owned by men, women are the point of contact to negotiate with farmers and buyers. They are believed to be better negotiators," said Do Thi Quynh, sourcing manager for Volcafe Vietnam. 
Indonesia exported US$1.7 billion worth of coffee in 2017, where women lead an estimated 22 percent of Indonesia's cooperatives. Women in the Koperasi Kopi Wanita Gayo (KKWG), a coffee farming organisation based in rural Aceh, Indonesia have said that being part of the Fairtrade certified-coffee organisation is life-changing. However, land ownership in the country remains a challenge for them.
Related articles:
Vietnam's coffee trade slows as buyers bet on bigger discounts