For Singapore, integrating its climate change efforts and aligning them with international standards will be key to achieving several targets in the years to come. 
Noting that urbanisation and consumerism is leading to more competition for scarce resources, Masagos Zulkifli, Singapore's Minister for the Environment and Water Resources, this week said that dealing with the way the country produces and consumes requires collective action.
"The world is at a critical turning point. We must adopt a more integrated approach to the way we develop our economy, cooperate with other countries in the region and globally, and work together in a society to build a sustainable and enduring home for all," he was quoted by Singaporean media on Thursday when speaking at the 6th Singapore Dialogue on Sustainable World Resources organised by think-tank, Singapore Institute of International Affairs. 
Stressing that global cooperation must become part of the national agenda, he said this includes better support for agreements such as the 2030 Agenda for Sustainable Development (SDG Goals) and the Paris Agreement – an accord made by 195 nations to combat climate change at the 2015 United Nations (UN) Climate Change Conference in Paris.
Calling for businesses to support more sustainable consumption and production practices, he also touched on the important role that civil society groups like Zero Waste Singapore play in encouraging positive change in consumer patterns and behaviours.
Plans and efforts
By 2020 ASEAN plans to reduce its energy intensity by 20 percent and increase the component of renewable energy in the ASEAN energy mix to 23 percent by 2025. As part of the Paris Agreement, Singapore has pledged to reduce its emissions by 36 percent from 2005 levels by 2030 and to stabilise emissions with the aim of peaking around 2030.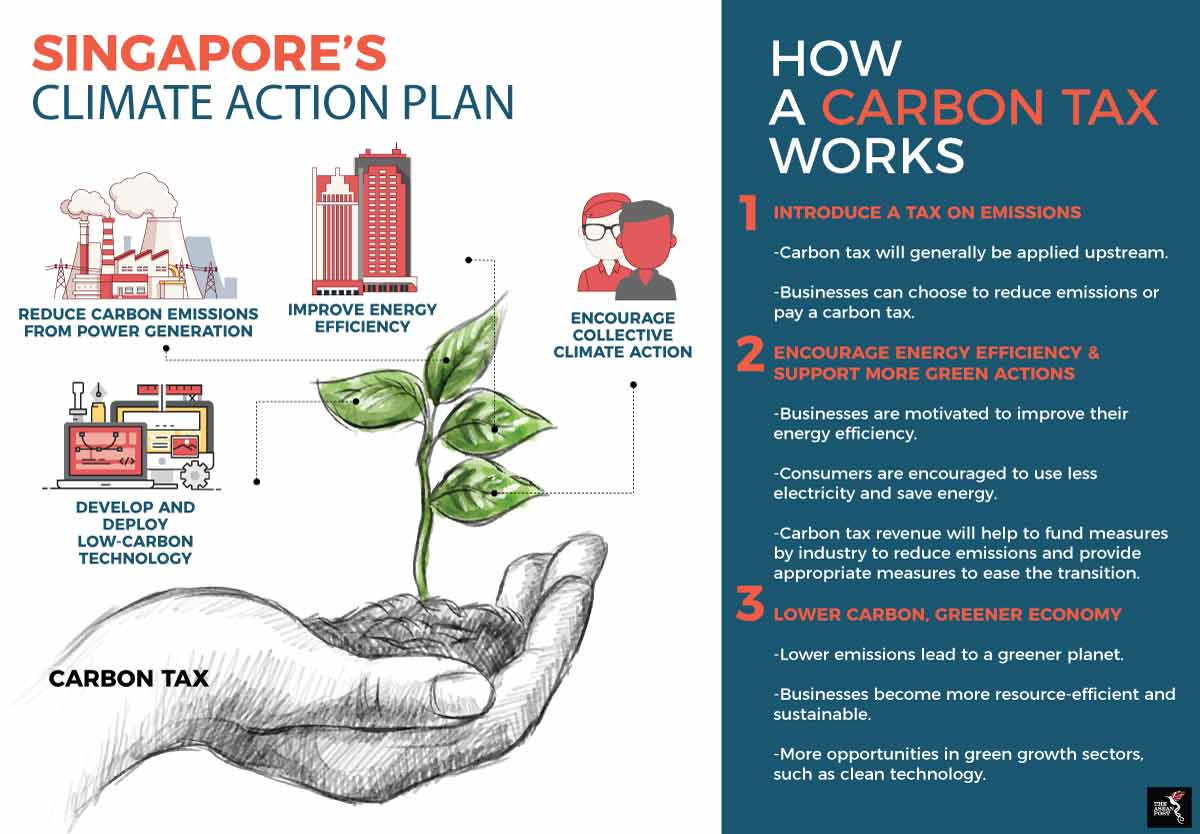 Source: National Climate Change Secretariat, Singapore
In order to achieve these targets, the nation has implemented a slew of strategies. These include enhancements made in 2017 to its Energy Conservation Act, which aims to get large polluters to be more energy efficient.
With this in mind, Singapore became the first Southeast Asian country to introduce a carbon tax this year. 
According to Singapore's National Environment Agency, any facility that emits direct greenhouse gas (GHG) equal to or above 25,000 tCO2e (tonnes of carbon dioxide equivalent) annually will be required to register as a taxable facility and to submit a monitoring plan and an emissions report annually. 
Taxable facilities will also have to pay a carbon tax from 1 January onwards for reckonable GHG emissions. The carbon tax is set at a rate of US$3.68 per tonne of GHG emissions (tCO2e) from 2019 to 2023. Singapore will review the carbon tax rate by 2023, with plans to increase it to between US$7.35 and US$11 per tonne of GHG emissions by 2030.
Large scale deployment
In the past, Masagos has stated that research is a key aspect in the development of Singapore's clean energy sector, with research centres such as the Solar Energy Research Institute of Singapore (SERIS) and the Energy Research Institute at Nanyang Technological University (ERI@N) collaborating with industries to support efforts towards large-scale deployment of solar systems.
In 2016, Singapore launched the world's largest floating solar panel test-bed at Tengeh Reservoir. Due to its success and Singapore's aim to increase solar photovoltaic (PV) utilisation to 350 megawatt peak (MWp) by 2020 and one gigawatt peak (GWp) after 2020, floating solar panels will soon be deployed at other reservoirs around the island.
Singapore last year celebrated 2018 as the "Year of Climate Action", following the city-state's commitment to the Paris Agreement. In 2017, Singapore became the 20th nation to join the Ministerial Declaration on Carbon Markets whereby interested countries agreed to work together to ensure the development of standards and guidelines for using market mechanisms that ensure environmental integrity and to avoid any double-counting or double-claiming of emissions reduction units.
Related articles:
ASEAN's energy transition on the right track
The potential of floating solar power
Singapore set to lower its carbon footprint one step at a time