Thailand's military junta, also known as the National Council for Peace and Order (NCPO) came into power after a coup in 2014. Since then, it – under the leadership of Prime Minister Prayut Chan-o-cha – has received both criticism and praise from people inside and outside the country. Say what you like but the NCPO has shown initiative in leading Thailand in the right direction when it unveiled its master plan for the country's future two years after it took control.
In 2016, the military government unveiled its newest economic initiative dubbed "Thailand 4.0". The initiative was a master plan to get the country Industry 4.0-ready with the ultimate aim of freeing the people of Thailand from the middle-income trap by making the country a high-income nation in five years following the inception of Thailand 4.0.
Several different yardsticks have been used to measure the country's success in realising the Thailand 4.0 initiative. The ASEAN Post has already outlined several obstacles in the path of making this vision a reality, as well as the opportunities that Thailand could bank on. Recently, however, a study has shown that the country is indeed heading in the right direction.
Thai firms embrace tech
A recent survey conducted by the Asia IoT (Internet of Things) Business Platform in 2017 found that out of the countries surveyed, companies in Thailand were the most likely to explore and implement IoT solutions.
According to the survey, 89 percent of companies in Thailand were ready to explore and implement IoT solutions compared to 86 percent in Malaysia, 83 percent in Indonesia, 80 percent in the Philippines, and 79 percent in Vietnam. The Asia IoT Business Platform also forecasts that IoT spending in Thailand is set to increase by 1,600 percent by 2020.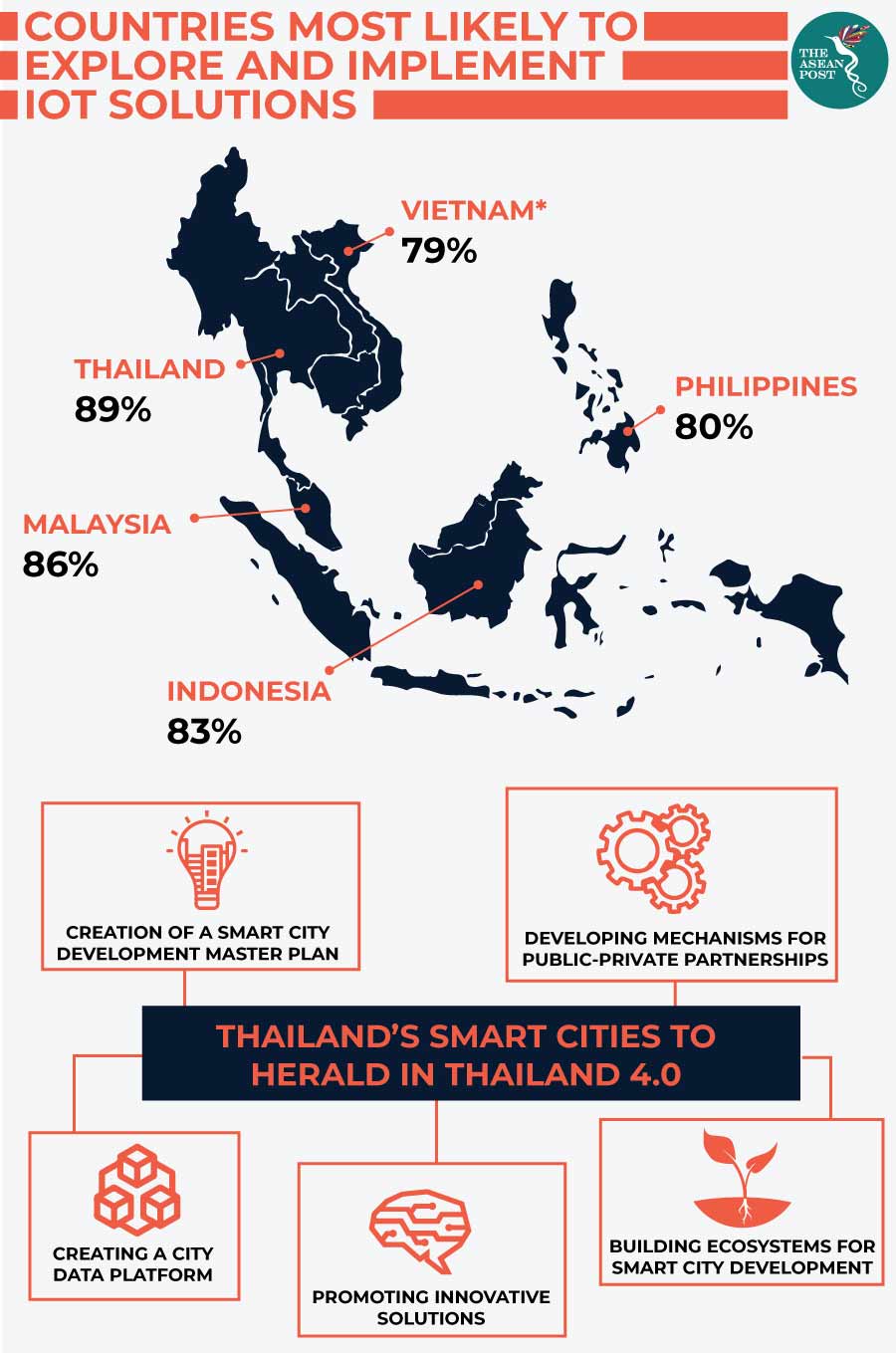 "Thailand is one of the fastest growing markets in ASEAN and the government's ambition is to develop the country, by advancing infrastructure and connectivity. There is significant potential for businesses in Thailand to provide technological support and facilitate that growth," said Pornchai Pruksaratananon, a committee member of the Thai Embedded Systems Association.
Whether or not this is directly related to the NCPO's Thailand 4.0 initiative is not clear but there is little reason to doubt that the master plan has helped.
Fruits of Thailand 4.0
Among some of the things that have come out of the Thailand 4.0 master plan is a pilot project for the development of three cities: Phuket, Chiang Mai and Khon Kaen. Deputy Prime Minister, Prajin Jungtong said in a speech in November 2017 that the aim is to have 100 smart cities within two decades to improve the quality of life in urban centres. Three more cities that the government plans to develop are Chon Buri, Rayong and Chaochengsao. There are plans to develop Bangkok as a smart city too.
Thailand has also identified 10 S-curve industries that will propel the country to developed nation status. The S-curve industries are divided into two categories – S-curve and New S-curve. S-curve refers to existing industries such as smart electronics, food technology, agriculture, automotive, and medical tourism; meanwhile the New S-curve industries are robotics, aviation, biofuels, medical hubs and the digital sector.
Many of the initiatives required to achieve Thailand 4.0 would need to integrate newer technologies to ensure efficiency and usher Thailand into the future.
The Thai government has also set up a National Smart City Committee. The government has enlisted help from the Digital Economy and Society Ministry, the Energy Ministry as well as the Transport Ministry. In addition to that they will also receive help from permanent secretaries of 10 ministries.
No rest
Prayut has not eased up on efforts to drive Thailand 4.0 home. Recent reports of his visit to Germany revealed that among the reasons he was there was to study the country's 4.0 industries.
It was also reported that Prayut had gone to meet Germany's Chancellor Angela Merkel to discuss a variety of partnerships and strategic economic collaborations with a focus on having Germany help drive the Thailand 4.0 agenda.
"The Kingdom is seeking Germany's assistance in acknowledgement that the country is among the world's largest economies and is a leader in industrial progress. It is hoped that through exchanges with Thai entities, German 4.0 policies can be concretely applied in Thailand to foster progress," the report read.
As a highly anticipated election draws nearer, Prayut's popularity continues to see its ups and downs, and whether he will eventually hold on to his position remains anyone's guess at the moment. While there are some legitimate reasons for criticism of the general, it wouldn't be fair to say that the NCPO has not done anything right during its time in power. Prayut has certainly played an integral role in many successful initiatives in the country.
Related articles:
Cleaning up education for Industry 4.0