Recently, Thai authorities confirmed that four more people were killed in a late-night attack by Muslim insurgents on a military outpost in the south. The attack comes as rage boils over the case of a Muslim rebel suspect who was left in a critical condition after spending several hours in a notorious army interrogation unit.
Four days prior to the attack, rebel suspect, Abdulloh Esormusor, was left unconscious after being arrested under martial law and taken to a notorious military camp in Pattani. Rebel groups suspect "foul play" in Abdulloh's case and have called for an international probe.
Sunai Phasuk of Human Rights Watch speculated Tuesday's attack "was in retaliation" for the treatment of Abdulloh.
34-year-old Abdulloh Esormusor was left unconscious after being arrested under martial law and taken to a notorious military camp in Pattani. Thailand's army is investigating how he came to be hospitalised with brain swelling hours after arriving at the Inkayuth camp.
Inkayuth is the Thai army's biggest detention centre in the south, where rebel suspects are taken for questioning and held under the emergency laws governing the conflict-scarred region.
An army statement said the camp doctor recorded the suspect arriving in good health, but said he was later found unconscious after being held in the "interrogation centre". The army has vowed to punish anyone found guilty of abuse.
Impunity
Despite the fact that Thailand has become a party to the United Nations' (UN) Convention against Torture and other Cruel, Inhuman or Degrading Treatment or Punishment (CAT) since 1 November 2007, torture may have been going on in the country for a long time. In 2016, Irish-based human rights organisation, Front Line Defenders, interviewed Ismael Teh who claimed he was tortured back when he was a university student in 2009.
"During that time, I was electrocuted. They forced me to take my clothes off and left me in a cold room. The officer poured water over my head and forced me to confess to a crime but I denied every charge," he was quoted as saying.
Critics claim that the heavy security in Thailand's south propagates impunity. While numerous complaints of torture have been made against the army, no military personnel have ever been successfully prosecuted for abuses. Hopes for Abdulloh's case remain grim as well.
In 2016, Amnesty International published a report entitled "'Make Him Speak by Tomorrow': Torture and Other Ill-treatment in Thailand". In the report, Amnesty noted that Thai law does establish several key legal safeguards against torture, including the duty to bring detainees before a court within 48 hours of arrest and the right of detainees to have legal counsel present during questioning.
However, several laws and government orders override these protections, including the Martial Law Act of 1914. These laws and orders give military officers the right to detain individuals in unofficial places of detention which is defined in these laws as "premises other than police stations, detention facilities, or prisons".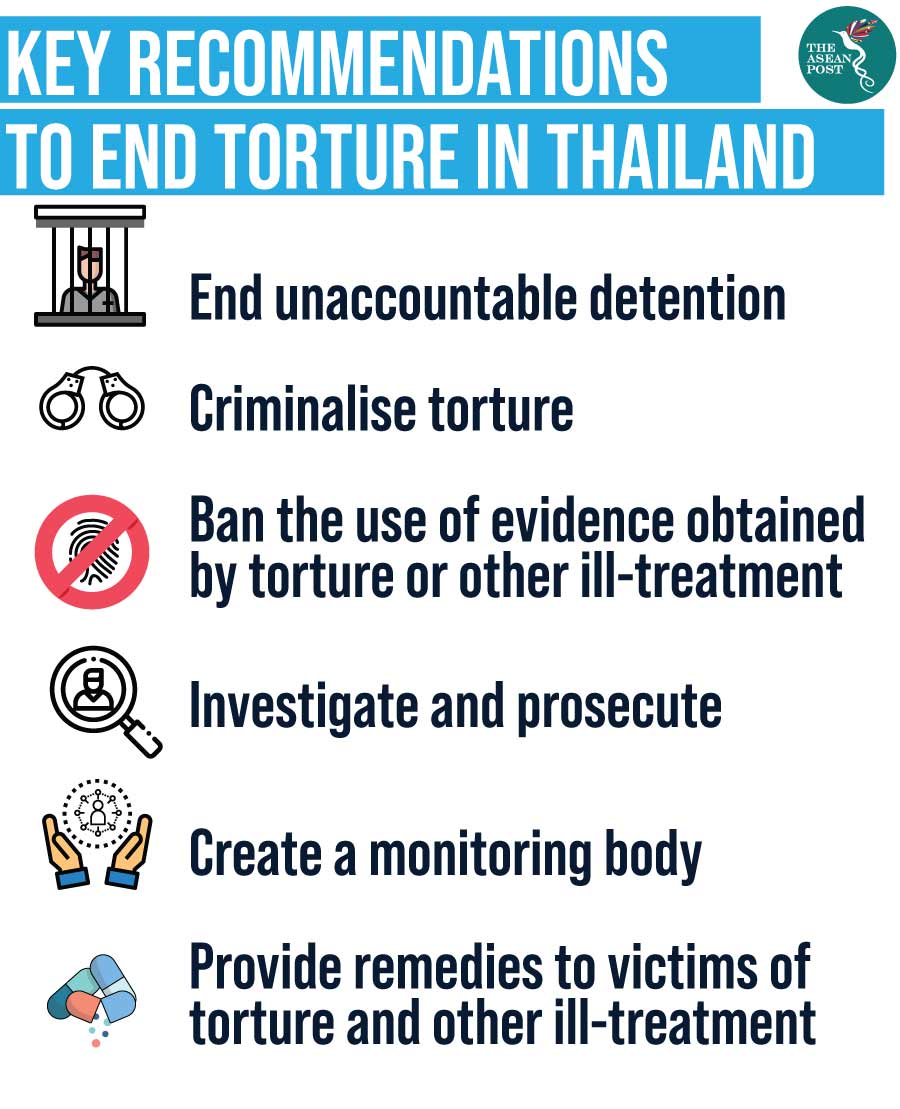 Source: Amnesty International
"In other words, detainees may be held in unacknowledged, unregulated, and unsupervised detention, stripping them of key safeguards against torture and other ill-treatment," Amnesty International said in its report.
But Abdulloh was found without bruises and no signs of torture apart from the fact that his brain was swollen. Local media in the country have speculated that his condition could have possibly been brought about by a prolonged oxygen shortage.
This conclusion comes from two facts: Firstly, the Danish Institute Against Torture specifies dry asphyxiation as a "clean" torture technique that leaves no or few visible marks on the body, rendering it difficult to detect. This technique employs different methods including covering the head with a bag or mask.
Secondly, in 2016, three Thai activists who documented 54 cases of torture in the region between 2014 to 2015 published a report where it was revealed that plastic garbage bags were used for the torture.
Thai Prime Minister Prayut Chan-o-cha achieved what he set out to do in Thailand's previous election and legitimised his position as the country's leader. As he takes the country into a new era on the back of a junta planned Thailand 4.0 framework, human rights should not take a back seat.
As for the deep south insurgency, blood will bring more blood. The violence must end soon.
Related articles:
Four dead in rebel attack on Thai army base