Similar to many other growing Southeast Asian countries, Thailand is facing an increase in energy demand. According to the ASEAN Centre for Energy (ACE), energy demand in Southeast Asia in 2040 is expected to increase between 110- to 130 percent. Meanwhile, due to Thailand's good economic performance and population growth, energy demand is forecasted to rise by almost 80 percent in the next 20 years.
At the same time, Thailand is now facing a fossil fuels crisis. Previously, Thailand has been dependent on fossil fuels to power its energy needs. The International Renewable Energy Agency (IRENA) mentioned in its Renewable Energy Outlook for Thailand that at current usage levels, the country's oil and gas resources will deplete within the next decade. Data from the Ministry of Energy shows that Thailand has about four or five years left before it runs out of either oil or natural gas. To overcome a crisis in its energy sector, Thailand has developed a plan to diversify its energy mix.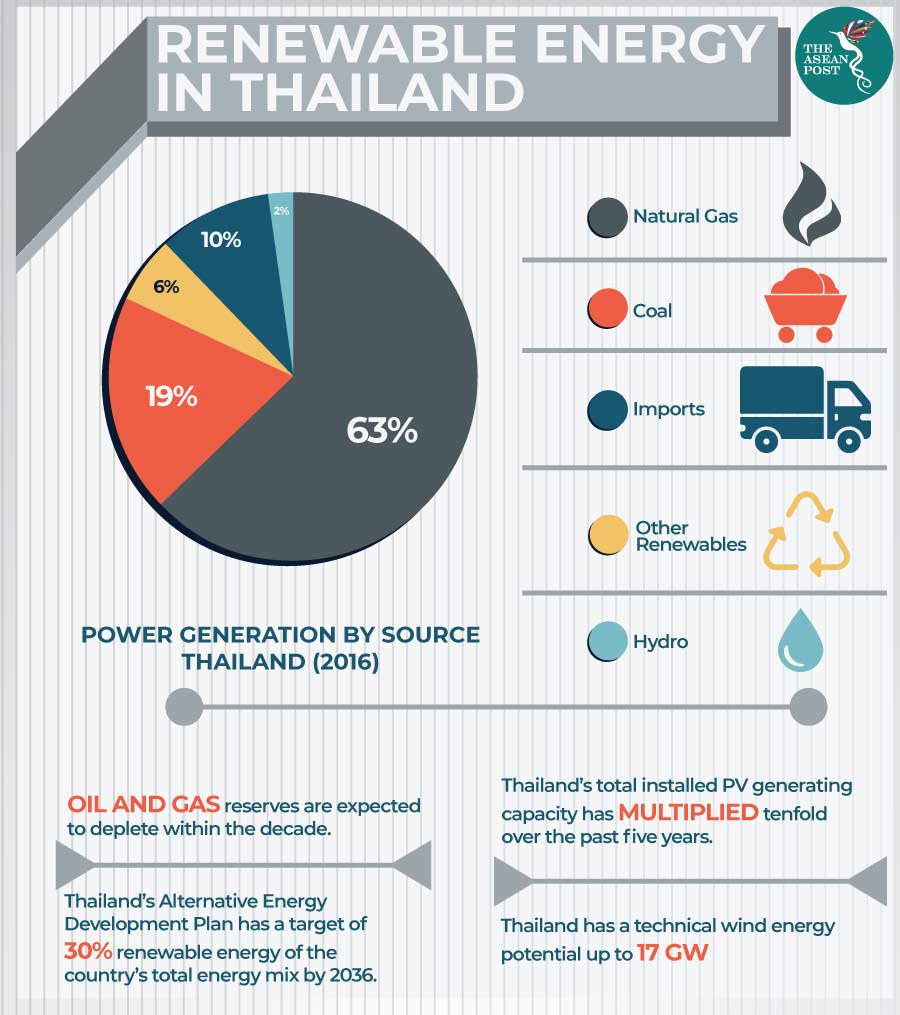 Good planning
In 2015, the country launched the Thailand Integrated Energy Blueprint (TIEB) – a document that maps out energy goals from 2015-2036. The TIEB consists of three plans outlined by the Thai government – the Power Development Plan (PDP), the Energy Efficiency Plan (EEP), the Alternative Energy Development Plan (AEDP), the Oil Plan and the Gas Plan. Under the AEDP, the government of Thailand has highlighted its intention to source 30 percent of the country's total energy consumption from renewables.
At the moment, it seems the Thai government is well on its way to meeting these goals. So much so that Thai prime minister, Prayut Chan-o-cha is considering raising the country's target for renewable energy to 40 percent of the overall energy mix by 2036. He has also pledged to cut greenhouse gas emissions by 25 percent, an increase of five percent from the previous target set.
Solar and wind to the fore
The inroads Thailand have made with regard to renewable energy is mostly due to the country's developments in solar power and wind energy. According to IRENA, Thailand's total installed solar PV generating capacity has increased tenfold. The report shows that total solar PV installations are already half way to reaching the 2036 solar PV target of 6,000 megawatts (MW). It reported in 2017 that solar power investment there had exceeded US$2 billion. 2015 and 2016, the government of Thailand approved 239 solar and 62 wind farm projects, respectively.
Bangkok-based law firm, Pugnatorius Ltd., said in 2017 that Thais can expect a "second solar gold rush" in the country soon, with an increased focus on solar rooftops. According to the National Energy Reform Committee, consumers in Thailand could generate their own electricity through solar rooftops and sell on the surplus power to others.
Another big contributor to the growth of renewable energy in Thailand is the booming wind energy sector. The Global Wind Energy Council highlighted that Thailand is currently ranked 49th in the world for installed wind capacity. Thailand's biggest wind power generator, Wind Energy Holdings (WEH) commented that Thailand has "good wind and great infrastructure" for wind farms. WEH secured a loan worth US$1.14 billion from the Siam Commercial Bank in 2017 to develop wind farms with a capacity of 90 MW which could boost WEH's total capacity in Thailand to 720 MW. WEH is aiming for a total capacity of 3,000 MW by 2025, which is ahead of the country's target of having 3,000 MW of wind energy by 2036.
Right now, one fifth of the country's electricity is generated by renewables according to state-owned Electricity Generation Authority of Thailand (EGAT) and the figures are expected to continue to rise in the future. Also, with an increased investment in renewable energy, Thailand could look to reduce its dependency on fossil fuels, whose price volatility could have a harmful effect on the country's economy.
Thailand is currently transitioning into Thailand 4.0, the newest economic model launched by its Prime Minister Prayut Chan-o-cha which seeks to integrate the latest technologies into the country's various sectors to boost the economy. This, combined with a forward-thinking outlook on renewable energy could lead Thailand to become one of the region's best examples for sustainable development.
Related articles:
Impact of renewable energy on rural health