Thailand discovered its first COVID-19 case on 13 January, 2020, a 61-year-old woman from the city of Wuhan, in Hubei province, China. Nearly a month after that, the Rajavithi Hospital in Bangkok announced that they had observed success in treating severe cases of COVID-19 using a combination of drugs that are normally used in the treatment for influenza and the human immunodeficiency virus (HIV). Initial results showed vast improvement in patients 48 hours after receiving the treatment. However, not many successes were reported using this approach in the weeks that followed.  
At the initial stage, despite reporting early COVID-19 cases, ASEAN countries avoided a rapid-spread of the virus like those seen in South Korea and Italy. However, mid-March proved to be a difficult time as the region witnessed a sudden surge of cases involving local transmissions which prompted stricter action from most ASEAN member states.
The Thai government's response to the outbreak has been gradual, initially ordering the closure of over 26 types of businesses in Bangkok on 23 March. A lockdown procedure was soon implemented when the government announced a state of emergency, where tourist destinations like Phuket have since been put on a month-long lockdown beginning 30 March.
Unlike across-the-board lockdowns like the ones enforced in Malaysia and the Philippines, a slow tightening of restrictions has instead been observed in Thailand. The country's number of cases have increased by 1,286 since Thailand declared a "state of emergency" on 25 March. Nonetheless, according to the World Health Organization (WHO), Thailand was one of the countries that responded swiftly to the outbreak. 
On 2 April, Thailand's Prime Minister, Prayut Chan-o-cha announced a nationwide curfew from 10pm to 4am. As of 6 April 2020, Thailand has reported the second highest number of COVID-19 cases in ASEAN (2,220), with Malaysia currently recording the highest number of cases. (3,793).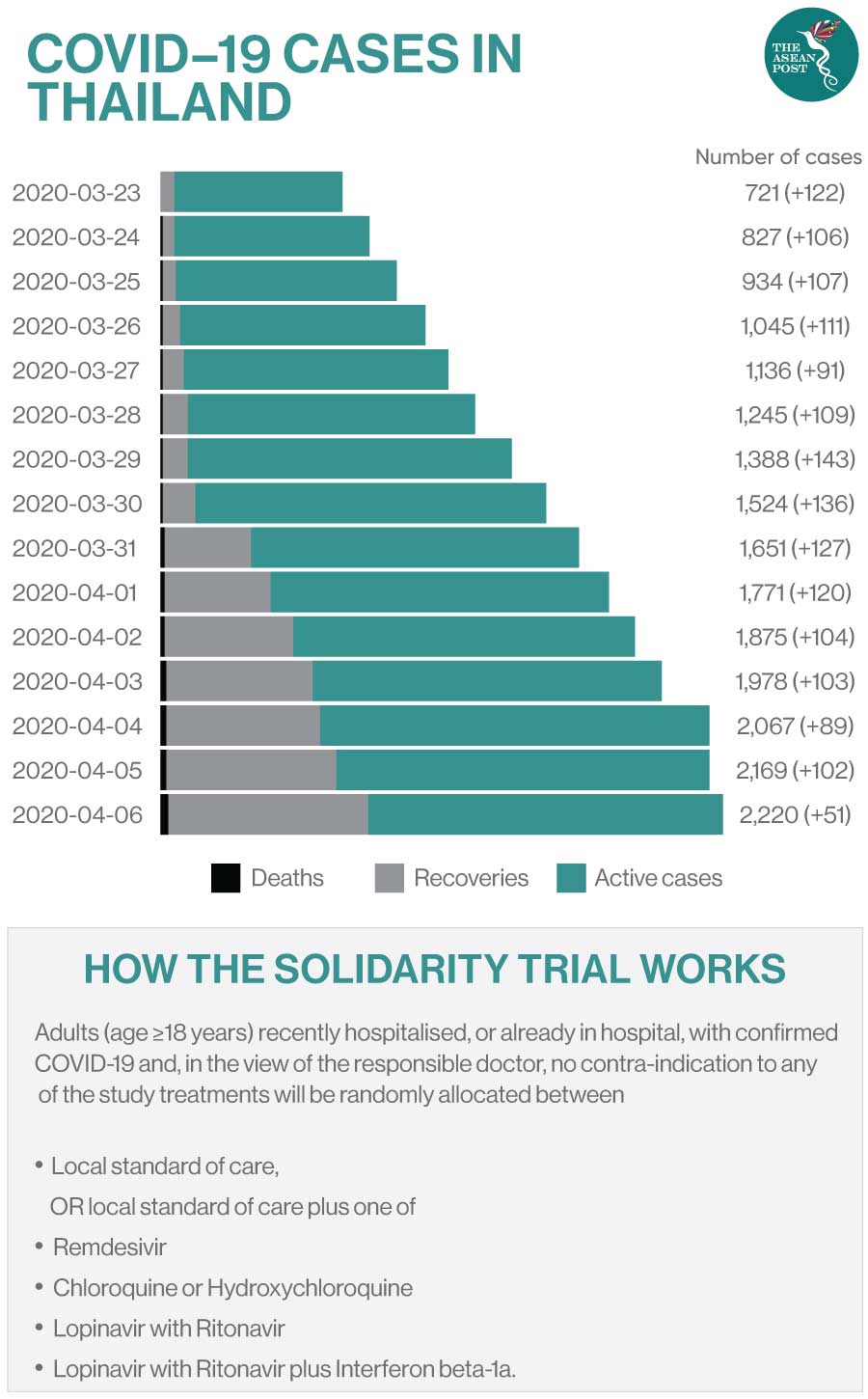 Can Thailand Be A Centre For Cure?
In October 2019, the Global Health Security Index (GHS) ranked Thailand as the sixth country best prepared for a major infectious disease outbreak, the only developing nation in the top 10 ranking. The study, developed by The Economist Intelligence Unit and John Hopkins University, also placed fellow ASEAN states, Malaysia (18), Singapore (24) and Indonesia (30) in the top 30.  
Dr Somsak Akhasilp, director-general of the Department of Medical Services under the ministry, assured the public that there was no reason to worry about a shortage of hospital beds to accommodate virus victims
"Thanks to strong medical resources management, we are confident there will be enough beds and sufficient medical treatment for all patients if the outbreak reaches crisis level," said Dr Somsak, seeking to calm public fears over the situation in Italy, where medical resources were overwhelmed by the scale of the outbreak.
The Public Health, Tourism and Sports ministry have been tasked with identifying venues such as sports stadiums, apartments, and hotels where recovering patients can be placed and cared for. The ministry of Public Health stated that the country will only enter a "crisis level" if cases admitted to the hospitals exceeded 1,000 per day. The country has reported an average of 108 new cases per day in the past 10 days and an average of 20 days required in the length of treatment. 
At the provincial level, the ministry has earmarked 5,000 beds in state hospitals for COVID-19 cases. It has also sent stocks of Favipiravir – a Japanese drug which China reported as effective for COVID-19 patients – to each province and ordering more from abroad.
On 20 March, the World Health Organisation (WHO) announced that Thailand will join a multi-country clinical study for potential treatments for COVID-19, which is part of a rapid global search for drugs to treat COVID-19.
"This global problem requires urgent global solutions," said Daniel Kertesz, WHO Representative to Thailand. "Thailand will be a valued partner in hosting studies to evaluate whether potential treatments are effective – the goal is to identify medicines that will save lives in the global battle to fight this virus."
The Solidarity trial compares four treatment options against standard of care, to assess their relative effectiveness against COVID-19. By enrolling patients in multiple countries, the Solidarity trial aims to rapidly discover whether any of the drugs slow disease progression or improve survival. Other drugs can be added based on emerging evidence.
It will use four different drugs or combinations – remdesivir, a combination of two drugs, lopinavir and ritonavir, the two drugs plus interferon beta, and chloroquine – and will compare their effectiveness to what is called standard of care - the regular support hospitals treating COVID-19 patients use now.
WHO is working closely with the Government of Thailand as it increases its public health response to COVID-19. The extensive restrictions to contain the virus taken by the Thai government in addition to WHO's aid in providing technical assistance and facilitating knowledge exchange between countries and organisations, Thailand has the potential to be a focal point of successful COVID-19 treatments in ASEAN, with Malaysia and Singapore also showing high potential. 
ASEAN nations can only benefit from this potential as it would expedite the mass distribution of effective medication to neighbouring countries, thus speeding up the treatment process and freeing hospital beds. 
"We must use every opportunity to reduce the spread of COVID-19 between people. Public health authorities will continue to do their part – by testing for COVID-19, isolating cases quickly to prevent transmission of the virus, treating them and tracing their contacts. But every person has the capacity to contribute, to protect themselves, to protect others, whether at home, in your community, at the workplace or on the transport system," said Kertesz.
Related Articles:
Thai migrant workers hit hard by lockdown