With its sandy beaches, megamalls and local culture and cuisine, it's no wonder that tourism contributes a significant amount to Thailand's gross domestic product (GDP). According to the Tourism and Sports Ministry, tourism contributed 17.7 percent to Thailand's GDP in 2016 and 16.7 percent in 2015. Meanwhile, the World Travel and Tourism Council says tourism accounted for 10.4 percent of global GDP and 313 million jobs, or 9.9 percent of total employment in 2017.
From 2012 to 2017, the largest number of tourist arrivals to Thailand have come from China. In 2012, there were 2.7 million tourist arrivals, 4.6 million in 2013 and 2014, 7.9 million in 2015, 8.7 million in 2016, and 9.8 million in 2017. Things were looking rosy until recent reports revealed that there has been a sharp dip in Chinese tourist arrivals to Thailand.
Official statistics indicate that travellers from China slid 12 percent in August, the biggest drop in more than a year, keeping the overall pace of visitor growth near a 16-month low. Perhaps one of the biggest reasons for the drop was a tour boat accident off Phuket in July that killed 46 of its 101 passengers on board including 86 tourists. All but two of the tourists were from China.
Then, in late September, a video went viral of an airport guard apparently punching a Chinese tourist at Bangkok's Don Mueang airport. Sunsern Kaewkumnerd, a spokesman for the government, was reported as saying that Prime Minister Prayut Chan-o-cha was "upset" by the incident.
"The prime minister thought that even though the tourist could not produce documents to reaffirm his accommodation in Thailand, refused to stay in a detention room, and acted inappropriately with officials, still officials must compose themselves and treat him in line with international practice," Sunsern said in a message to the media.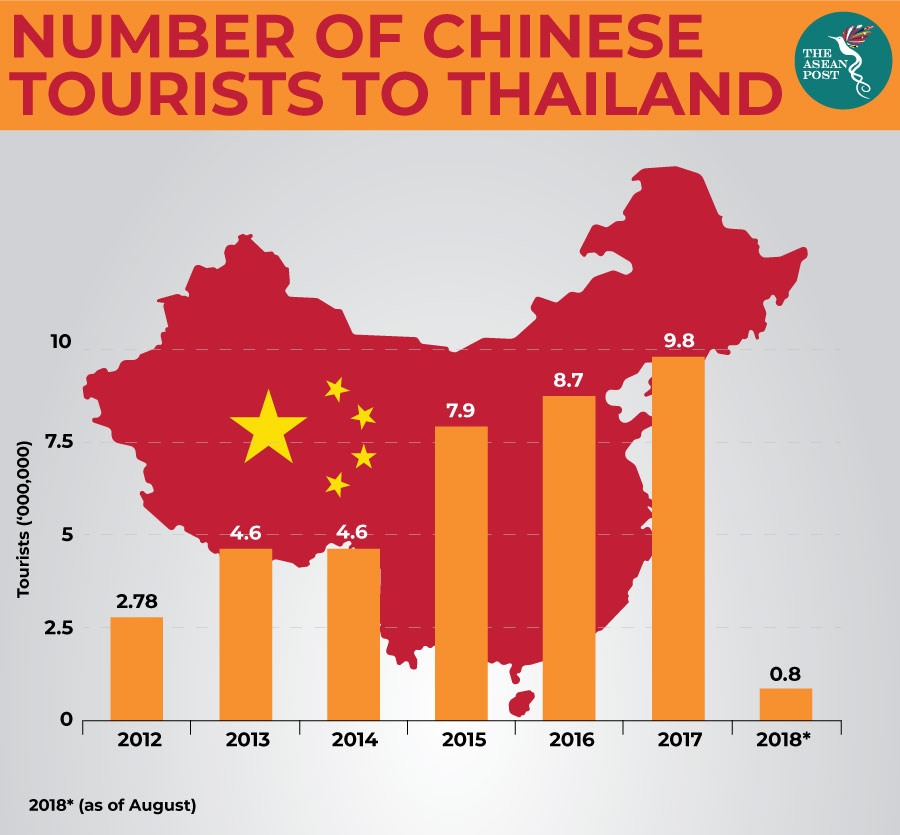 Trying to save a billion dollars
With the decline in Chinese tourist numbers, the country's Ministry of Tourism and Sports has revised its tourism figures for the rest of the year to 5.1 million Chinese tourists, translating to a loss of about 670,000 tourists in total from China. The fact that Chinese tourists also spend large sums of money when travelling to Thailand paints a gloomy picture for the country's revenue collection.
According to the Ministry of Tourism and Sports, each Chinese tourist in Thailand spent an average of US$1,553 during the first half of last year. With the ministry's estimate of a drop of 670,000 tourists this year, this means that the estimated total loss of revenue is expected to be around US$1 billion.
In an attempt to increase the number of Chinese tourist arrivals to Thailand, tourism minister Weerasak Kowsurat said that he was considering giving Chinese tourists a double entry visa over a six-month period, allowing them to enter the country twice under the same visa. The minister also mulled the possibility of waiving Chinese visa fees altogether.
Repercussions of the US-China trade war
Thailand's dependency on tourism and the dwindling number of Chinese tourists to the Land of Smiles may have grave repercussions as far as the US-China trade war goes.
China has been known to use tourism as an economic weapon. Last year, South Korea witnessed this first-hand after China tightened its grip on the country's tourism sector. The catalyst? South Korea's decision to install the US-built THAAD anti-missile defence system that cost nearly US$7 billion.
China retaliated by cracking down on online travel agencies with newly-drafted regulations. According to reports, the regulation by the Chinese Ministry of Culture and Tourism would require online travel providers to improve rescue and emergency plans, better vet and manage their on-ground service providers, purchase liability insurance, and protect clients' personal information.
Undoubtedly, this has indirectly hurt South Korea's tourism industry which – like Thailand's – relies heavily on Chinese tourists. According to South Korea's Tourism Organisation, in 2015, South Korea welcomed 4.7 million tourists from China. In 2016, this figure rose to 6.9 million. However, after the crack down, the number of tourist arrivals from China dwindled to a mere 3.1 million.
According to the World Travel and Tourism Council, the drop in Chinese tourists caused a significant loss of revenue for South Korea. In 2016, tourism contributed US$21.1 billion to South Korea's coffers. In 2017, following a drop in Chinese tourist arrivals, revenue decreased to US$16.8 billion, a loss of US$4.3 billion.
The worry here is that China will employ a similar tactic as it did in Korea to discourage Chinese tourists from visiting the country. To prevent a decline in its tourism sector, Thailand will have to balance fixing its image in the eyes of Chinese tourists swiftly as well as focusing on attracting tourists from other markets.
Related articles:
Enhancing the tourism industry in ASEAN