In a recent survey of 1,107 Thais by YouGov, the United Kingdom (UK)-based market research agency found that 21 percent of respondents they interviewed said they have experienced sexual harassment.
Sexual assault was the most common form of sexual harassment reported by respondents (44 percent). The second most common form of sexual harassment was verbal comments of a sexual nature (42 percent) and flashing (35 percent). YouGov said the definitions of each form of sexual harassment were left open-ended and up to the respondents.
The survey found that most experiences of sexual harassment seem to take place at public places, such as public transportation (27 percent), nightclubs (18 percent), school / university (17 percent), and other public places (29 percent).
Perhaps one of the most unfortunate findings from the survey was that while one in five Thais have experienced sexual harassment, just over half of the respondents (57 percent) told someone about they were sexually harassed. Of this percentage, according to the survey, people are more likely to tell a friend (55 percent) or family members (39 percent) than the police (10 percent). Men (60 percent) were found to be more likely to report their experiences of sexual harassment than women (55 percent).
According to the survey, the main reason people choose not to report sexual harassment is embarrassment (46 percent), followed by fear that no one will do anything about the problem (27 percent). Both the fear of repercussions and cultural pressure also scored highly (both 25 percent) in the survey.
This article hopes to zero-in on the "fear that no one would do anything about the problem". After all, embarrassment can only be addressed if there is correct awareness on the issue and, in turn, correct awareness on the issue must begin by telling victims that "it is not your fault".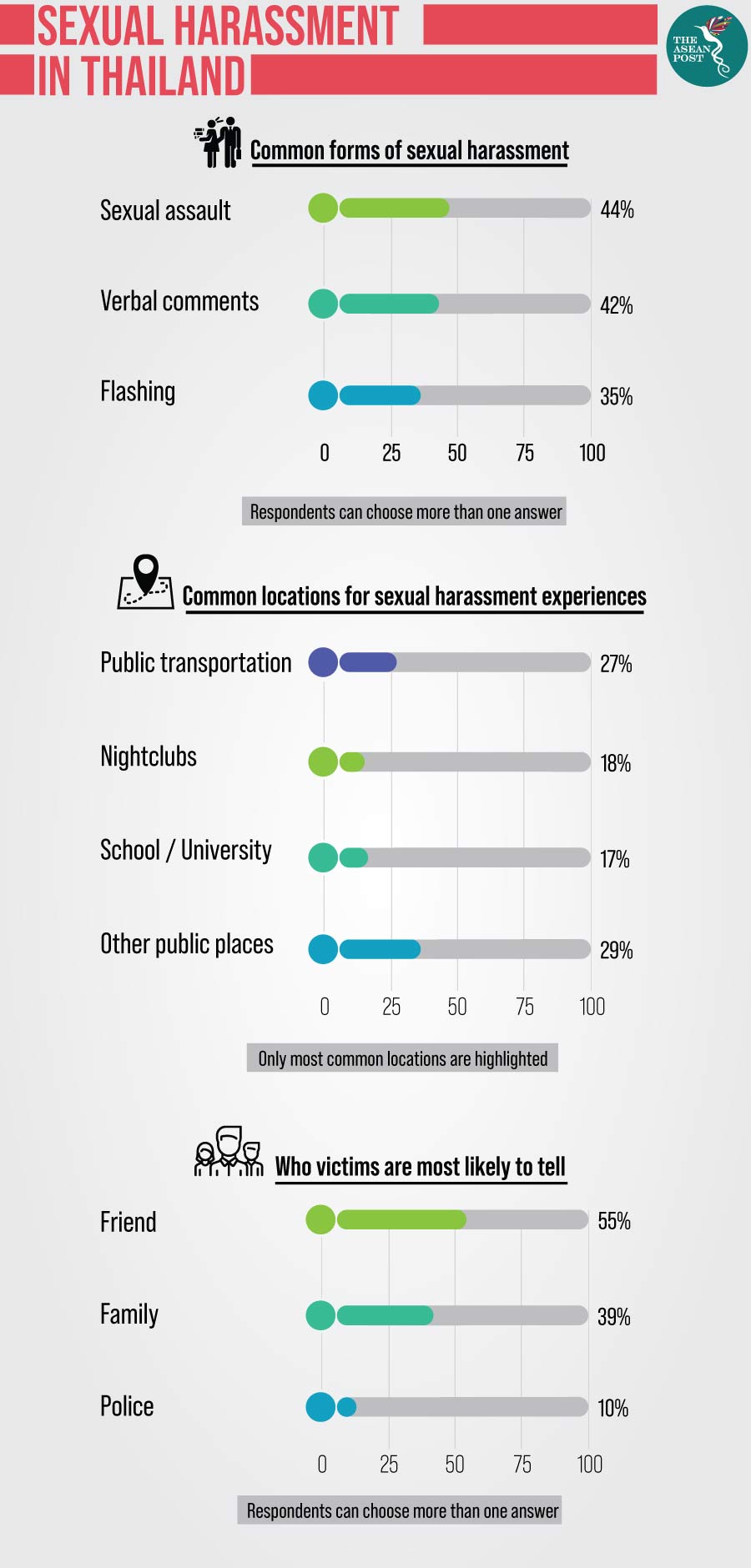 Source: YouGov
It's your fault
A common recurring theme in several ASEAN countries is victim-blaming. Thailand, while being one of the more progressive member states in ASEAN is, unfortunately, not free from this regressive practice either.
In March 2018, authorities in the Southeast Asian country were reported as telling women to avoid dressing in "sexy" outfits as they tried to prevent sexual harassment or sex assault cases during the popular Songkran festival. Thailand's Director General of the Department of Local Administration, Sutthipong Chulcharoen had reportedly said that local bodies would arrange alcohol-free zones for revellers and that they would also launch campaigns to encourage tourists, particularly women, to dress appropriately so they do not fall victim to sex crimes.
Later, in November 2018, The Nation (Thailand), a reputable English-language news portal headquartered in Bangkok, published an opinion piece in which the writer noted that no sexual harassment case in the country has ever gone to court, adding that legally, "sexual harassment doesn't exist in Thailand."
"To say sexual harassment doesn't exist in Thailand doesn't mean that improper behaviour doesn't occur. The term is a legal one, though, and in this country the public rarely hears about what happens. Reactions to the occasional incidents that do emerge are flash in the pan at most, and no case has ever gone to court. 
"But the fact that formal complaints are scant doesn't mean incidents don't happen. For women who feel awkward about their bosses touching them or making inappropriate comments, the only choice is either putting up with it or quitting their job," the writer claimed.
As far as increasing awareness among victims of sexual harassment goes, there is positive news. The Thaiconsent project and recent hashtag #donttellmehowtodress, went viral in Thailand this year. 
A month after the March 2018 incident where authorities had urged women to not dress "sexy" to avoid sexual assault, Thai model Cindy Sirinya Bishop began the popular #donttellmehowtodress hashtag. 
"Our culture is not one that is so confrontational, and it's going to be a while until a woman comes out and names names or points a finger in the media. But over the last few months, I've seen women in Thailand begin to collectively speak out, sharing their stories and pushing back on this victim-blaming which previously has gone completely unchecked here," Bishop was quoted as saying.
Sexual harassment is a serious crime. It is unfortunate that Thais are not willing to take this matter up to the authorities who are meant to serve and protect them. But while awareness seems to be heading in the positive direction, it is still up to the authorities there to inspire more trust and confidence than is currently the case.
Related articles:
Protecting Indonesia's workers