Late last year, the media was buzzing with news of another possible coup should Thailand return to democracy. The ruckus was based on comments made by army chief General Apirat Kongsompong in October 2018, after a reporter asked him if he was prepared to launch another coup.
"If politics does not create riots, nothing will happen," Apirat was quoted as saying, refusing to rule out the possibility.
When General Prayut Chan-o-cha – now Thailand's military prime minister - staged his coup in 2014, Apirat was serving as commander of the 1st Division, King's Guard, based in Bangkok. The unit was key in the operation.
Later, in February and following Princess Ubolratana Rajakanya's nomination (and almost immediate withdrawal) as prime ministerial candidate for the Thaksin Shinawatra-linked Thai Raksa Chart (TRC) Party, rumours of another coup began spreading like wildfire once again. 
It did not help matters that these events occurred as army tanks were spotted rolling through the streets in Sa Kaeo, Prachin Buri and Chon Buri. 
This time, however, Apirat quickly shut down the rumours saying that they were groundless and based on personal political agendas.
"Attempts have been made by certain political elements to create a false impression of an impending coup. Various events which are not related were being linked to claim a coup is being engineered, which is groundless," he was quoted as saying, adding that the tanks were simply on their way to a military exercise.
A country of coups
Following Thailand's latest coup in 2014, Paul Chambers, a professor at Chiang Mai University's Institute for South-East Asian Affairs, was quoted by international media as saying that there have been almost 30 coup attempts in Thailand (whether successful or not) since 1912.
Max Fisher, an American journalist based in Washington, United States (US) and columnist in the field of political science and social science, noted in an article back in December 2013 that Thailand has had more coups than any other country.
It isn't surprising then, that the results of an opinion survey by Suan Dusit Rajabhat University, or better known as the Suan Dusit Poll, revealed that most Thais believe that there is a high possibility of political conflicts following the 24 March election. This is the first election Thailand will witness since the 2014 coup.
The poll, conducted between 26 February to 2 March, asked Thais whether political conflicts similar to those seen before the takeover of the country's administration by the National Council for Peace and Order (NCPO) are likely to return without effective preventive measures in place. 68.1 percent of respondents said the possibility is high; 26.9 percent were uncertain, saying that this would depend on the ability of the new prime minister in handling the situation; while 5.1 percent said the chance of political unrest returning is slim, as the NCPO still has abundant power under Section 44 of the interim constitution.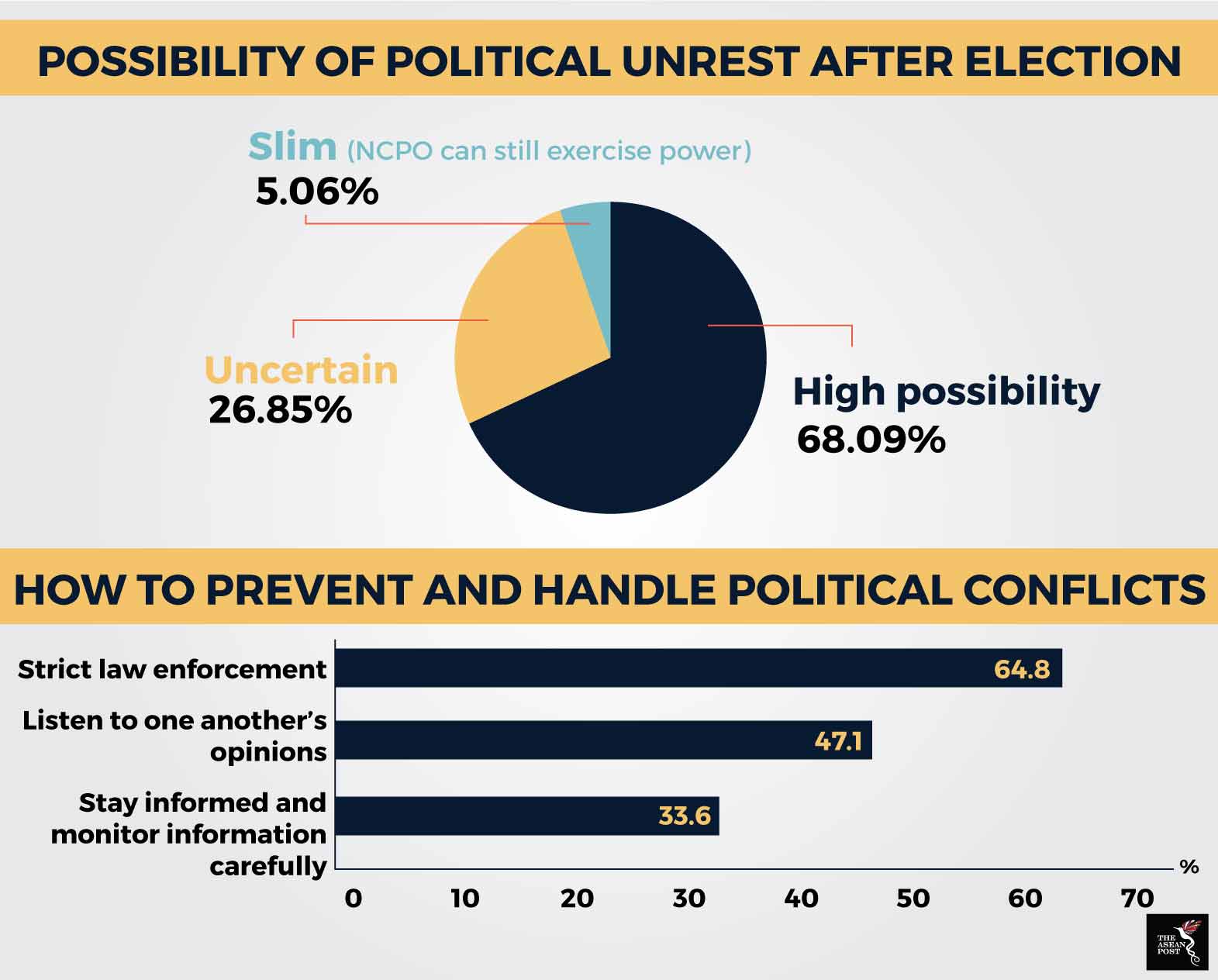 Source: Suan Dusit Poll
Prayut for PM?
There are three noteworthy points from the Suan Dusit Poll. The first, as mentioned, is that the majority of Thais foresee more political conflicts in the future. The second is that 59.2 percent of respondents blamed power struggles and special interests as the root cause for political conflicts. The third is that 64.8 percent cited strict law enforcement as a means to avoid political conflict.
Summarised, the poll shows that the majority of Thais believe that political conflict is likely to occur, and that a strong-willed, stern leader who puts peace before political gain is what will avert it. Looking at the prime ministerial candidates that different Thai political parties have to offer, Prayut is most likely to fit this bill. Considering Prayut's strong affiliation with the army, he also seems to be the safest bet if the country wants to avoid another coup.
The Suan Dusit Poll, however, only provides a small glimpse into what Thais might want and does not paint the whole picture. At the end of the day, it will be Thais who have the ultimate power in deciding who becomes their eventual leader. Whether it is Prayut or someone else, we will have to wait till 24 March. 
Related articles:
Did Prayut just checkmate the opposition?