While the origins of the novel coronavirus, now better known as COVID-19 have not been identified, it is safe to assume that China's wildlife market in Wuhan played a central role in the early spread of the deadly virus. 
According to the United Nations Office of Drugs and Crime (UNDOC), the global wildlife trafficking industry is worth between US$7 billion and US$23 billion, annually. Illegal markets for live and dead wild animals are common across many Asian countries, especially in areas such as the Greater Mekong's Golden Triangle where Lao PDR, Thailand and Myanmar meet close to the Chinese border.  
Today, with over 500,000 infections and over 24,000 deaths globally, the risks of wildlife consumption are too high and impractical. On 24 February, China's National People's Congress adopted legislation banning the consumption of any field-harvested or captive-bred wildlife in an effort to prevent further public health threats until a revised wildlife protection law can be introduced. 
Following China's move to ban wildlife trade and consumption, officials say it's about time ASEAN member states unify against wildlife trafficking, as reports point to a sophisticated network of illegal wildlife trade routes from Southeast Asia to China's wildlife markets. There is a great possibility that the animal products which found their way to that fateful Wuhan market most likely transited in ASEAN. 
Vietnam's prime minister, Nguyen Xuan Phuc, ordered a directive to ban illegal wildlife trading and consumption through the agriculture ministry following the legitimate concern that consuming wildlife products can contribute to diseases. 
The directive was seen as a victory for animal rights organisations. Ideally, it will lead to a systematic crackdown on street-side markets across the country. This would also increase prosecutions of online traders, adding much needed pressure on thousands of farms with links to the trade in illegal wildlife. 
Both illegal and "legal" wildlife trading flourishes in Vietnam, with thousands of markets around the country, many of which include stalls selling animals for food or as pets. Anyone walking around some of these street-side stalls on the Mekong delta can see fish tanks stuffed with turtles or skinned-alive frogs.
Vietnam's move is only the first step to eradicating the illegal trade in wildlife. The latest report from TRAFFIC, a leading non-governmental organisation (NGO) working globally to stop the trade in wild animals and plants, titled 'Southeast Asia at the Heart of Wildlife Trade' exposed the central role ASEAN countries play in the billion-dollar industry – prompting more affirmative action for ASEAN countries where wildlife is sourced, transited or consumed.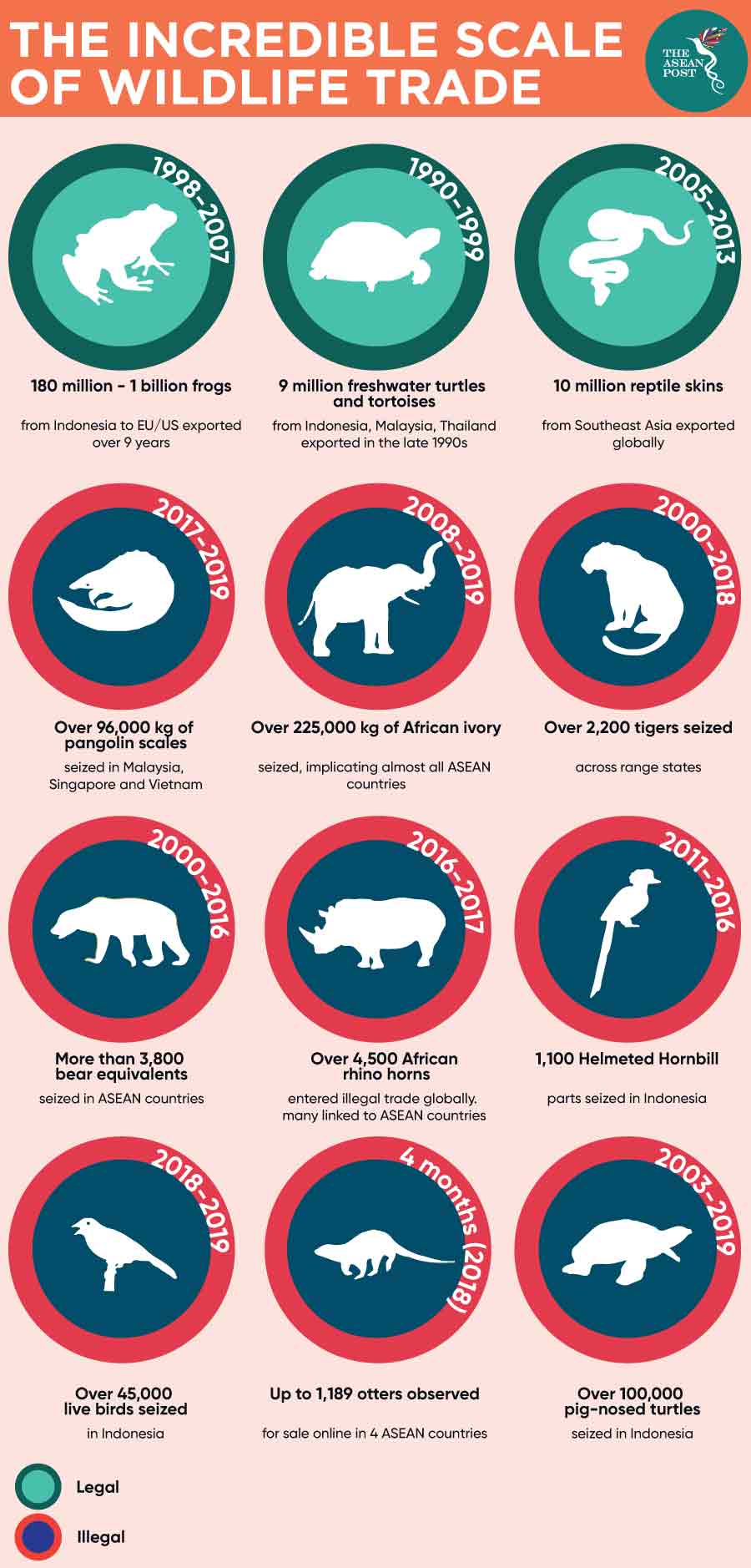 "What needs to be enhanced is more collaboration to address wildlife trafficking at a multi-country or at the regional level," said Theresa Mundita Lim, Executive Director at the ASEAN Centre for Biodiversity (ACB). "Actions on transboundary cooperation and promoting sustainable livelihoods in and around ASEAN heritage parks and natural habitats will help stop the reliance of local communities to poaching, overharvesting and illegal trading of wildlife and their by-products as means to earn income," she added.
For instance, although Thailand's newly improved wildlife law which took effect last November, carries stiffer penalties of up to 10 years in prison and/or a maximum fine of a million baht for wildlife trafficking, the ASEAN "Plan of Action" (POA) for ASEAN cooperation on the Convention on International Trade in Endangered Species of Wild Fauna and Flora (CITES) and wildlife enforcement (2016-2020) still allows for legal wildlife trade, and lacks high-level attention, funding and multi-agency implementation.
The Natural Resources Defence Council (NRDC) recommends that policies surrounding the illegal trade in wildlife can be strengthened through some key features; (1) the definition of "wildlife" (i.e., what species should be protected or managed under this law); (2) which species should be listed for what purpose and how to manage the lists; (3) inter-agency coordination mechanisms; (4) supervision and enforcement; (5) biological security and public health; and (6) information transparency.
"As stated in the United Nation's 2019 Global Assessment Report, a million species are threatened with extinction, many within decades, largely due to habitat changes and direct exploitation of species. If we are going to make progress protecting human health and securing biodiversity for future generations, these are the kinds of changes we need," said Lisa Hua, Policy Analyst at the NRDC. 
The COVID-19 pandemic has certainly demonstrated that wildlife protection is integral to international security and human welfare. ASEAN countries must seize this opportunity to ensure an effective long-term solution as it will now – along with China – be held accountable for diseases stemming from the illegal trade in wildlife. 
Related Articles:
Does ASEAN need China to protect its wildlife?