Tourism is a powerful tool for development. It represents 10 percent of the world's gross domestic product (GDP) and provides 10 percent of jobs globally. The industry is also interlinked with every other sector in the economy. Its ability to operate in various locations and the wide range of opportunities it offers – from entry-level jobs and beyond – means that it has the ability to help bridge and minimise development and income gaps.
In Southeast Asia, the first quarter of 2018 saw a 9.4 percent increase in tourist arrivals – the largest number recorded amongst all regions – exceeding the already robust six percent average growth for global tourism during the same period. The region's unique and diverse travel offerings is forecasted to bring in US$222.8 billion in 2027 or 5.3 percent of the region's total gross domestic product (GDP).
Yet, growth in the tourism sector is under threat. The region's governments and industry players are working to identify key risks threatening the robustness and resilience of the sector. As the prime motivation for visitors to come to the region hinges on local landscapes, biodiversity, heritage and cultures, the sector's survival depends on the ability to retain and preserve as much of these natural resources as possible while at the same time adapting to the changing social, environmental and climatic conditions.
A successful tourism initiative without checks can also make the sector its own worst enemy. This was seen in the case of the Philippine's Boracay, Thailand's Maya Bay and also many other popular tourist destinations in the region. How tourism can usually negatively impact a destination is through overtourism and overcrowding – when the number of visitors exceeds a locality's ability to cope.
The Malaysian National Academy of Arts, Culture and Heritage's Chairman, Dr Ong Hong Peng, cited the example of Malaysia's Sipadan Island in the early 2000s as an example. Following deterioration of coral reef quality and marine life due to overtourism, Malaysia took the bold step of relocating all onsite buildings and businesses out of Sipadan Island. Sustainable management practices were implemented and a daily quota of 120 divers was imposed to reduce pressure on the environment.
"These measures contributed to the improvement of the quality and diversity of marine life and ecosystem, which in turn, ensured the sustainability of Sipadan Island. It continues to be ranked as one of the top 10 best dive sites in the world. These timely interventions enabled the reaping of long-term economic and social benefits in a sustainable manner," he was quoted as saying at the United Nations World Tourism Organization (UNWTO) Asia Pacific Executive Training Program on Tourism Policy and Strategy.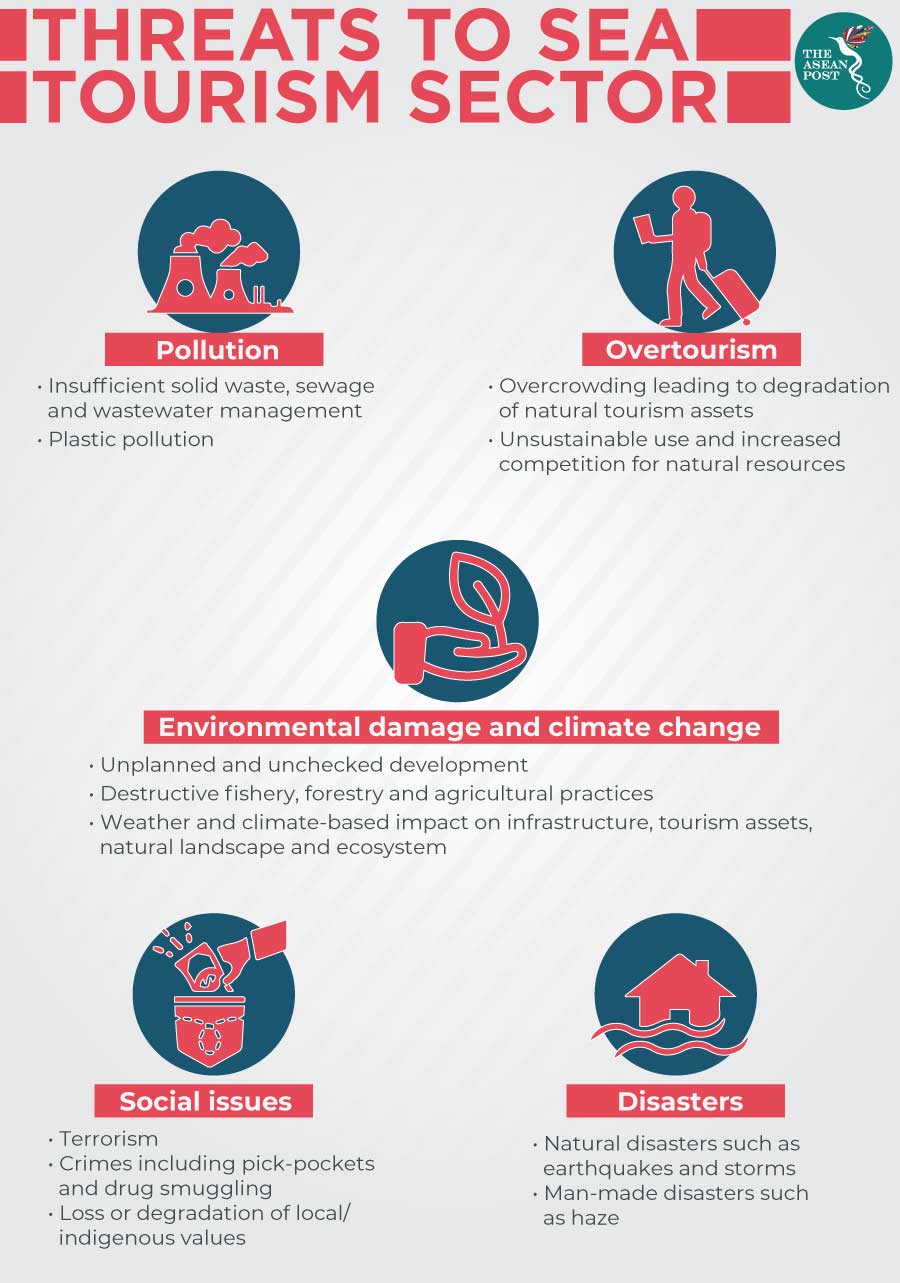 Pollution, climate and other threats
Pollution is a significant threat to inland and coastal destinations, with single use plastic being a bourgeoning hazard. This threat is especially larger in ASEAN, where half of its member states are among the top 10 countries ranked by mass for mismanaged plastic waste. According to Prof Dr Amran Hamzah from Tourism Planning at Malaysia's University of Technology, the lack of proper sewage treatment and improper solid waste disposal are also threatening key marine destinations.
"Environmental degradation has reached alarming levels in many tourism islands in the Southeast Asian region. Lack of proper sewage treatment, improper solid waste disposal, irresponsible tourist behaviour and the dumping of plastic are diminishing marine resources that are vital in supporting tourism activities such as scuba diving," he said.
On top of these human-driven threats, the tourism sector is also threatened by climate change which acts as a multiplier of existing risks. Climate risk and adaptation specialist, Dr Sarah Opitz-Stapleton, said that the rising sea temperature is bringing about irreversible loss of coral ecosystems, tropical fish, as well as coral bleaching and mass die-offs.
"Poorly managed conversion of beaches and destruction of mangroves for resorts further damage the health and functions of coastal ecosystems, which is important for coastal resilience. Not only are these activities unsightly to tourists, they pose significant health and livelihood risks to coastal communities across Southeast Asia that would host the tourists," she explained. 
Sustainable tourism practices can ensure tourism assets continue to provide for its communities, while risks assessments can help countries identify where interventions are required. Understanding where future threats lie allows us the time required to be prepared for what may come. Without this, the livelihoods of many will hang in the balance.
Related articles:
Can ASEAN safeguard its islands?