Southeast Asia is facing the possibility of billions of dollars in losses from the sharp drop in Chinese tourists since the COVID-19 outbreak.
According to a report by global audit, tax and advisory network, KPMG International, the risk of a global recession in 2020 is extremely high as nations shutdown economic activity to limit the spread of the COVID-19 pandemic.
A report by the Asian Development Bank (ADB), outlining the economic impact of COVID-19, stated that, "tourism arrivals in many developing Asian economies are expected to decline sharply, as a result of numerous travel bans as well as precautionary behaviour." 
Dismal Thai tourist arrivals
Thailand anticipates the loss of five million tourists this year, taking with them "250 billion baht (over US$8 billion) in revenue", according to Don Nakornthab, Director of Economic Policy at the Bank of Thailand. In February, tourist arrivals in Thailand dropped by 77 percent, 99 percent of cancellations were from China. Thailand receives an estimated 10 million Chinese visitors each year. 
Several stimulus packages have been proposed by the Thai government to help ease cashflow in the sector. One of which includes 100 billion baht (US$3 million) in soft loans for tourism-related operators, to help workers in the industry with daily expenses.
The soft loans, sponsored by the Government Savings Bank, would be offered through commercial banks with an interest rate of three to four percent to tourism-related operators facing a liquidity crunch, while the government would also relax debt repayment conditions for those who retained enough liquidity to prevent them from laying off employees
"As for the fiscal 2020 budget of Bt 3.2 trillion (US$97 billion), the Bureau of Budget has informed the Cabinet that up to 80 percent will be ready for disbursement through the next six months," said Thailand's Finance Minister, Uttama Savanayana. 
"Approximately Bt 640 billion (US$19.4 billion) will be allotted for investment in new government projects, whereas disbursement of Bt 350 billion (US$10.6 billion) can start immediately after the bill passes, Bt 96 billion (US$2.9 billion) will be disbursed once the projects finish the terms of reference and Bt 240 billion (US$7.2 billion) should be ready for disbursement from the third quarter onwards."
Uttama also said that the Ministry of Tourism and Sports had estimated that if the COVID-19 situation is resolved around June or July, the tourism industry should be able to recover in the second half of 2020.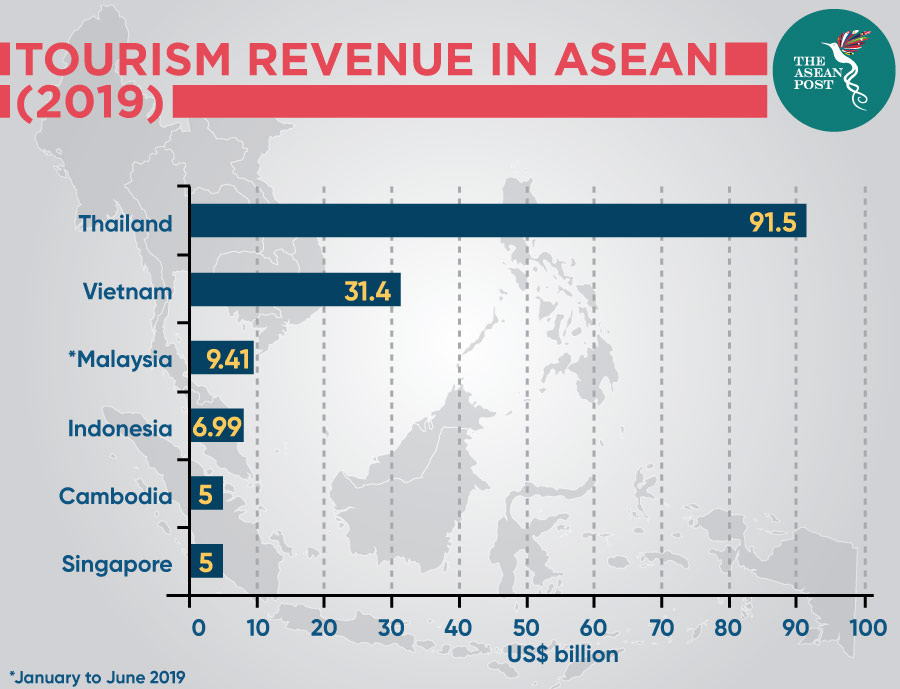 Cambodia's disappearing tourists
The Cambodian government has reported a 60 percent decrease in the number of tourist arrivals since February this year. 
Ticket sales at the famed Angkor temple complex in Siem Reap have fallen between 30 and 40 percent this year, while Sihanoukville, a southern beach resort notorious for its casinos, has seen a massive reduction in Chinese tourists and residents. 
"Since early this year, almost 80 percent of Chinese nationals living and working in Sihanoukville have left," said a local landlord who is also a civil servant.
"A major difference between this (COVID-19) outbreak and the SARs outbreak is that the Chinese economy is much larger and more integrated with other Asian countries. Therefore, travel restrictions may result in an even greater economic impact than before," Yasuyuki Sawada, ADB chief economist explained.
A report by the ADB estimates that Cambodia will suffer a US$850 million loss in its tourism sector. With the onset of the COVID-19 outbreak, the country is unlikely to meet its target of two million Chinese visitors in 2020. 
In early March, Prime Minister Hun Sen and Tith Chantha, Secretary of State at the Ministry of Tourism, called for more Cambodians and people living locally to travel domestically during their holidays.
"With calls to urge more domestic tourism, the ministry is working to ensure that all services and products in the tourism sector will be strengthened," Tith said. "With the measures implemented by the ministry, I believe that the tourism services and products will be strengthened to lure locals."
However, Cambodia has so far recorded a total of 87 confirmed cases of COVID-19, and two of the patients, a Chinese man and a British woman, have fully recovered and been discharged from hospitals. In addition, 31 French tourists infected with COVID-19 had travelled to multiple destinations in Cambodia before detection – this is the single largest cluster in Cambodia so far. 
The Ministry of Tourism's expectation that the number of foreign tourists visiting Cambodia will double after the end of the deadly COVID-19 may be too optimistic and is not backed with a comprehensive response plan.
Cambodia's government says it has accumulated approximately US$400 million in savings to be used for COVID-19 emergency cases in the Kingdom, though the proportion allocated to the tourism sector has yet to be finalised.
Cambodia would soon have to face the fact that calling for domestic tourism is not the answer to saving the tourism sector given the increasing rate of infections currently sweeping through Southeast Asia. 
Related articles:
Thailand virus cases rocket to nearly 600