Southeast Asia has been at war with human traffickers for a long time now and most reports have shown that this war is a difficult one to win. 
In 2015, mass graves of people believed to be Rohingya who were victims of human trafficking were discovered in the jungles north of Wang Kelian in an area called Wang Berma. Wang Kelian is a village in Perlis, a state in northern Malaysia and is located on the Malaysia-Thailand border. 
Reports stated that as many as 139 graves and 29 illegal detention camps were discovered during operations carried out by the Malaysian police. Conflicting reports have emerged as to when the Malaysian police had knowledge of the camps and accusations of an alleged cover up by the police have also been made as reports emerged that the camps were allegedly destroyed before investigations were completed. 
According to the United States (US) Department of State in its 'Trafficking in Persons Report 2019', human traffickers exploit domestic and foreign victims in Malaysia, and to a lesser extent, traffickers exploit victims from Malaysia abroad. 
While the overwhelming majority of victims are from among the estimated two million documented and an even greater number of undocumented migrant workers in Malaysia, Malaysians themselves aren't free from the cruel clutches of human traffickers and the syndicates they work for.
ECPAT International, formerly known as End Child Prostitution and Trafficking, released a report entitled 'Sex Trafficking of Children in Malaysia'. In that 2016 report, ECPAT noted that Malaysian children and women were trafficked to Singapore, Hong Kong, Taiwan, Japan, Canada, US, Europe and Australia for prostitution. But these children weren't just trafficked overseas as the report also stated that girls from indigenous groups and rural areas in Malaysia were also internally trafficked for the same purposes.
"The demand for sex drives child sex trafficking globally while poverty, domestic violence and abuse, discrimination and the desire for a better life makes children vulnerable. Children are especially vulnerable to being trafficked because they are often uneducated, easy to overpower and easy to convince. Children may also be in a position where they feel they must help to support their families and may be sold or sent abroad by family members to do so. Street children, children in refugee camps, children whose family and community life have been disrupted and do not have someone to look out for them are all especially vulnerable to human trafficking," stated ECPAT in its report.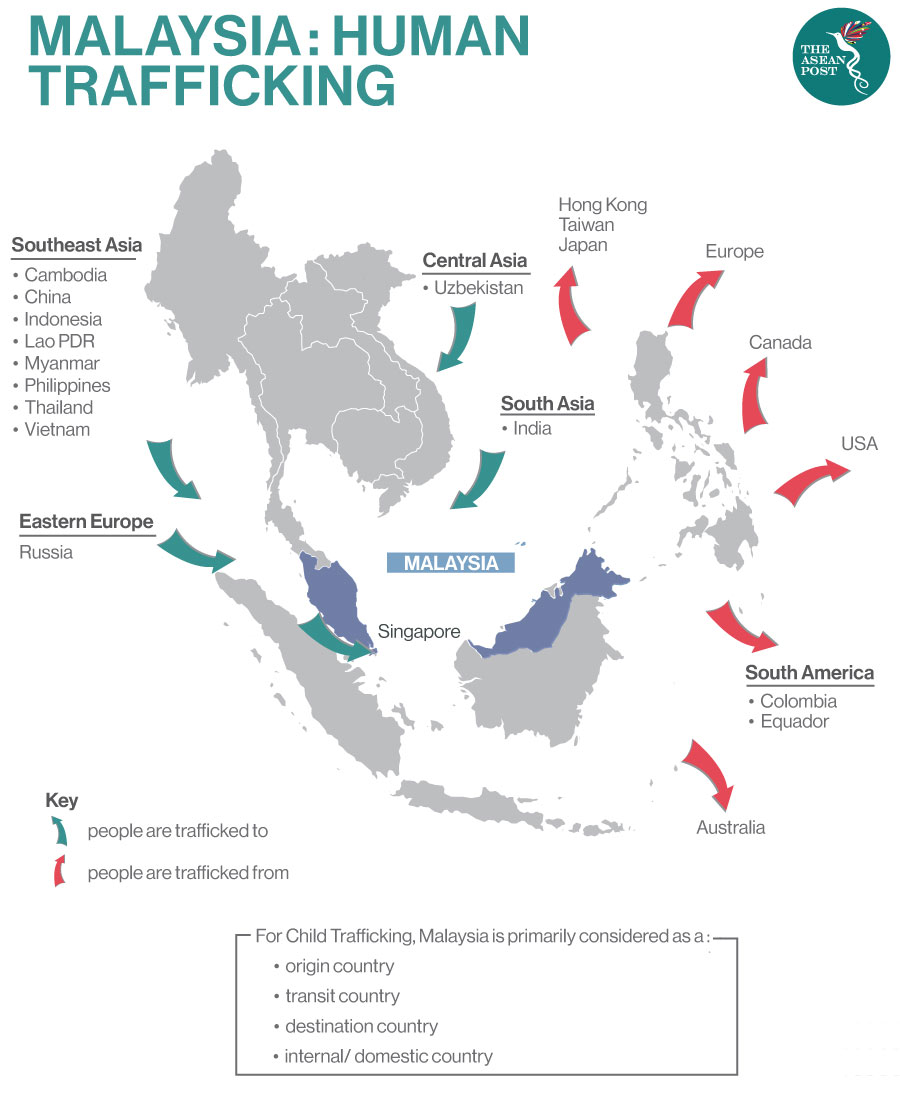 Combatting Human Trafficking
According to the US Department of State, Malaysia has not fully met the minimum standards for the elimination of trafficking but is making significant efforts to do so. 
Among the efforts highlighted include convicting slightly more traffickers, issuing a significant number of passes for victims' freedom of movement from shelters, and establishing an additional shelter for adult female trafficking victims. 
Unfortunately, the Malaysian government has not demonstrated an overall increase in efforts compared to previous years. 
"The government's victim protection efforts remained largely inadequate and some rehabilitation services such as medical care, telephone calls, freedom of movement, and the issuance of work permits were inconsistently implemented, if at all. The government stopped funding non-governmental organisations (NGOs) to provide shelter. Corruption related to processes for foreign nationals to work in Malaysia remained pervasive and the government did not report initiating new prosecutions or convicting any complicit officials during the reporting period," reported the US Department of State.
Nevertheless, local media stated that the government is in the midst of considering more effective laws, rules and policies in its fight against human trafficking. "The Malaysian government views trafficking in persons as a pressing human rights issue and a heinous crime. It is a serious offence," said former home affairs minister – now Malaysia's prime minister, Muhyiddin Yassin at the launch of the first National Conference on Anti-Trafficking in Persons back in August 2019. 
Stories of human trafficking are not unheard of in Malaysia. Sadly, the plague of human trafficking is still a cause of great concern in the country. As Malaysia goes all out to fight COVID-19 in this time of crisis, hopefully, other problems that have persisted in the country will not be neglected.
Related articles:
ASEAN: Epicentre of human trafficking