When the region's internet penetration rate started to grow in the mid-2000s, many users in Southeast Asia started yearning for their very own "Amazon", an e-commerce site where they could simply place an order online and have their goods delivered to their doorstep. Fast forward to 2018, and their dreams have come true with Lazada. The popular e-commerce portal currently serves six markets in Southeast Asia with millions of users.
Lazada's foray into e-commerce was actually inspired by Amazon. Noticing the increasing internet penetration in the region and the demand for e-commerce services, Lazada was established with the intention of becoming the "Amazon of Southeast Asia". Lazada was founded by Rocket Internet, a Berlin based incubator that builds companies that copy the business models of successful United States tech companies in upcoming markets. While Rocket Internet has been criticised for its methods and accused of encouraging copycats, Lazada went on unfettered.
Within two years of the launch of its website, Lazada managed to successfully gain major investments. Swedish retailer Kinnevik invested US$40 million and German private equity firm Summit Partners invested US$26 million, while investment banking giant JP Morgan invested an undisclosed amount. With this investment, Lazada expanded its services. The company introduced 2-day guaranteed shipping and improved its warehouses.
Constantly Growing
The digital landscape of Southeast Asia has evolved rapidly ever since Lazada's inception. With a market size of 630 million people and an internet penetration rate of 53 percent, the digital economy of Southeast Asia is one of the fastest growing in the world. A report by Temasek and Google from 2017 shows that the digital economy in the region is expected to grow to US$200 billion within the decade. The e-commerce industry will play a big part in that boom. In the region, e-commerce transactions have leapt in value from US$5.5 billion in 2015 to US$7.9 billion in 2017. By 2025, the industry is projected to be worth US$88.1 billion, attaining the status as the most valuable segment in the Southeast Asian internet economy.
Chinese companies have already noticed the potential and are pouring in investments to cash in on the growing digital economy. Alibaba is one of them. Instead of taking the risk by entering the regional e-commerce market through its own marketplace websites such as Taobao or AliExpress, Alibaba decided to invest instead in Lazada, an already established player in the e-commerce sector. In 2016, Alibaba secured a controlling stake in Lazada by investing US$1 billon - US$500 million for new shares - while also buying US$500 million worth of existing shares. Since then, Alibaba has injected US$3 billion into the company. Alibaba has also replaced Lazada's CEO with Alibaba executive Lucy Peng.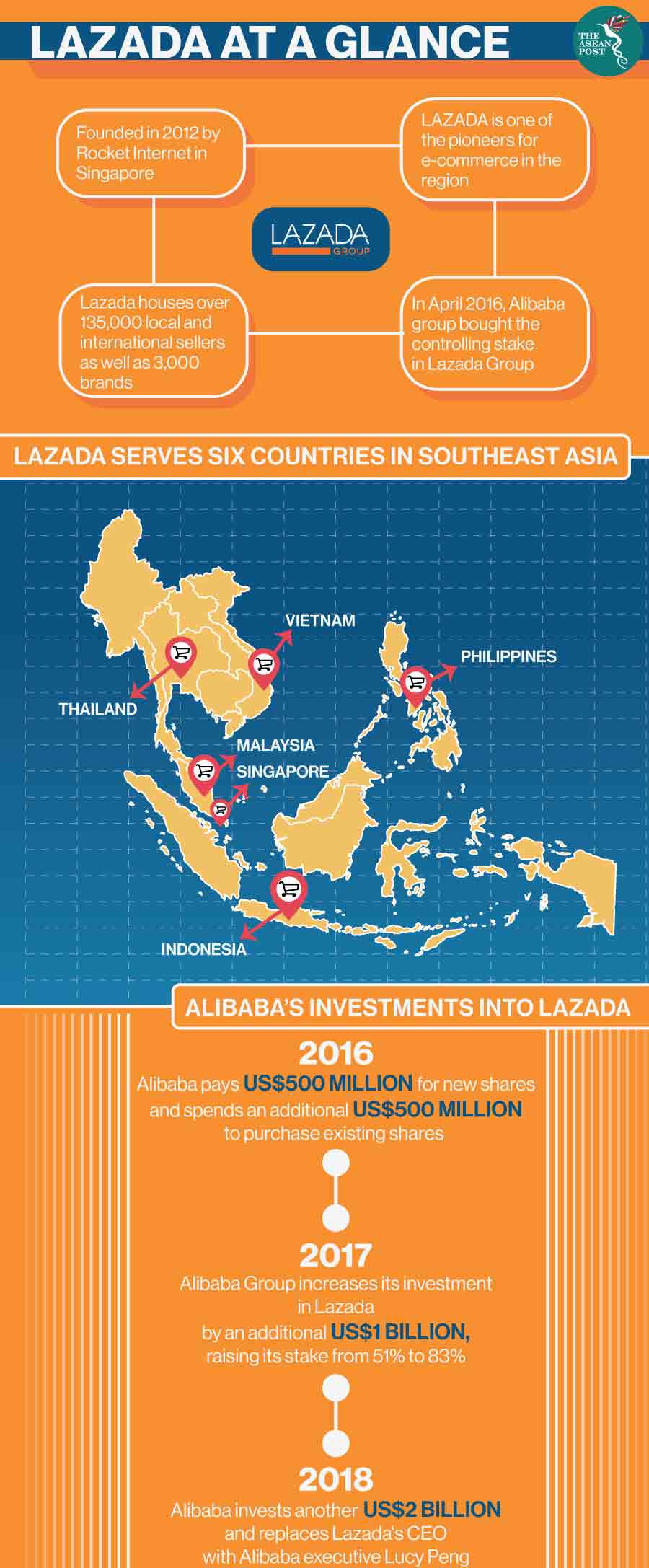 More Players Enter The Fray
However, as the internet opens up, so do opportunities in the region. Over the past year more and more players are entering the market to capitalise on the regional e-commerce goldmine. Lazada will now have to compete with its inspiration as Amazon recently joined the race in Southeast Asia by way of Singapore. It has been reported that Vietnam will be the next location Amazon sets up shop in. It will only be a matter of time before it expands to the rest of the region. Meanwhile, Lazada also faces stiff competition from other e-commerce websites such as Shopee and Carousell.
While Lazada is very much a business-to-consumer company (B2C), it is also competing in the consumer-to-consumer (C2C) space of the e-commerce market. C2C businesses are online marketplaces where individuals buy or trade items. According to a Frost and Sullivan report in May 2017, Shopee has an annualized gross merchandise value exceeding US$3 billion in seven markets in Southeast Asia. Carousell is another big player in the consumer-to-consumer market. The Singapore-based startup recently closed a Series C round of fundraising worth US$70-US$80 million.
With increased competition, expect Alibaba and Lazada to step-up their game to consolidate their position in the region. When Amazon first entered the region, it was reported that Lazada teamed up with Uber and Netflix to launch LiveUp. LiveUp is a paid membership system where subscribers can get exclusive deals from all three companies, similar to Amazon Prime.
What the future holds is this – expect more partnerships and collaborations across brands to provide more specialized and niche services. The biggest benefactors of increased competition will be Southeast Asia's consumers.