It was recently reported that the United Nations Development Program (UNDP) had launched an initiative to connect Cambodia's public service sector digitally with that of other countries. The point was to find speedier solutions to developmental challenges. 
The UNDP Accelerator Labs initiative is a new service introduced in 78 countries that works with people, governments and the private sector to work together with national and global partners to find radically new approaches that fit the complexity of current challenges. The labs are aimed at building the largest and fastest global learning network on development challenges.
UNDP Resident Representative, Nick Beresford said at the launch on Monday that the programme focuses on innovations in the civil service, public sector and other stakeholders in society to test and scale sustainable solutions to the challenges.
In September 2018, months after Cambodia's general election, Chheang Vannarith, an advisor to the Enrich Institute, an independent think-tank dedicated to promoting the implementation of the Sustainable Development Goals (SDGs) in Cambodia, was quoted as saying that the government must continually adapt and innovate to address emerging issues and challenges facing society. He said this was especially important if it wants to catch up with global and regional trends, particularly amidst the uncertainties caused by the Fourth Industrial Revolution. 
"Some countries have already developed their industry policy 4.0 or digital economy strategy to stay competitive. But for the case of Cambodia, public sector innovation matters the most given the development model in Cambodia remains a state-led development model," he said. 
Chheang added that public sector innovation was key to unlocking Cambodia's development potential and to materialise its development vision to become a higher-middle-income country by 2030 and high-income country by 2050.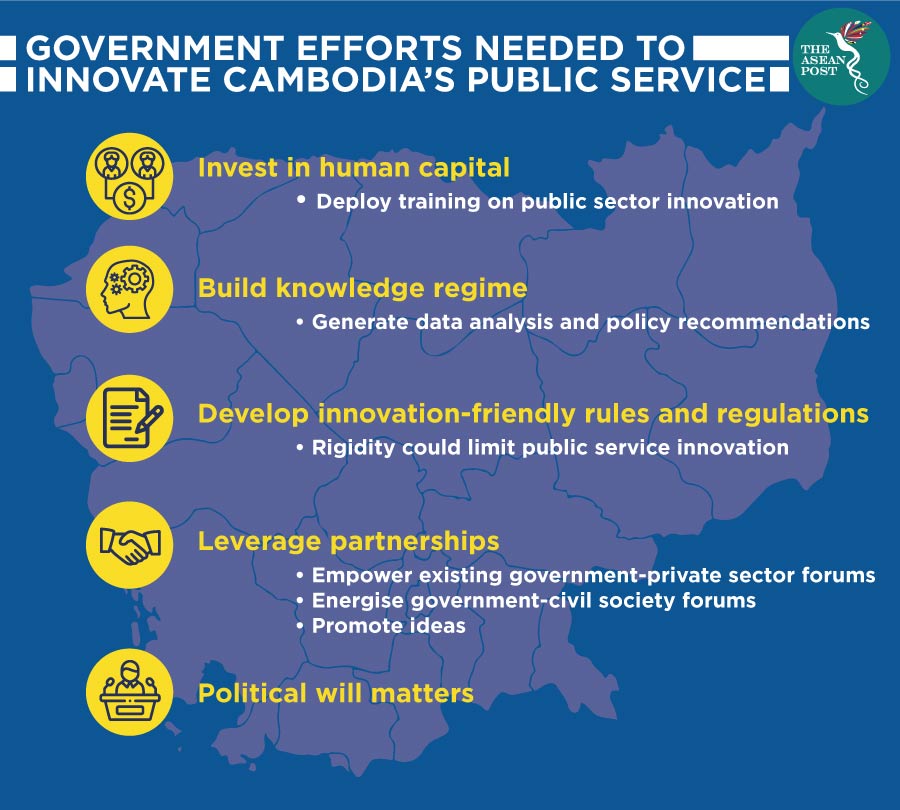 Ensuring better public service
In 2017, Cambodia's Civil Service Minister, Pich Bunthin was quoted as saying that the ministry had adopted several regulations to improve public services, adding, however, that there is still a long road ahead. He also called for ministries providing public service to work on restructuring their operational management, delegating tasks, providing training to service providers, and developing mechanisms to evaluate and receive service delivery feedback.
Vannarith said there were several efforts the government should make in innovating the public service. The first was investing in human capital, adding that short-term training on public sector innovation should be developed.
Secondly, was building a knowledge regime on innovation. A knowledge regime is an organisational and institutional machinery that generates data analysis and policy recommendations that influence policymaking and public debate.
Thirdly, developing innovation-friendly rules and regulation. Rigidity of regulations and formal rules could limit the development of public service innovation.
Fourthly, leveraging partnerships among state agencies and between the public sector with the private sector and civil society. According to Vannarith, the government should empower the existing government-private sector forum and revive and energise the government-civil society forum in order to promote ideas.
Finally, he said political will matters the most in promoting public sector innovation. 
"There some obstacles to overcome and risks to face. Yet as long as there is a will, there is a way."
4.0 challenges
In terms of innovating Cambodia's civil service, it is obvious that a large portion of the focus would be on the Fourth Industrial Revolution.
Ratnakar Adhikari, Executive Director of the Enhanced Integrated Framework Executive Secretariat at the World Trade Organization (WTO), said that good policy and regulation will be required, and will only be possible through coordinated action from various ministries. For example, introducing an information and communications policy that imposes universal service obligations on internet providers to ensure connection of even "last-mile" users to the internet would benefit from a trade policy that reduces tariffs on the import of smartphones and tablets and an investment policy that removes the cap on foreign ownership of internet services.
International Monetary Fund (IMF) deputy managing director, Mitsuhiro Furusawa has been quoted as saying that good governance is essential if Cambodia is to compete against other countries that also aspire to move up the ladder of development.
"In this context, I am happy to hear that the government has launched an Industrial Development Policy. The policy aims to upgrade Cambodia's industrial structure from labour intensive production to one driven by skills by 2025. If implemented in timely and effective fashion, this policy could promote diversification and sustained growth."
Will Cambodia, along with help from the UNDP, be able to bring its public service up to speed to meet the challenges of the Fourth Industrial Revolution? 
Related articles:
Embracing the Fourth Industrial Revolution