2020 was a dreadful year. As COVID-19 spread and developed into a pandemic of truly global proportions, countless lives were lost, livelihoods shattered, and activities, which we once took for granted, became a distant dream. 
Against this sombre backdrop, however, another story unfolded. It is a story of innovation and ingenuity as scientists around the world worked tirelessly to develop and trial vaccines that would provide a major boost to our collective effort to stem the tide of the pandemic.
At the outset of 2021, we can already see the first tangible results of this unprecedented effort as vulnerable people and health workers receive the first vaccines. In Southeast Asia, Europe and elsewhere, a glimmer of light has appeared at the end of this long and dark tunnel. 
As vaccinations start being rolled out, new, relevant questions emerge: Are vaccines being distributed equally? Will rich countries receive more doses than less affluent ones? How can we improve international collaboration that leads to access for all, not only for the select few?
For the European Union (EU), the answer is clear: no one is safe until everyone is safe. No region, no country, and no group of people should be at a disadvantage or indeed precluded from having a fair, equitable access to COVID-19 vaccines that are safe to use and provide necessary levels of quality control standards and protection. 
Any other outcome would create a situation that is both morally unjustifiable and provides fertile grounds for the emergence of new strains. Our efforts to mitigate the pandemic call for cooperation and ensuring that no one is left behind. 
This is why the EU emerged as the world's strongest supporter of the COVAX Facility, a World Health Organization (WHO)-GAVI global initiative that engages 90 percent of the world's population and aims to ensure fair and equitable access to COVID-19 vaccines for all. 
Team Europe, composed of the EU and our Member States, has thus far pledged more that €850 million (US$1 billion) to purchase, secure and deliver vaccines to low and middle-income countries through the COVAX Facility. This is more than the total pledge of all members of the East Asia Summit combined. 
The initial tangible results of this initiative are already here. On 22 January, COVAX announced the signing of an advance purchase agreement of up to 40 million doses of the Pfizer-BioNTech vaccine, which has been approved by the WHO for emergency use. First deliveries of vaccines subsidised by COVAX will commence in Southeast Asia and around the world in the very near future. 
Three Billion Doses
Once fully funded, the COVAX Facility will allow 92 lower and middle-income countries, as part of a collective effort, to secure 1.3 billion doses of vaccines by the end of 2021, covering the most vulnerable part of these countries' populations. Despite the current worldwide shortage of supplies, up to 100 million doses are expected to be delivered in the first quarter of this year globally.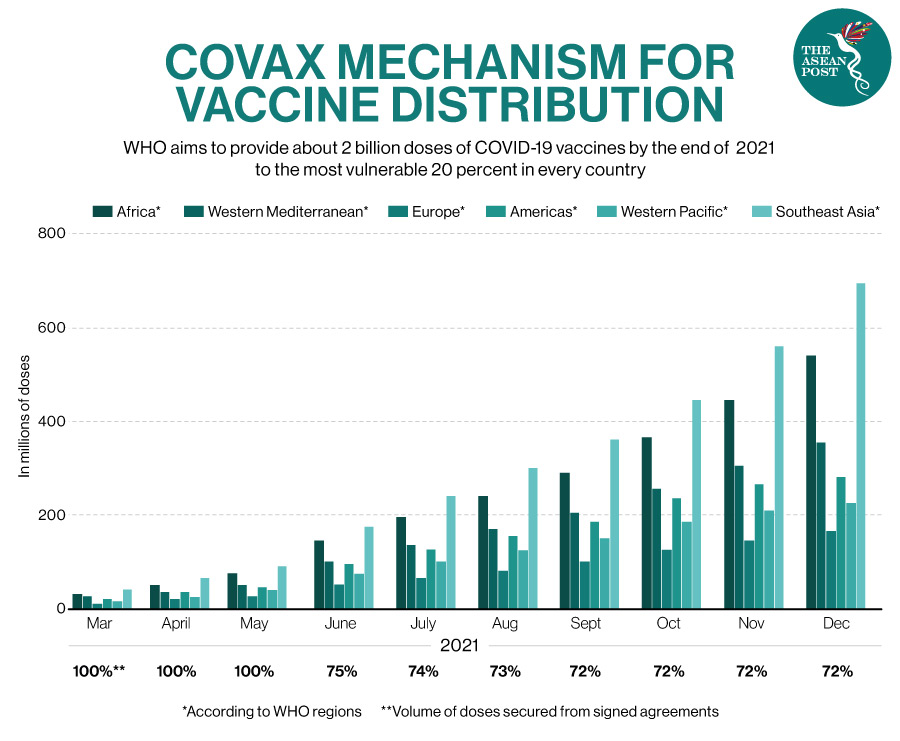 By the end of 2022, three billion doses could be available for delivery under COVAX. It is encouraging to hear that one half of this target has already been contracted amidst continuing negotiations with pharmaceutical companies.
The vaccine rollout is not without challenges. Last year, the EU started an expert dialogue on vaccines with the Association of Southeast Asian Nations (ASEAN). In the coming months, health officials from the EU and ASEAN will continue to meet to discuss vaccines authorisation, distribution, logistics, implementation of vaccination plans, and other related challenges. 
This discussion will go hand in hand with the financial support that Team Europe has extended to ASEAN member states since the start of the pandemic – over €800 million (US$970 million) to increase hospital capacity, accelerate health research and improve therapeutics across the region.
This is what the EU stands for. We stand for vaccine cooperation instead of vaccine nationalism. We stand for vaccine multilateralism and resolutely oppose the waving of vaccine promises in return for political favours. 
After the appalling year of 2020, this year should be a time to heal and rebuild. We can only do so if we base our actions on science, our cooperation on a genuine sense of purpose and make sure to leave no one behind. 
This is the true spirit of the EU's global policy and indeed of the EU-ASEAN Strategic Partnership.
Related Articles: 
COVID-19 And The Doomsday Clock