The world has been battling the coronavirus pandemic for more than 10 months now. People are slowly adapting to a new normal amid the crisis, such as physical distancing and mask wearing. However, they are still getting infected every day, with more than 50 million COVID-19 cases reported worldwide. In some countries, especially poorer nations and in rural areas, healthcare systems are struggling to cope with the increasing number of infections. 
For example, in virus-hit Myanmar where the healthcare system is consistently ranked among the lowest in the world, poor states such as the Rakhine township have only one doctor per 83,000 people, or 0.12 per 10,000, reported the Human Rights Watch (HRW). This makes residents more vulnerable because they have limited access to basic healthcare.
The pandemic has also severely hurt livelihoods and the economy in general as multiple countries enter recession. 
Therefore, it wasn't a surprise when markets soared today and hopes were raised when one of the teams racing to develop a COVID-19 vaccine announced its drug had shown 90 percent effectiveness.
The drug developed by United States (US) pharmaceutical giant Pfizer and German firm BioNTech, is one of more than 40 candidate vaccines in a race to find a viable solution to the pandemic. 
Pfizer said that tests involving more than 40,000 people had provided results that were a "critical milestone" in the search for a vaccine.
"We are a significant step closer to providing people around the world with a much-needed breakthrough to help bring an end to this global health crisis," Albert Bourla, chairman of Pfizer said in a statement.
Nevertheless, many questions still remain about the study which is not yet completed. Media reports state that it could be months before the vaccine is readily available to most people. 
While the news of the Pfizer vaccine is promising, experts expect preventive measures like social distancing and wearing a face mask to continue to be essential well into the summer of 2021.
Although Pfizer's vaccine is the first to report successful late-stage trial results, several other drug developers are also aiming to follow with results for their own vaccines. Some of these include Johnson & Johnson, the University of Oxford's collaboration with biopharmaceutical company AstraZeneca, Indian firm Bharat Biotech, and Russia's Sputnik V.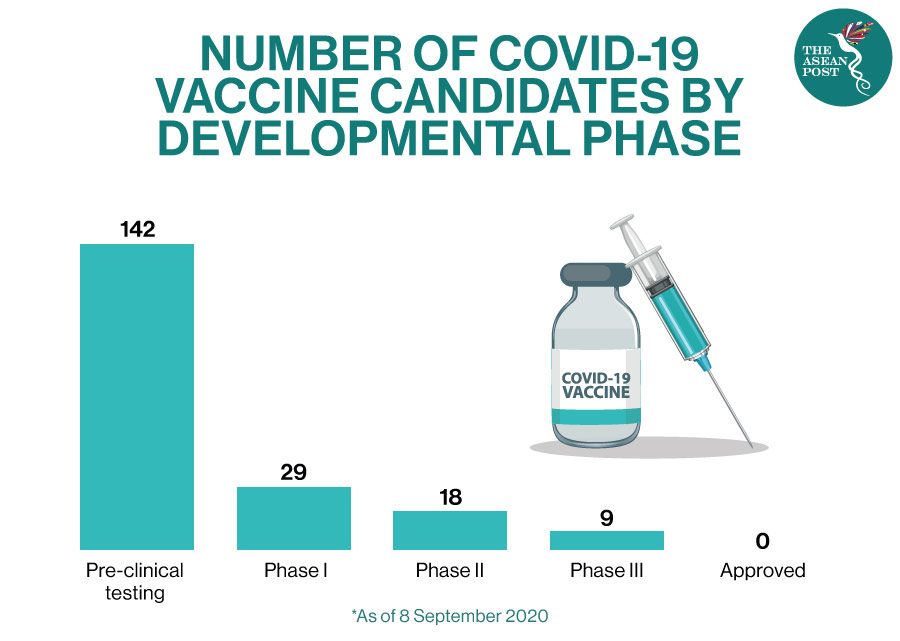 What About Poor Nations?
As previously mentioned, poorer nations or those living in poverty are faced with many challenges amid the pandemic.
"Whilst almost everyone is vulnerable to the economic impacts of COVID-19, those who already face the highest risk and degree of socioeconomic marginalisation will be the most severely impacted," said Dr Haniza Khalid, Senior Development Economist at the United Nations Development Programme (UNDP) Malaysia. 
For instance, poor living condition or inadequate access to clean water and sanitation might be barriers to being able to exercise precautions like social distancing or frequent handwashing.
Unfortunately, when a COVID-19 vaccine finally becomes available, billions of people in poor and middle-income countries might not be immunised until 2023 or even 2024, researchers at Duke University predict.
Although none of the potential vaccines have been approved for use, governments in mostly wealthy countries have already purchased 3.8 billion doses of the most promising candidates, with negotiations underway for another five billion more, according to analysis from Duke University's Global Health Innovation Centre. 
"Countries are acting in their own interests, which makes sense. The problem it leads to is a pattern of behaviour globally where we are limited in the number of doses we can produce in the first year or two… And so many are getting taken off the market and snatched up and reserved for high-income countries, leaving potentially very little for low- and middle-income countries," explained Andrea Taylor, an assistant director at the centre.
"Where we are headed is a situation where high-income countries have enough, and low-income countries just don't," she said.
Not all candidate vaccines will work. Therefore, rich countries are hedging their bets by reserving more than one candidate, said Dr Krishna Udayakumar from Duke University.
However, it was reported that more than 150 countries have signed on to participate in the international initiative called the COVID-19 Vaccines Global Access Facility (COVAX) which aims to help develop and distribute two billion doses of a vaccine more equally around the world by the end of 2021. 
But there are some concerns raised regarding the initiative.
Executive director of the Center for Global Development, Amanda Glassman said that one concern she has "with COVAX is that it's committed to purchasing vaccines that could be too expensive or inappropriate for low- and middle-income countries." For example, the vaccine could require special freezers for storage or multiple doses to be effective.
This can already be seen from Pfizer's vaccine which needs cold storage requirements. Journalist Carl O'Donnell writes in his recent article that this will "impede Pfizer's ability to reach rural healthcare systems and nursing homes, or less wealthy nations, which may not have the funds for the refrigeration units."
Hopefully, when a vaccine is available, it is accessible for everyone and distributed fairly based on need.
Related Articles:
Vaccine 'Milestone' Hailed As COVID-19 Cases Soar