With the International Monetary Fund (IMF) expecting Vietnam's economy to grow by 6.5 percent in 2019 and 2020, it is only natural that one of the region's fastest growing countries is turning towards renewable energy to secure its energy needs.  
What is not normal, though, is the pace in which it has taken up solar photovoltaic (PV) installations – a market it now leads in Southeast Asia.
From only 134 megawatts (MW) in 2018, Vietnam's cumulative installed solar PV capacity will hit 5.5 gigawatts (GW) this year – or 44 percent of Southeast Asia's total capacity – according to global energy consultants Wood Mackenzie in research released last week.
Vietnam added 4.45 GW of new solar PV capacity from June 2018 to June 2019, and Norwegian consultancy Rystad Energy calculated that the average time for construction and commissioning a solar PV project in Vietnam was "an astonishing 275 days."
Exceeding Expectations
As Vietnamese media reported in September, this 4.45 GW easily exceeds the 1 GW target set for solar PV electricity generation by 2020.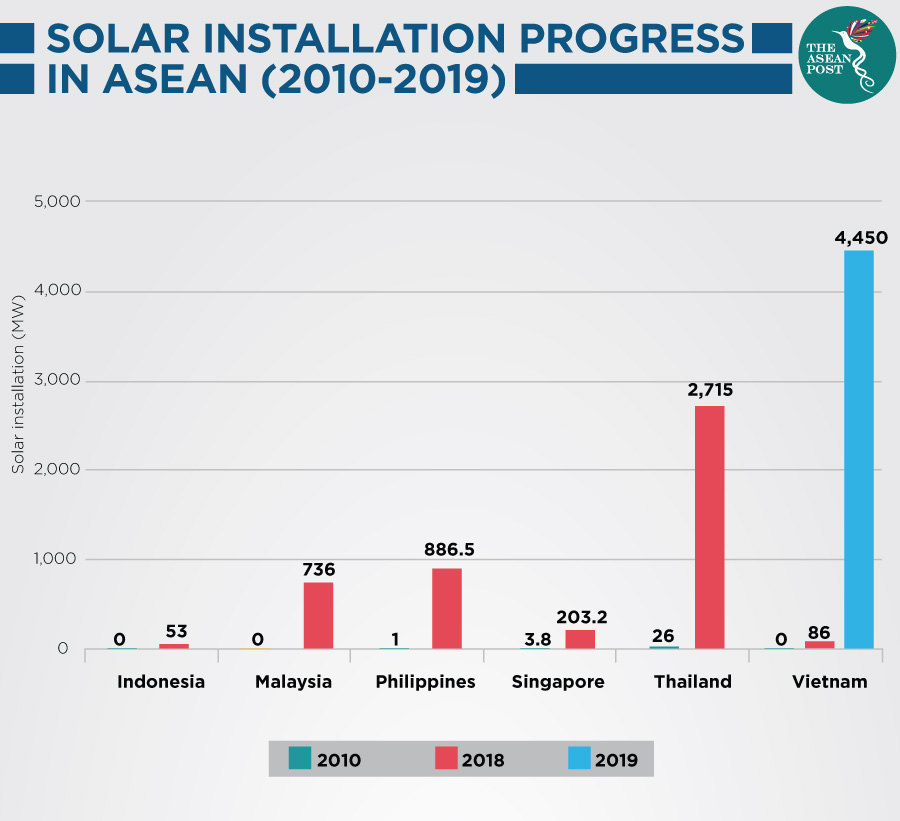 Vietnamese state-owned utility company, Vietnam Electricity (EVN) stated that as many as 82 plants with a combined capacity of 4.45 GW were connected to the national grid as of 30 June, allowing them to qualify for the feed-in tariff (FIT) programme.
FITs are payments made to renewable energy producers – be it companies or households – for each unit of energy they produce for the electricity grid. 
Central to the growth of the solar PV industry in Vietnam was the announcement in 2017 that projects commissioned before the end of June 2019 would qualify for a 20-year FIT contract of US$0.0935/kilowatt hour (kWh), leading to a rush to get projects off the ground. 
"The commissioned capacity in Vietnam has exceeded our high case," said David Dixon, senior analyst on Rystad Energy's renewables team.
While there were bankability concerns surrounding the new projects, Rishab Shrestha, Wood Mackenzie's power and renewables analyst, pointed out that project economics were attractive – delivering equity returns in the mid-teens.
"Regional and local IPPs (Independent Power Producers) and developers felt comfortable taking on the risk, and the projects received financing from regional and local banks," said Shrestha.
"FITs have proven to be an effective policy tool to induce rapid growth in renewables, and Vietnam's build is another example of that."
Grid Overload
However, as Rystad notes, grid overload is Vietnam's main concern moving forward.  
With only four solar plants with a cumulative capacity of 150 MW connected to the grid by mid-April, 34 more facilities with a cumulative capacity of 2.2 GW were added by the end of May – and EVN expects the number to rise to 95 by the end of 2019. 
Wood Mackenzie, meanwhile, has also warned that EVN – the country's only utility company – will need to find more free space in the grid or their plants will not be producing to their designed capacity.
In Vietnam's key provinces, the installed capacity has already exceeded the grid capacity by 18 percent and the approved capacity for the Ninh Thuan and Binh Thuan provinces stand at 5 GW, more than double the grid usable capacity.
That is not stopping the country from rolling out more projects though. Vietnam last month announced it would be developing the largest floating solar PV installation in Southeast Asia.
The Asian Development Bank (ADB) signed a US$37 million loan to finance the 47.5 MW facility at the 175 MW Da Mi hydropower plant, and not only will it be the country's first large-scale floating solar power plant, it will also be the first on a hydropower reservoir.
As Christopher Thieme, ADB's Private Sector Operations Department Deputy Director General pointed out, the pairing of these two clean energy technologies – hydropower and solar – is a simple but highly innovative achievement which can be replicated elsewhere in Vietnam and across Asia and the Pacific.
Apart from helping to boost the share of renewable energy in Vietnam's overall energy mix, the project will also decrease Vietnam's dependence on fossil fuels such as coal – which will be key to the country's push for sustainable growth.
Related Articles:
Bankability of solar in Southeast Asia
The potential of floating solar power