While Vietnam's economy is expected to become bigger than Singapore's in the next decade based on both countries' current rate of growth, there are several challenges that lie ahead for ASEAN's rising star.
In a report published by Singapore-based DBS Bank on Tuesday, senior economist Irvin Seah predicted that Vietnam's gross domestic product (GDP) will surpass that of Singapore's by 2029 if Vietnam maintains its annual growth rate of about six to 6.5 percent and Singapore continues to grow at 2.5 percent a year.
Commenting on the report, Maybank Kim Eng economist Chua Hak Bin told media in Singapore that it may only take five to six years for Vietnam to overtake Singapore if growth conditions remain constant.
Vietnam's GDP was US$224 billion – just 69 percent of Singapore's US$324 billion – back in 2017 according to the ASEAN Statistical Yearbook 2018. ASEAN's largest country by size and population, Indonesia also has the region's strongest economy valued at US$1 trillion, followed by Thailand (US$456 billion), Singapore, Malaysia (US$317 billion), the Philippines (US$314 billion) and Vietnam. 
However, GDP per capita is a better indicator of a country's purchasing power and standard of living, and Singapore topped the region with US$57,722 in 2017 – more than 24 times higher than Vietnam's US$2,390.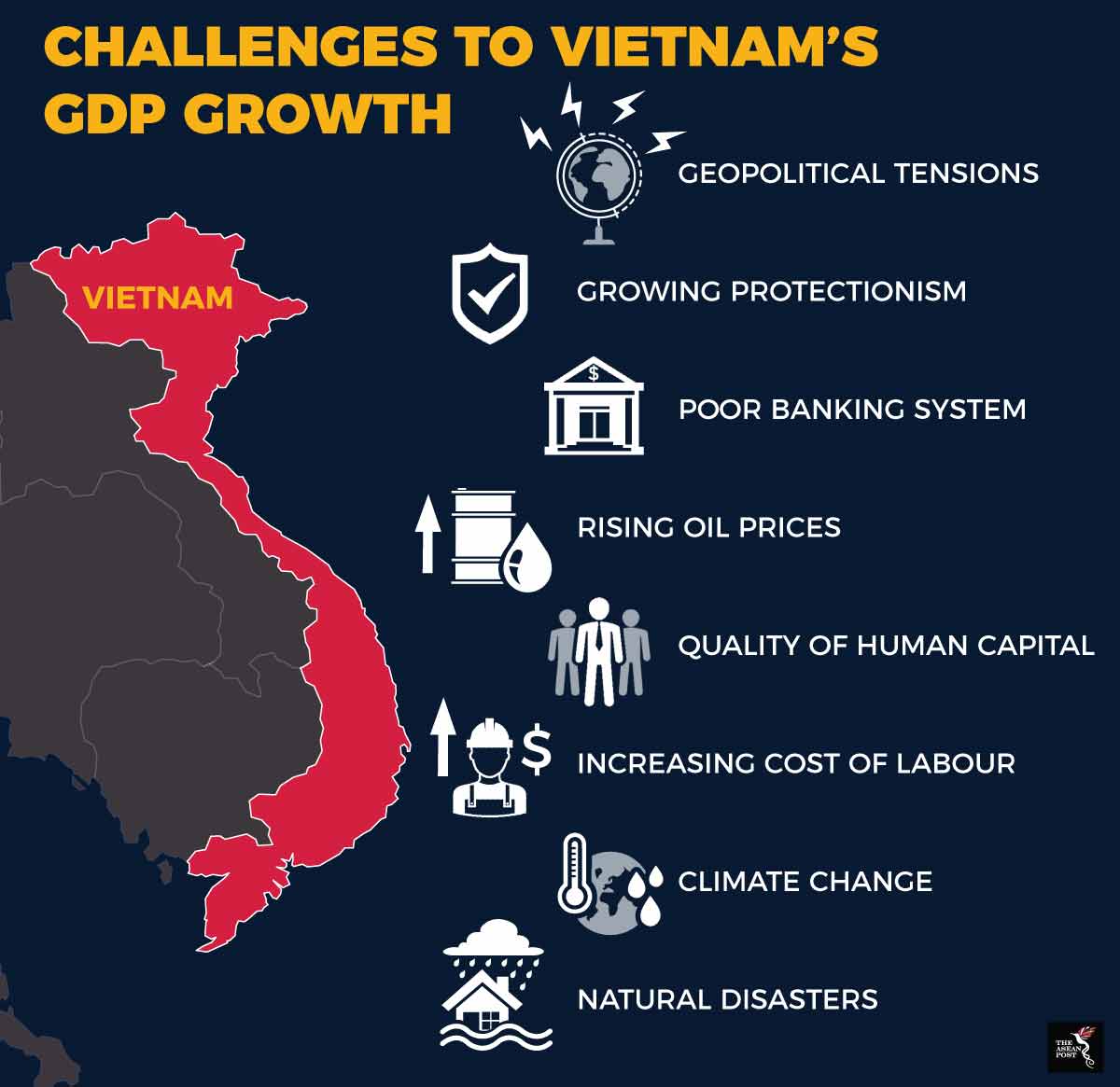 Source: Various
Concerns to address
Vietnam faces several concerns if it is to realise these predictions. Inflation is one of them. The country was struggling with exceptionally high inflation (up to 28 percent) amid the global financial crisis about a decade ago, and the government's focus on economic stability combined with reforms in state-owned enterprises (SOEs), the financial sector and public investment helped stabilise its economy.
The region's growing geopolitical tensions are also a worry, especially in the face of China's growing militarisation of the South China Sea – a key sea route and maritime resource – which Vietnam and a number of other ASEAN nations have claims to. 
Although it is already benefitting from the US-China trade war due to its geographical position in the regional supply chain, Vietnam – like other countries in the region – has to remain cautious about growing global protectionism.
And while its human capital is ranked second in ASEAN according to the World Bank Human Capital Index, Vietnam needs a high skilled workforce and to balance it with the increasing cost of labour.
Rising oil prices, improving transport links and addressing inequalities in access to education are all equally important concerns that need to be looked at if Vietnam is to maintain its strong growth. Its banking sector is also lagging behind its regional counterparts with only 20 percent of Vietnamese having bank accounts.
Water management is another challenge for Vietnam. Phạm Quy Nhan, the deputy head of Vietnam's Natural Resources and Environment University, told Vietnamese media on Monday that about 8.5 million people in urban areas and 41 million in rural areas lack access to clean water. 
60 percent of the country's population relies on groundwater for their water supply, and the high extraction rates are causing a rapid lowering of water levels in key areas around Hanoi and Ho Chi Minh City.
As one of the countries most affected by climate change in ASEAN, increased rainfall has created significant flood risks in Vietnam, impacting lives and the economy.
Why invest in Vietnam?
Boosted by an influx of foreign direct investment (FDI), Vietnam's economy grew by 7.1 percent last year – the second highest in Asia after India's at 7.2 percent.
The second largest exporter of electronic goods in ASEAN after Malaysia, investment in this sector is rapidly growing and electronics giants such as Samsung and Microsoft are among the country's more notable investors. Vietnam's competitive wage costs also make it an attractive manufacturing hub. 
Vietnam's political system is also stable and the ruling Communist Party has spent heavily on infrastructure – the highest as percentage of GDP – in ASEAN.
While Vietnam shares many of the same risks and challenges as its regional counterparts, its underlying economic foundations are strong and it has a solid policy direction that is heading in the right direction, providing tremendous growth opportunities for companies and investors looking to get a slice of the action. 
Related articles:
Vietnam to reach new heights in 2019
An optimist's guide to climate change