The mounting plastic crisis is being met with the reactive waves of worldwide bans on single-use plastic bags and straws in many countries especially at supermarkets and food establishments. Every year there are eight million tons of plastic dumped into the ocean, with straws making up four percent of plastic trash. Plastic trash is harmful to aquatic animals and the United Nations (UN) estimates that by 2050, there could be more plastic than fish in our oceans. 
By 2025, the projected share of global mismanaged plastic waste puts the ASEAN region as the leading culprit, with Indonesia contributing to at least 10 percent of the global total.
This projection can be avoided since the ASEAN region is now more aware of the plastic crisis. Malaysia has issued a permanent ban on the import of plastic waste, while Vietnam and Thailand have banned the issuance of licences for the import of plastic waste. Just recently the Philippines sent back tonnes of plastic waste back to Canada. 
The straw ban
While the damage plastic straws do to marine life and the environment is devastating, the use of plastic straws should not be entirely banned. There are many people who depend on straws for a variety of reasons, leaving them the option of using alternatives like reusable or biodegradable straw. 
Yet for some, the plastic straw ban is more than just an inconvenience. At hospitals, patients who cannot consume liquids use plastic straws as a drinking tube. The invention of straws allows people with disabilities the freedom of doing things by themselves. Unfortunate for them, there are still no viable alternatives that work for people with disabilities. The main concern of eco-friendly straws is their inability to bend and be positioned like plastic straws. 
Plastic straws are still essential for people with a wide range of disabilities. Able-bodied people on the other hand do not have a valid excuse not to use reusable straws. A replacement is necessary and many have stepped up to provide options for this growing demand. Currently straws can be made of metal, bamboo, glass, silicone, acrylic, paper and even pasta.
Sustainable materials have long been used to make straws but a recent ingenious solution from a young Vietnamese entrepreneur is making waves. His straws are made from wild grass.
Zero-waste option 
Tran Minh Tien from Vietnam has found a zero-waste alternative to sustainable plastic straws. His straws are made from grey sedge grass of the species Lepironia Articulata. Locally known as "co bang", the grass grows around the Mekong Delta region in south-western Vietnam. 
Tran set up his company, Ong Hut Co, with the intention of protecting the environment by reducing the use of plastic straws. Hand-crafted by a group of women residing in Duc Hue, at Long An province, sedge grass has a hollow stem, making it perfect for use as a natural straw.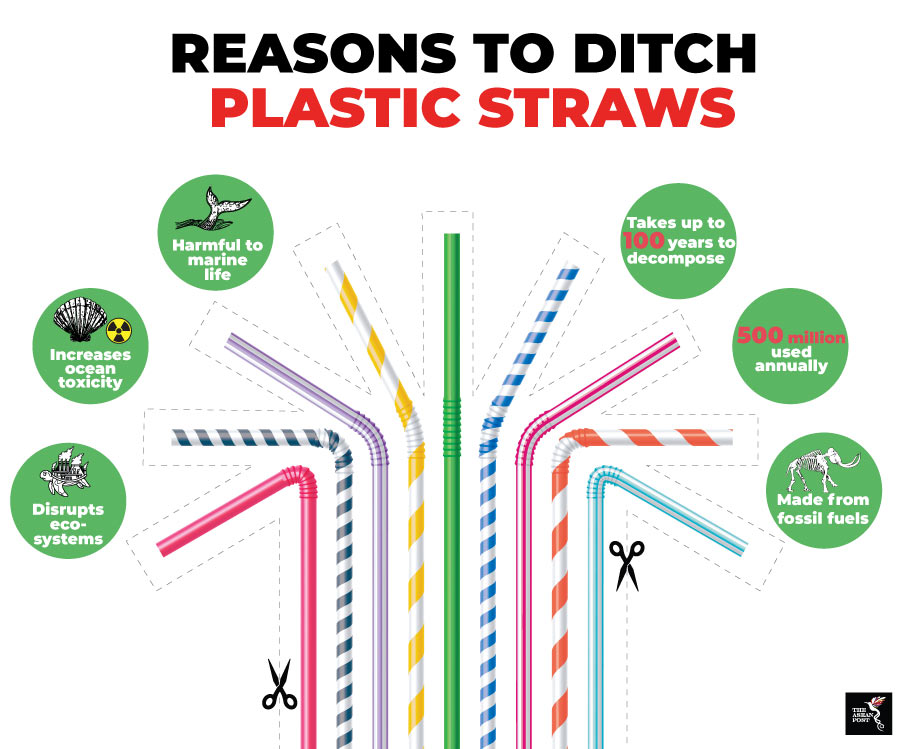 Source: Various
The fresh grass straws can be used after it has been cleaned and cut into approximately 20-centimetre lengths. An iron rod is then used to clean the hollow stem.
These straws are then sold in a bundle, wrapped in banana leaves and can be stored for up to two weeks. They must be kept in airtight bags and refrigerated. To make these fresh straws last longer, Tran suggests boiling the straws with some salt, then letting them dry before storing in a cool dry place. However, for a longer shelf life of six months, the straws are dried under the sun for two to three days and later, baked in an oven. 
Naturally organic, the straws are edible and can be also used to clean teeth and gums. They are of course free of chemicals and preservatives, compostable and affordable. Sold in bundles of 100, a single dried straw costs US$0.04 while a fresh one is US$0.02. The straws are currently sold in Vietnam.
Another Vietnam based company selling straws made out of grass is Zero Waste Saigon who began looking into sustainable materials, after they were taken aback when they saw monkeys in the forest eating plastic bags. The company was started by Julia Mesner and Michael Burdge. 
People are now more conscious of the environment and are choosing biodegradable straws and paper bags as alternatives when shopping or eating out. The introduction of grass straws into the larger market is not only advantageous for Vietnam's economy, it is also great for the environment. 
Related articles:
ASEAN's poor plastic waste record
Will ASEAN get serious about plastic waste?