Last September, Vietnamese Prime Minister Nguyen Xuan Phuc launched the construction of Vingroup's automobile manufacturing complex in the northern port city of Hai Phong. The automobile manufacturing complex will be the production centre of Vietnam's first national car, Vinfast.
Bloomberg reported in September 2017 that conglomerate Vingroup plans to invest up to US$3.5 billion to build a manufacturing and research and development complex. The launch in September marks the development of the first phase of the plant, reported to be worth around US$1.5 billion.
Production is expected to rollout in the next two years with Vinfast kicking off production with electric motorbikes at a factory site nearby later this year and the production of saloons and SUVs in 2019.
Vietnam's foray into the automotive industry is surprising considering the overwhelming preference for motorcycles in the country. Vietnam Investment Review (VIR) reported in 2017 that about half of Vietnam's population own motorcycles while car ownership is at a ratio of 23 cars per 1,000 people.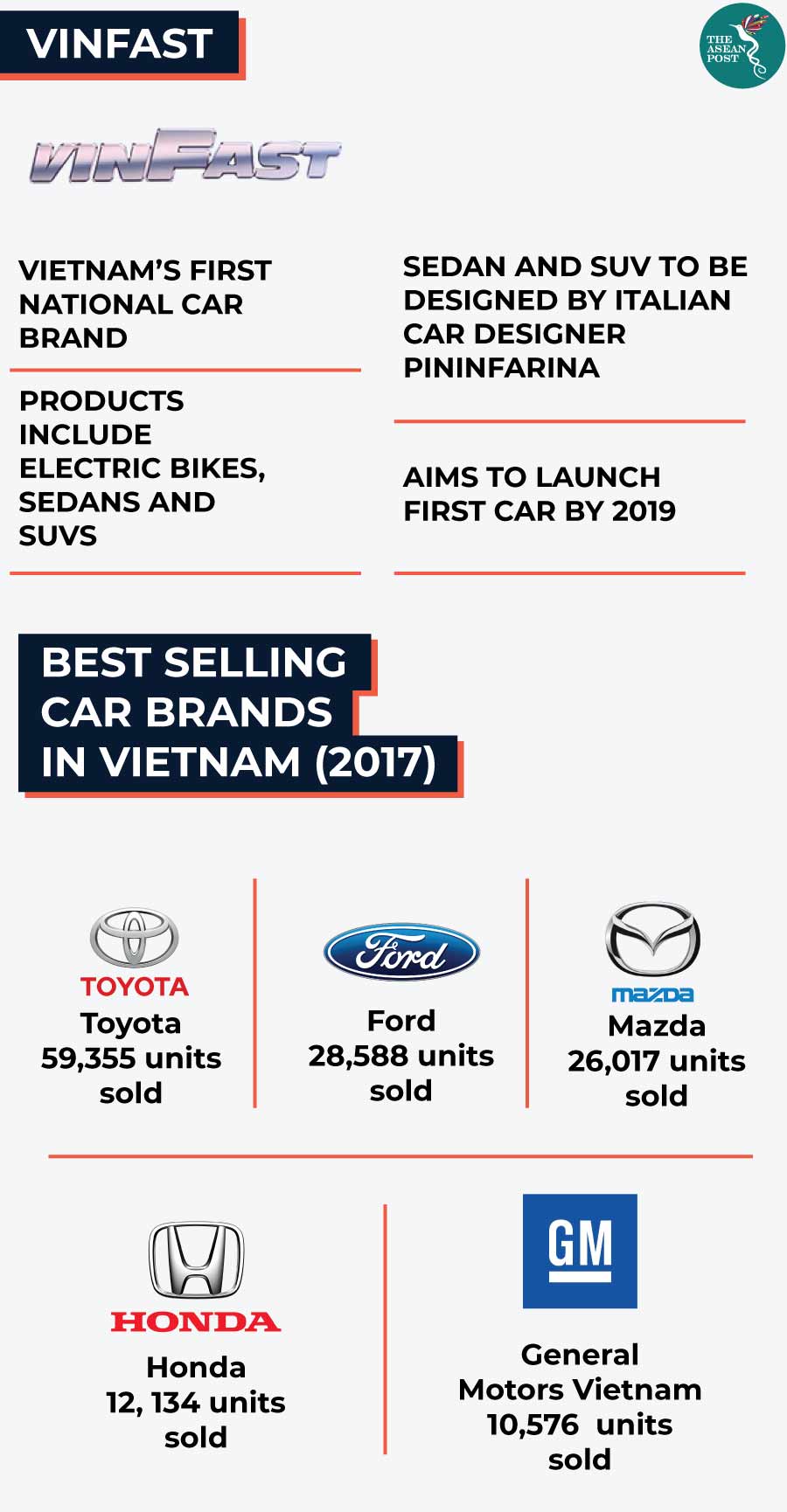 However, Vinfast has set ambitious targets for production. The Vinfast plant will produce vehicles such as electric motorbikes, sedans and sports utility vehicles. Vingroup plans to produce up to 300,000 electric scooters and 250,000 cars per year. However, the Financial Times wrote earlier this month that executives are planning to increase the number up to one million electric scooters and 500,000 cars annually by 2025.
Vingroup is anticipating an increase in demand for cars in the country and the rest of Southeast Asia. UK based automotive market research firm, JATO Dynamics highlighted in their 2017 report that Vietnam's car market was the second fastest growing market in the world in 2016. The Hanoi Times reported in October 2017 that the average Vietnamese income is expected to be around US$3,000 by 2020 which is expected to boost the demand for cars in Vietnam.
Car sales in Southeast Asia is also increasing. Aggregate new car sales in Singapore, Indonesia, Thailand, Vietnam, and the Philippines has risen five percent to nearly 3.4 million units in 2017.
Despite the expected growth in demand for cars in Vietnam and the region, Vinfast has some large obstacles to overcome if they want to become a serious player in the regional automotive scene.
At the start of the year, Vietnam along with Cambodia, Laos and Myanmar abolished tariffs after becoming fully integrated into the ASEAN Economic Community. As a result of this, Vinfast would have to compete with established car brands from Japan, Thailand and Indonesia. According to Vietnamese news agency, Tuoitre News, Vietnam spent US$2.15 billion on car imports in 2017. This figure is expected to increase again in 2018 following abolition of tariffs.
Unlike Malaysian national car manufacturer, Proton, Vinfast would have to experience the market without any protectionist systems in place. However, due to a new decree that requires strict checks on imported vehicles, Toyota Motor and Honda Motor have suspended exports to Vietnam. Whether the decree was enacted intentionally to help the local industry or not, Toyota and Honda pulling out will definitely help boost the local market.
Another challenge facing Vinfast is the dominance of motorcycles on Vietnamese roads. For instance, Vietnam Investment Review wrote in 2017 that Hanoi has an average growth rate of 10% and it is projected that by 2025, Hanoi alone will have 11 million motorcycles on its streets.
Associate Professor, Pham Xuan Mai, former Dean of Traffic Engineering at Ho Chi Minh City University of Technology told VIR that 93% of travel lanes or the city's sidewalks and pavements are occupied by motorcycles. With motorcycles being much cheaper and more equipped to face the notorious traffic jams in Vietnam, there isn't much incentive for Vietnamese to opt for a car.
While a national car can be a symbol of pride and of the nation's economic success, Vinfast has its work cut out for it in the Vietnamese automotive market.