Ever since the COVID-19 coronavirus emerged in China's central Hubei province, strict measures have been taken by countries around the world to contain the deadly virus. China was the first country to imposed a drastic strategy of city lockdowns and travel curbs, which was then followed by other nations such as Italy, the Philippines and Malaysia. Although some argued that lockdowns or controlled movements are necessary in breaking the chain of infection, other issues have arisen amid these alleged successful actions. 
As cities go into lockdown, and citizens are urged to stay at home – victims of abuse are trapped inside their homes with their abusers, and have nowhere to go. 
According to the media, in the once epicentre of the virus – Hubei province – domestic violence reports soared during the lockdown in February, from 47 last year to 162 this year. Wan Fei, a retired police officer who founded a charity campaigning against abuse told local media that "according to our statistics, 90 percent of the causes of violence (in this period) are related to the COVID-19 epidemic." 
In Malaysia, the Talian Kasih hotline was introduced to provide counselling and assistance to women and children who are experiencing abuse, mental health problems, are in need of protection and many issues. The Women and Family Development Ministry (KPWKM) in the ASEAN state was recently criticised for its decision to suspend the hotline during the Movement Control Order (MCO) or 'partial lockdown' of the nation. 
Rozana Isa, Executive director of Sisters in Islam (SIS) – an organisation committed to promoting the rights of women – questioned the ministry by asking, "How can Talian Kasih 15999 be suspended at a time when women and children may need help the most?" 
The decision was later revoked by the KPWKM and the Talian Kasih hotline now operates 24 hours a day, seven days a week – after receiving major backlash from members of the public and local organisations.
As of 26 March, around nine days after Malaysia's MCO was enforced, it was reported by local media that the Talian Kasih hotline saw an increase in number of calls and reports of abuse. The KPWKM's corporate communications department said that 1,893 calls to the helpline had been recorded ever since the partial lockdown started. "The number of calls has increased by 57 percent during the MCO," explained officials to local media. 
Gender-based violence
Stories of violence against women, child marriages and marital rape are not unheard of in Southeast Asia. United Nations (UN) Women estimates that at least one in every three women around the world will be beaten, coerced into sex or abused in her lifetime. According to The Asia Foundation, an organisation committed to improving lives across Asia, gender-based violence is one of the deadliest forms of violence in the region.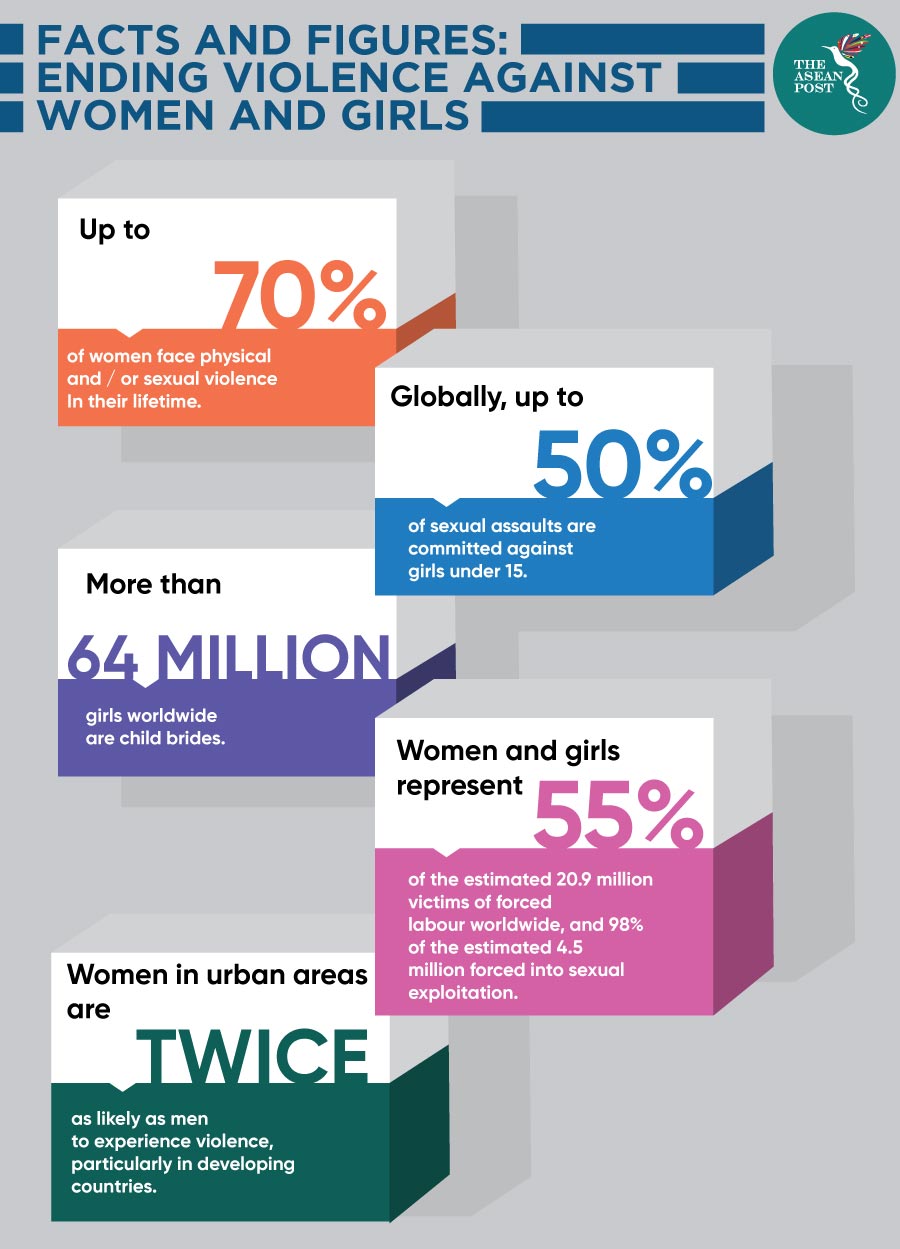 Based on a report by the International Institute for Global Health (UNU-IIGH), intimate partner violence (IPV) is the most common form of gender-based violence, with 28 percent of women in Southeast Asia having to deal with it.  
IPV is defined as physical violence, stalking or psychological harm by a current or former partner or spouse, according to Centers for Disease Control and Prevention (CDC) in the United States (UN). However, an exact figure of incidents of domestic violence is hard to obtain given the nature of the problem. Many cases of abuse involving a partner go unreported.
A report titled 'ASEAN Regional Plan of Action on the Elimination of Violence against Women' by the ASEAN Secretariat published in 2016 discusses some key strategies and actions to curb cases of violence against women. Referring to the report, the Regional Plan of Action (RPA) includes devising effective strategies to prevent violence. The prevention method works to ensure partnership with educational institutions, organisations and private sectors to foster the value of non-violence and gender equality as well as to promote positive masculinity through formal and non-formal education. Other than that, the strategy also encompasses other prevention plans such as protecting the safety of women and girls in public transportation and workplaces.
The ASEAN RPA also adopts other measures such as protecting victims of violence by providing integrated support systems such as medical and psychological care, legal aid, accommodation and financial support, among others. Developing and strengthening legal framework and collecting data and monitoring efforts are also part of the RPA.
ASEAN member states are already feeling the hit from the COVID-19 pandemic with over 7,000 total confirmed cases reported as of 29 March. The fact that some people are living in fear for their lives not only because of the virus, but also abuse – is truly saddening. 
Emily Hilton from the National Society for the Prevention of Cruelty to Children – a United Kingdom (UK)-based children's charity – noted that "self-isolation is an important step in the fight against the coronavirus … but can be dangerous for the thousands of children who grow up in homes with domestic abuse." 
This article was first published on 30 March, 2020. 
Related articles: