Celebrating its 54th anniversary this month, the Association of Southeast Asian Nations (ASEAN) has striven to be a relevant organization for its member states and external parties. The regional grouping has become a major player at the international level and provided platforms of interaction for governments all across the globe through various initiatives, such as the ASEAN Regional Forum (ARF) and ASEAN-plus mechanisms. 
Nevertheless, putting the people at the center of ASEAN is a difficult task. For Southeast Asian citizens, their attachment to this bloc is still problematic because the ASEAN identity remains in question.
ASEAN recognizes the importance of identity as clearly explicated in its motto, "One Vision, One Identity, One Community". Regrettably, the official document specifically addressing the ASEAN identity was just adopted last year at the 37th ASEAN Summit under the heading of the Narrative of ASEAN Identity (NAI). The three-pages piece elaborates the background, aims, substantial values, and foundational aspects of ASEAN identity which defines it as "a process of a social construct defined by a balanced combination of 'Constructed Values' and 'Inherited Values' that will strengthen the ASEAN Community". 
After more than 50 years of its foundation, the organization finally has an explanatory text on the ASEAN identity. This, however, leads to a perception that the development of this concept has only grabbed the member states' attention recently.
Constructing an identity is indeed crucial for ASEAN considering that it is "key to building a community, whether economic, socio-cultural, or political-security varieties," according to a report titled The Evolution and Limitations of ASEAN Identity. Looking at its motto, the phrase "One Identity" is a fundamental aspect in realizing the other two; One Vision and One Community. These three phrases are also closely connected to each other. 
Without a strong identity, achieving ASEAN's vision and establishing an integrated community will be challenging. Strategies to explore and implement the concept of identity in ASEAN should be incorporated into an ongoing process of accomplishing the ASEAN Vision 2025.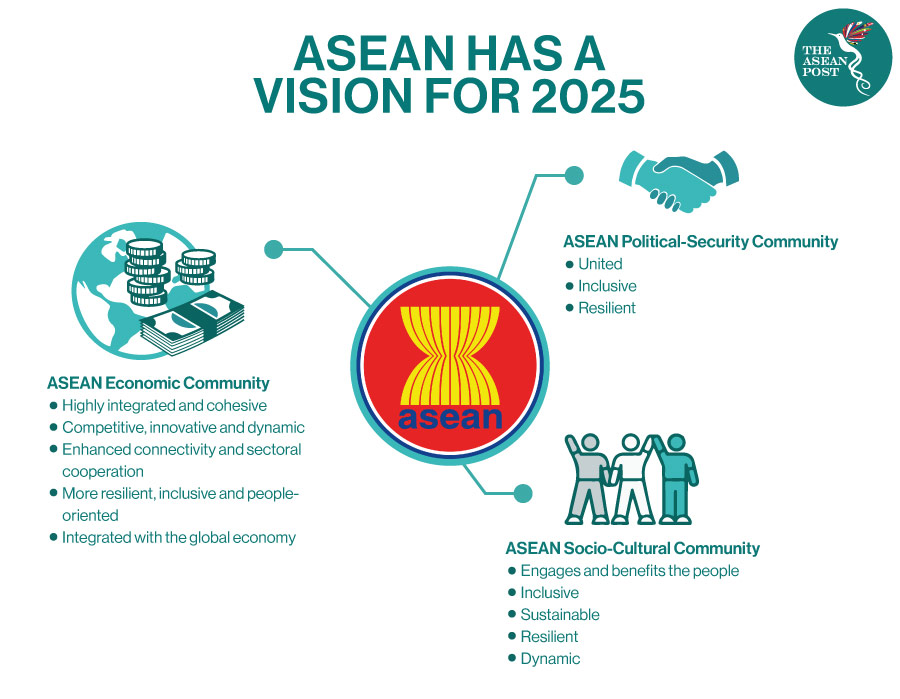 Why The ASEAN Identity Is Overlooked
International relations (IR), a field of study focusing on the interaction among states and non-state actors at the international level, has investigated extensively ASEAN-related issues from various paradigms. 
In Southeast Asia, research on ASEAN has been institutionalized. In Indonesia, the region's largest nation, there are currently 68 ASEAN studies centers located across the country. Several independent organizations also play a vital role and contribute to the exploration of ASEAN, such as the ASEAN Studies Center of ISEAS Yusof Ishak Institute in Singapore, and the Center for Southeast Asian Studies in Jakarta, among others. 
Although many research institutes have been established in the region, research on people-centered ASEAN receives less attention from IR academicians. This resulted in a lack of discussion and development on the role of Southeast Asian citizens as well as the ASEAN identity based on scholarly perspectives.
Many Southeast Asian universities and think tanks pay attention only to the form of ASEAN as a regional organization. They tend to see the bloc as a unitary actor in the international community. Experts concerns more about how ASEAN responds to dynamics of international politics, such as the great-power rivalries and the group's involvement in the Indo-Pacific region. It can be seen from numerous commentaries and research articles which mainly cover high political issues.
On the other hand, the internal side of the organization, which consists of approximately 661.5 million citizens living in 10 countries with diverse interests toward ASEAN, seems to be neglected. This might be a consequence of "Southeast Asian scholars of international relations and security often focus too much on the diplomatic exchanges while dissociating them from their societal and domestic discourses", suggested by a report titled Southeast Asia: New Research Trends in Political Science and International Relations published in the journal Social Science Open Access Repository (SSOAR).
In terms of partnership, ASEAN should be appreciated due to its relative harmonious relationship with external actors. The bloc can provide a medium of discussion for them through various platforms. For example, the ARF hosting a meeting on political and security issues for 26 states and the ASEAN Plus Three (APT) forming close cooperation between ASEAN and East Asian countries. 
Despite this achievement, ASEAN has long been known as an elite organization that may be distanced from grassroots. As an intergovernmental institution, states remain powerful actors in decision making in ASEAN. Attempts to include the participation of Southeast Asian civil society organizations (CSOs), however, remain unclear. 
ASEAN also does not have norms and mechanisms to bridge communication between the organization and CSOs across the region. This leads to the limited role of civil societies only in each country of origin.
The organization's engagement with actors outside the region is much better compared to its internal interactions. This condition could push further the people of Southeast Asia aside. Lack of people's participation in ASEAN works could weaken the ASEAN identity since citizens feel less attachment toward this regional grouping.
Preparing For The Future
Adoption of the NAI is the right step for developing the ASEAN identity since the document has already provided a philosophical foundation and guidelines on how this regional organization should approach the concept of identity. The NAI, however, requires concrete actions from relevant parties in Southeast Asia, such as governments and epistemic communities to realize the ASEAN identity. They need to work hand in hand in shaping ASEAN as a community built on the basis of common identity.
Governments play a major and central role in this issue. They should collaborate with each other and also work domestically by conducting programs that promote the ASEAN identity and encourage people-to-people interaction. To this date, as an ASEAN's body, the ASEAN Foundation has been consistently organizing activities that involve people all across the region. This institution should receive continuous support from the member states.
Furthermore, scholarly works are needed to accelerate the process of formulating "Constructed Values" and "Inherited Values" of the ASEAN identity. 
Interdisciplinary research is essential in this matter because the concept of identity is derived from varied aspects of society, such as politics, culture, and even the environment. Governments might contribute by providing funding for research institutes and higher education institutions to enhance the quality and quantity of works on people-centered ASEAN. 
On top of that, people of Southeast Asia, including elites and grassroots, should understand that national identity and the ASEAN identity could be present at the same time without sacrificing each other.