On 14 January, during his fourth annual meeting with the press, Cambodia's Prime Minister, Hun Sen announced legal-aid support for the country's journalists. The meeting was attended by nearly 6,000 members of the media and the press.
Recent news from government press agency, Agence Kampuchea Presse (AKP) also quoted Cambodian Lawyers' Council president, Ky Tech as saying that Hun Sen's legal aid team will be offering its services to defend journalists deemed ethical. At this point, there are 67 volunteer attorneys across Cambodia who are part of this team. Tech leads the team.
Journalists considered ethical are those belonging to media institutions registered at Cambodia's Ministry of Information and are "complying with professional code of conducts as well as concerned (about) laws and regulations in Cambodia."
While the effort is commendable, considering the many allegations being tossed about with regards to Cambodia's strict control over its media and Hun Sen's poor record when it comes to press freedom; a closer look at this sudden move is warranted. 
First of all, it is important to note that Hun Sen has – in recent times – seems to have warmed up to the media. Aside from offering legal-aid, in December he wrote a letter to the Cambodian Editor Forum in which he said: "News media should dare to speak the truth," adding that this was especially against the "fake news" spread by "the outlawed rebel group and opportunists with foreigners behind them." 
His embrace of the media is a turn in events prior to the July 2018 election the country held where Hun Sen was accused of clamping down on media freedom. This clampdown included the alleged proxy purchase of the Phnom Penh Post. 
A number of radio stations were also shuttered in 2017, knocking the United States' (US) Radio Free Asia (RFA) and Voice of America (VOA) as well as local media outlet, Voice of Democracy (VOD) off the air. That year, two journalists from The Cambodia Daily, Aun Pheap and Zsombor Peter, faced court prosecution for incitement after reporting on local elections. Their trial was scheduled for 25 December, 2019 although both journalists currently live abroad.
Two RFA journalists, Yeang Sothearin and Uon Chhin, were also arrested for espionage in 2017. They remain on bail, while the verdict for their case has been repeatedly delayed.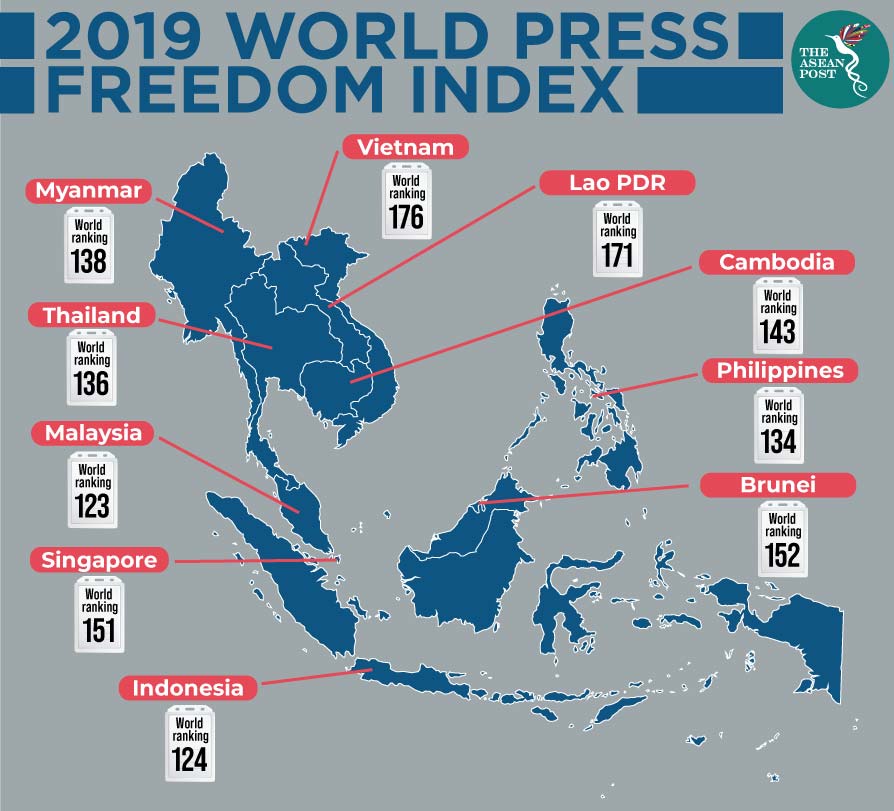 The Human Rights Watch's (HRW) World Report 2020 highlighted all the events mentioned and concluded that media freedom in Cambodia was curtailed in 2019.
"The Cambodian government continued in 2019 to significantly curtail media freedom. Social media networks also continued to face surveillance and intervention by the government, reinforced by the adoption of a decree titled 'Publication Controls of Website and Social Media Processing via Internet' in 2018, which allows for interference with online media and government censorship," the HRW noted.
Warming up to the media
If allegations of the proxy purchase of the Phnom Penh Post are true, then it could be that Hun Sen is fully aware of the power that media holds in swaying public opinion. This could then be a reason for Hun Sen to harness that power through control of the media.
The three questions that must be asked are:  
(1) What purpose does providing legal-aid support for journalists have? If journalists are merely doing their job then why would they have to face legal ramifications in the first place? Shouldn't the better effort be to ensure more press freedom? On the other hand, if control of the media is indeed Hun Sen's plan then why would he need to provide legal-aid support?
(2) How does a media outlet register itself under Cambodia's Ministry of Information? Is this a transparent process and what is the approval of registry based on?
(3) What exactly does "complying with professional code of conducts as well as concerned (about) laws and regulations in Cambodia" mean? With such things as Cambodia's cybersecurity bill and a "fake news" law, as well as the curtail of online media and government censorship, huge powers are given to the government to decide which news are deemed "ethical" and which aren't.
Hun Sen's plans – and whether they involve controlling the media or not – are unclear at this point of time. Perhaps as the days unfold, more light will be shed on the matter. 
Related articles:
Cambodia's Hun Sen urges media to tell the truth