Back in May, a Thai woman reported at a local police station that her 14-year-old granddaughter had been raped over the course of more than a year. The attacks, said to have been perpetuated by five teachers and two male alumni occurred several times at the girl's school in north-eastern Thailand. The men were also accused of filming the acts and using the video clips to threaten the teenager, who had kept it a secret since March 2019. 
Not long after her story made the headlines, a 16-year-old student from the same school came forward and reported that she too was raped by some of the same suspects. The cases caused public uproar with anger erupting on Thai social media as citizens called for justice for the girls and punishment for the alleged rapists.
The tragedy even caught the attention of Thai premier Prayut Chan-o-cha who vowed to mete out maximum punishment to the alleged rapists if the allegations were proven to be true.
"Regarding the case involving teachers and students, it proceeds according to the law. Maximum punishment as stipulated by the law will be given if the offence was committed and there is clear evidence, given that educational personnel are involved," said the prime minister in a press conference.
"They have to be role models for society and youths. If they had behaved as alleged, that'd be unacceptable and seriously damaging," he continued.
A school is supposed to be a safe place for pupils. Some would even call these educational institutions their second home. It is designed to provide learning spaces and learning environments for the teaching of students under the direction of reliable teachers. But what happens when the figure of authority and an educator, betrays the students' trust and commits such heinous crimes such as abuse and sexual violence against them?
Child sexual abuse is an abuse of power, where other people seek emotional and sexual gratification by taking advantage of children who are in vulnerable positions. According to Jane F Gilgun, author of "Child Sexual Abuse: From Harsh Realities to Hope," perpetrators are generally older, stronger, more knowledgeable and have authority in the eyes of children – such as teachers.
Unfortunately, the recent incident in Thailand serves as a reminder that such cases of abuse of power by educators have happened across Southeast Asia for many years.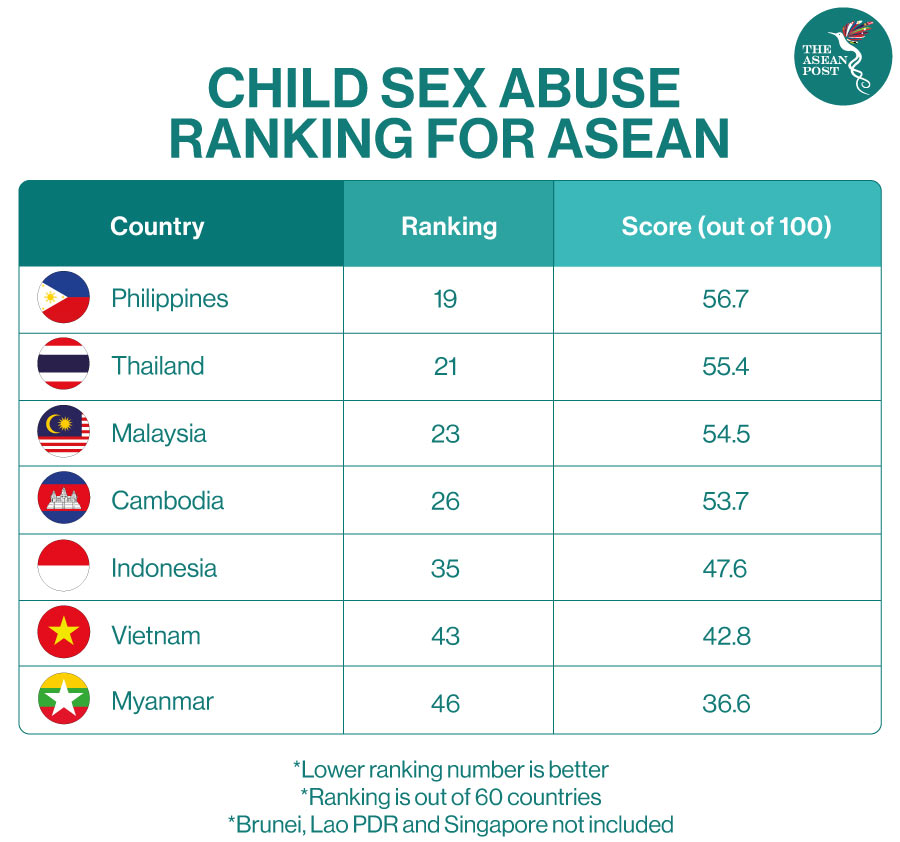 In ASEAN member state Malaysia, people still remember the infamous British child rapist and sex offender Richard Huckle who died last year in prison in England. He was sentenced to life in prison back in 2016 by a London court for abusing at least 22 Malaysian and Cambodian babies and children over a period of almost a decade. He had pleaded guilty to 71 offences and was found with over 20,000 indecent images of children on his computer and camera when he was arrested in 2014.
Among the offences were 22 charges of rape against children he groomed while posing as an English teacher and volunteer with Christian communities in Malaysia. The youngest victim was believed to have been around six months old.
A number of complaints of sexual harassment and other forms of abuse and violence allegedly committed by school personnel against their students have also been reported in the Philippines. 
Last June, Save the Children Philippines released a statement expressing "serious concerns on the rising cases of sexual harassment, violence against students of private colleges now being aired through social media platforms which opened a floodgate of similar complaints from other schools."
School-related sexual abuse cases against pupils have also been reported in Indonesia, Cambodia, Singapore and Vietnam. 
In 2018, Vietnam recorded 1,547 child sex abuse cases and out of the 735 cases reported in the first five months of that year, teachers were perpetrators for 6.2 percent. 
However, the numbers could be higher than official figures.
"We know that a lot of victims of sexual abuse don't report it to the police for fear of stigmatisation or retaliation, especially when the perpetrator is in a situation of authority over the victim, like a teacher and a student," said Simone Vis, UNICEF Vietnam Chief of Education.
Protecting Children
Following the recent rape case of the 14-year-old Thai girl, Nataphol Teepsuwan, Education Minister of Thailand ordered the Office of the Teacher Civil Service and Educational Personnel Commission (OTEPC) to make sure that no educators or school executives who have been convicted of child sexual abuse offences are able to return to the profession.
In an article titled, "What schools can do to reduce the risk that teachers and other educators will sexually abuse children," David Finkelhor, professor of Sociology at the University of New Hampshire, recommended some steps that institutions can adopt to crack down on child sexual abuse. This include complying with the reporting laws, talking frankly to students and faculty about the issue and providing educators help in building their self-management skills.
Ensuring that schools are safe spaces for students must be a national priority for every ASEAN member state.
Related Articles:
Sexual Harassment Still Rampant In Vietnam