In December 2018, the European Union (EU) revised the Renewable Energy Directive (RED) also called RED II which bans the use of palm oil. The EU decided to use sunflower oil as an alternate biofuel which is produced in Europe; stating the reason for the ban on palm oil is that it contributes to extensive deforestation in Indonesia and Malaysia. 
The banning of palm oil use in the EU has ruined the livelihoods of smallholder farmers in Indonesia and Malaysia as they make up the biggest number of exporters to the European market. Almost 85 percent of palm oil in Europe is from these two ASEAN member states. In addition, palm oil is also more versatile compared to other oils for use in cosmetics, pharmaceuticals, food and fuel, among others.
"The European Union had provoked a trade war by issuing discriminative restrictions on Indonesian palm oil," President Joko Widodo of Indonesia tweeted in January last year. 
"Indonesia has 13 million hectares of oil palm plantations that produce 46 million tons [of CPO (crude palm oil)] per year. The EU has been saying that Indonesian palm oil is not environmentally friendly. This is essentially trade war, because Indonesian palm oil can be cheaper than their sunflower oil," the president added. 
Economically, the EU policy has been quite painful for Indonesia and Malaysia. Based on data provided by The Indonesian Palm Oil Association (GAPKI), CPO provides a very high contribution to the EU's vegetable-oil consumption, accounting for 80 percent of total imports of such products. 
Furthermore, in the period from 2011-2016, Indonesia's average CPO exports to the EU was around 60 percent per year, with Malaysia accounting for the rest. The EU seems to be using environmental issues as a weapon to weaken CPO exports from ASEAN to increase the growth of domestic vegetable-oil production, specifically rapeseed, sunflower oil and soybean oil. 
If we examine in more detail, there are four main vegetable oil sources that account for more than 85 percent of world consumption. Sunflower, rapeseed, and soybean are originally grown in temperate countries. However, the increase in soybean production that has occurred in Brazil, for example, is due to the genetic development of new varieties. 
Preventing Future Deforestation
Meanwhile, oil palm only grows in humid tropical conditions and has the extraordinary advantage of being able to produce five to eight times more oil per hectare than other vegetable oil sources. In other words, soybean, sunflower and rapeseed require five to eight times more land than oil palm to produce one tonne of oil.
This means that palm oil is actually one of the solutions to prevent future deforestation, because it is much more efficient and productive in land use. Therefore, it is very important to increase the productivity and sustainability of oil palm plantations so that production rates are stable without increasing the risk of deforestation. In addition to their extraordinary productivity, oil palm trees also require less labour and input per unit of production than other oil crops. That's why, palm oil is by far the cheapest oil to produce.
Oil palm is also one of the most profitable crops for farmers. In fact, palm oil is one of the key determinants in the success story of efforts to reduce rural poverty in tropical countries. In humid Africa, oil palm is one of the last refuges for the poor. Even though Indonesia and Malaysia produce more than 80 percent of the world's palm oil, the development of palm oil has become a source of livelihood for millions of smallholders.
Not to forget, the main vegetable-producing oils also have different characteristics for each industrial use. However, palm oil is the only vegetable oil producer whose process is carried out by hydrogenation (a process of saturation using hydrogen) which is natural and stable at room temperature. 
Meanwhile, other oils have to undergo artificial processes to achieve similar properties which are expensive and produce harmful trans fats. Although in principle, all oils actually have their own advantages and disadvantages. Especially when it comes to human health, neither one deserves to be considered much better than the other. 
So, because of the productive advantages of palm oil, we can understand, first, why market demand has increased in recent decades as demand for it is far outperforming the demand for other vegetable oils. In fact, palm oil has become the main source of vegetable fat oil in the world. 
Second, why are there so many challenges and negative campaigns against palm oil, when 80 percent of its production takes place in only two countries, namely Indonesia and Malaysia?
Meanwhile, the main oil-producing crops in the EU are rapeseed and sunflower. Rapeseed is dominant in France, Germany and Poland. Among the major biodiesel producers, France and Germany are the only countries that use rapeseed as the main feedstock. 
Rapeseed is much more expensive than palm oil and soybean, but the crops play an important role in the agricultural politics of these European countries. Therefore, the struggle to control and dominate the growing vegetable oil economy is very understandable. Simply put, European countries are concerned about the growing dominance of palm oil.
Division Of Control
Moreover, the largest non-palm agribusiness companies are headquartered in western countries. Reportedly, they have a great influence around the world. That said, they control 75 – 90 percent of the world grain market. Three of these companies have headquarters in the United States (US).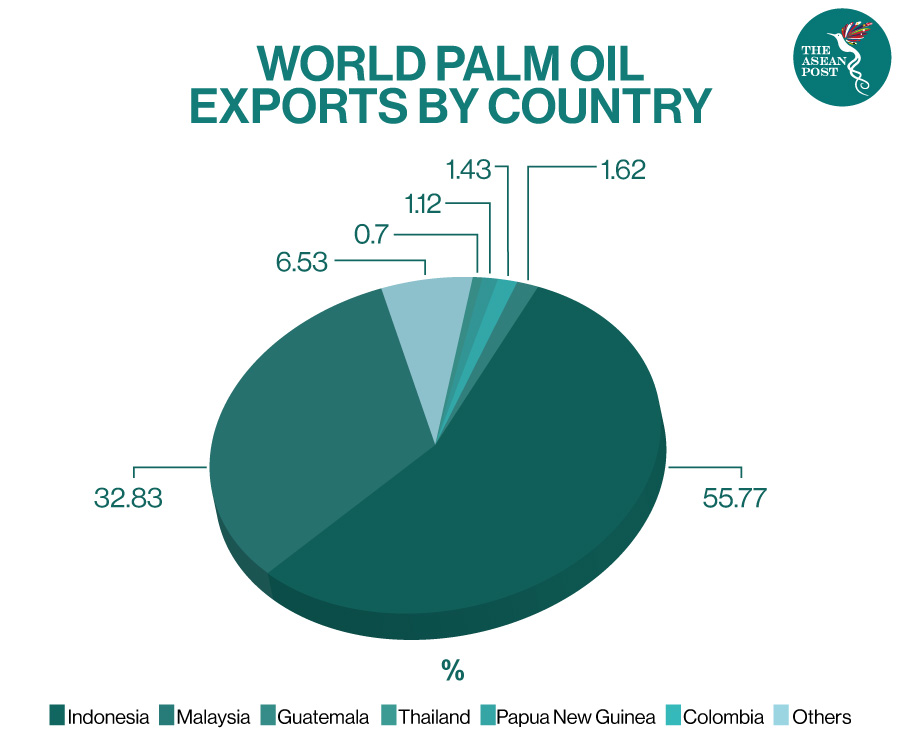 They hold a large land area outside their borders, approximately more than seven million hectares. Along with them, there are smaller agribusiness companies from Southeast Asia who are also competing to be part of the rising trend of world demand. Malaysia has the second biggest land area with more than three million hectares.
So, there is a division of control of vegetable oil among multinational companies. The incumbent, directly or indirectly, controls the production of soybean, rapeseed, and sunflower oils. While the challengers, smaller Southeast Asian multinationals such as Wilmar, Olam, Sinar Mas, Sime Darby and others control palm oil production. 
As a result, there is global competition in the vegetable oil market between western agribusiness companies that are used to being dominant and companies from Southeast Asia, which are relatively small but are increasingly gaining market share. 
And specifically for Indonesia, with the existing competitive map of vegetable oil and the current map of world palm oil production control, palm oil automatically is a leading commodity that carries very high comparative advantages. 
Thus, production optimisation, making various breakthroughs to increase added value, and controlling negative effects on the environment, are the best ways for Indonesia to become one of the core players and to hold one of the key determinants of the world's economy. 
Recently, Indonesia decided to stop adding new land for oil palm plantations, in response to pressure from the EU concerning deforestation due to oil palm plantations. Indonesia has also implemented various sustainability provisions and standards that oil palm plantation companies must comply with. 
So, there is no longer any reason for the EU to be afraid to compete with CPO producers from ASEAN, considering that the EU is one of the free trade areas that has contributed greatly to international trade. 
Now, is the time for the EU to lift its ban and compete fairly with CPO from ASEAN.
The views expressed in this article are the author's own and do not necessarily reflect those of The ASEAN Post.