On 30 July, the Singaporean government announced that it would be starting a new programme to get more foreigners to work in Singapore. The programme removes any quota limitation for an Employment Pass (EP). Currently, the minimum qualifying salary for an EP is SG$3,600 (US$2,592) only SG$100 more than the median pay of SG$3,500 (US$2,520) for fresh graduates in Singapore.
According to two government agencies – Singapore's Economic Development Board (EDB) and Enterprise Singapore – foreign professionals, managers, executives and technicians (PMETs) interested in working in Singapore as "core team members" of technology companies might have more "flexible" requirements over the application of their EP.
The announcement, however, seemed at first to hint that this was only applicable for the technology industry. The agencies would help facilitate easier entry of foreign PMETs to work in technology companies operating in the country. 
"Singapore has never limited top talent coming into Singapore. These are not people competing with the average Singaporean, these are the people who are competing for Singapore," Chan was quoted as saying.
This is not the first time Singapore has spoken of bringing in foreign talent. In September last year, Singapore's Education Minister Ong Ye Kung revealed that the government intends to bring in foreign talent in areas critical to Industry 4.0. 
The idea of bringing in foreign talent to work in Singapore is somewhat worrying. While Singapore's unemployment rate among citizens has remained low compared to other ASEAN countries, the country's Ministry of Manpower's (MOM) statistics show that there has been an upward trend in the second quarter of 2019. The jobless rate for citizens stood at 3.3 percent in June 2019, compared to 3.2 percent in the first three months of the year. In 2018, it stood at 3.0- and 3.1 percent later on.
But more than its miniscule unemployment rate, Singapore has long had a sizeable foreign workforce. In 2014, MOM announced its Fair Consideration Framework (FCF) which requires employers to consider Singaporeans fairly for all job opportunities before hiring Employment Pass (EP) holders.
The FCF was born out of the need for Singapore to address its high number of foreign workers. According to Ministry of Manpower statistics, foreign worker numbers reached an all-time high in 2016 with approximately 1.4 million foreign workers compared to the country's 5.62 million population at the time.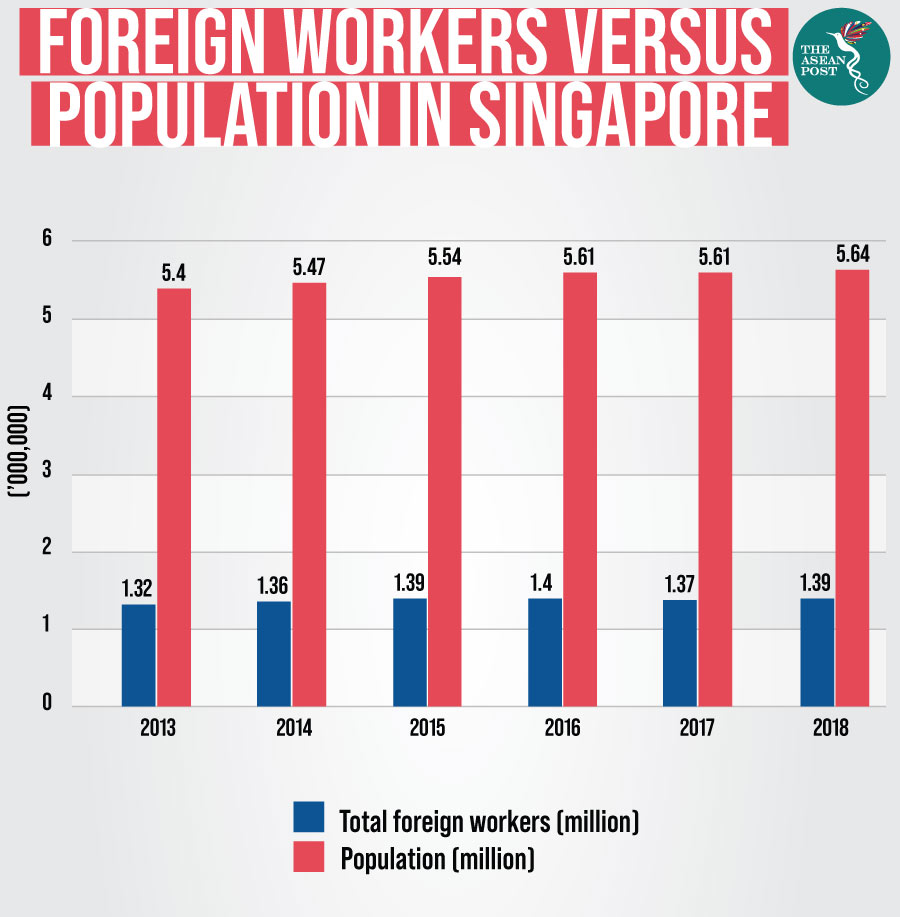 Source: Various
In September, Ong also said that the country would work on rebalancing its education system to meet future demand. The idea is that foreign talent will be able to help the country achieve its target of becoming a "Smart Nation" while schools prepare current students to fill those roles later.
There is some irony in this.
Best education
It goes without saying that Singapore has often been touted as having one of the best education systems in the world. This has been seen in numerous rankings and indices including the Organisation for Economic Co-operation and Development's (OECD) Programme for International Student Assessment (PISA) study which, in 2016 (the latest results), noted that Singapore's students had the best results for tests in math, reading and science.
The PISA is only one of numerous studies that paint the same picture of Singapore's education system. The question that is on many Singaporeans' minds is: if Singapore has such a great education system, then why is the country looking for foreign talent? The Singapore Management University (SMU) seemed to address this very matter in December last year.
Tan Hwee Hoon, Associate Professor of Organisational Behaviour & Human Resources at the Lee Kong Chian School of Business, Singapore Management University, noted that Singapore had some of the elements in place to be highly competitive for Industry 4.0. However, some challenges remained due to the focus within much of the education system on rote learning.
Tan said that Industry 4.0 will require a sense of adaptability as job roles and job descriptions will not be static. She said that job descriptions will change with technology that is continually made available.
"Singapore's comparative advantage is its focus on the technical foundation – the workforce is well schooled and drilled in the basic disciplines. However, the need to be agile, to unlearn and relearn is lacking in Singapore. This is because rote learning continues to be a basic way of acquiring knowledge despite the shifts in the last 10 to 15 years. Grades are still important and hence students spend a lot of time mastering a body of knowledge," she said.
While Singapore's education system may be top-notch, it was top-notch for a previous world before Industry 4.0. Meanwhile, other countries such as Finland boast education systems which place more emphasis on innovative learning techniques and the human touch. The solution – and one that the Singapore government is acutely aware of – and is already working towards, is innovating Singapore's education system for the new world.
Related articles: