The 34th ASEAN Summit is underway in Bangkok, Thailand. Even prior to its kick off, analysts had made forecasts about what were some of the key topics that would be discussed during the three-day event. Topics such as the United States (US)-China trade war and sustainability were among some of easier ones to guess. One topic in particular, however, remains a dark blot on the association's image: the Rohingya crisis.
Human rights advocates and activists have criticised the bloc for their "tame" response towards the issue. They've claimed that while the gravity of the matter is serious and the problem has persisted for years, ASEAN continues to let its fellow member Myanmar go with not so much as a slap on the wrist.
As a matter of fact, the Human Rights Watch (HRW) had accused ASEAN of taking the Rohingya crisis lightly during the 2018 summit, saying that it focused largely on repatriation issues, treating the "humanitarian situation" in Myanmar's Rakhine State merely as "a matter of concern" while disregarding the government's crimes against humanity.
It also urged leaders of ASEAN to "drastically rethink their response" to the Rohingya's plight for the 2019 Summit. This was especially in the face of a 56-page leaked report which, according to the rights group, was developed without input from Rohingya refugees and "almost entirely" disregards the Myanmar government's atrocities that led to mass displacement.
"It does not even use the term 'Rohingya', denying the group's self-identity," HRW said.
"ASEAN seems intent on discussing the future of the Rohingya without condemning – or even acknowledging – the Myanmar military's ethnic cleansing campaign against them. It's preposterous for ASEAN leaders to be discussing the repatriation of a traumatised population into the hands of the security forces who killed, raped, and robbed them," said Brad Adams, executive director of HRW's Asia Division.
Atrocities
As part of a large-scale and unique research effort to determine the scope, scale, and pattern of attacks against the Rohingya, Physicians for Human Rights (PHR) surveyed leaders from 604 Rohingya hamlets in Myanmar's Rakhine state encompassing more than 916,000 people.
From the end of June to early September 2017, 88 percent of survey respondents reported incidents of violence directly perpetrated against their hamlets, which led to a vast array of human rights violations. 91 percent of the hamlets that reported violence noted blunt force trauma such as beatings, hitting, kicking, punches or biting, or penetrating injuries using weapons such as machetes, knives, and sticks.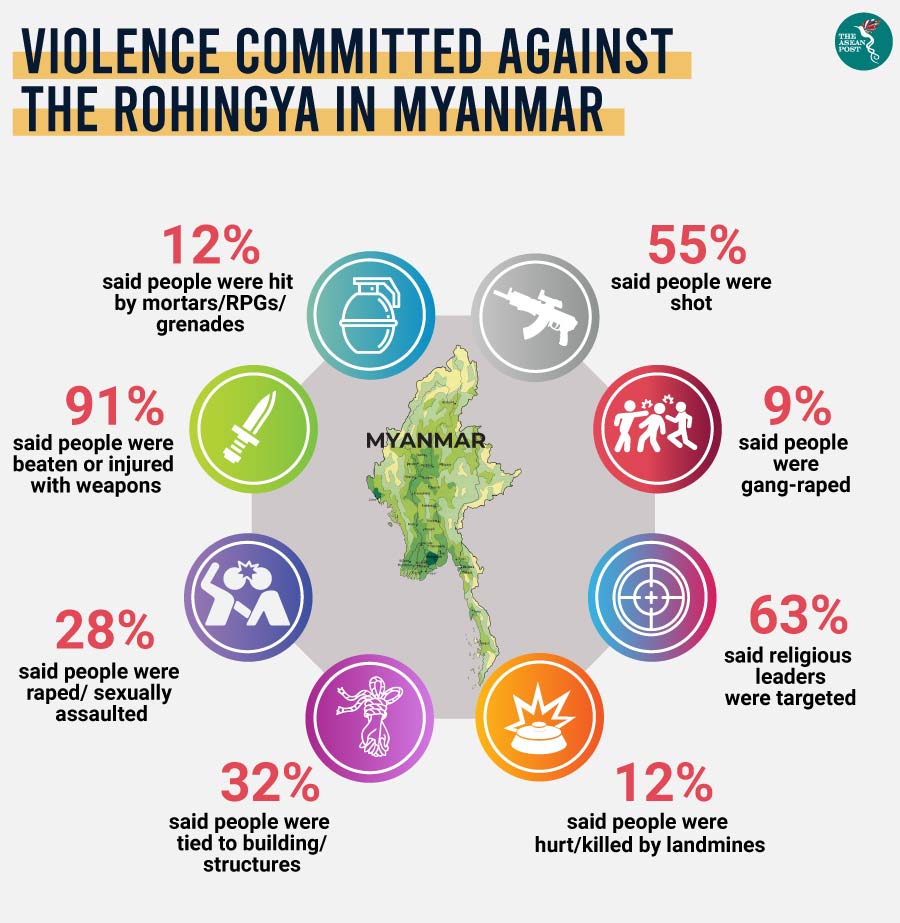 Source: Physicians for Human Rights
Hamlet leaders also reported that villagers were shot (55 percent) and that rape and sexual assault (28 percent) and gang rape (nine percent) took place during this period. Moreover, 88 percent of those who reported violence within their hamlet also described that the Rohingya's right to freedom of movement had been affected with travel restrictions.
Non-interference
Part of the problem is rooted in ASEAN's non-interference clauses such as those set out in the Bangkok Declaration of 1967. For more than 50 years, ASEAN's non-interference principles have only been grossly contravened twice: once in 1986, when the bloc called for a peaceful resolution to political upheaval in the Philippines amidst the People Power Revolution, and again in 1997 when dealing with the admission of Cambodia into the association following a coup by its current Prime Minister, Hun Sen.
The Rohingya crisis as a whole illustrates the difficulty and contradictions inherent in policing a regional association of nations while abiding by non-interference clauses. At the same time, such clauses are necessary in any transnational organisation, without which there would be no guarantee that sovereignty over domestic issues would be officially observed.
ASEAN Parliamentarians for Human Rights (APHR) member Wong Chen, however, believes that the Rohingya issue has at least caused ASEAN to take another look at its non-interference policy.
"On the question of human rights, the principle of non-interference does contribute to lower (human rights) rankings. However ever since the Rohingya crisis, the principle of non-interference is being re-examined," he told The ASEAN Post.
The Rohingya crisis is at least one of, if not the worst humanitarian crisis to plague the region. If ever there was a time for ASEAN to take drastic measures including forgoing its non-interference policy then this would be it. Whether or not this issue will be seriously addressed during the 34th ASEAN Summit is yet to be seen. One thing is for sure, human rights observers from around the region will be watching intently. 
Related articles:
Non-interference and the Rohingya crisis