Last Monday, civic networks in Thailand gathered to mark World Habitat Day 2019 and called on the government to address land and housing problems facing the poor in both, urban communities and rural areas. 
The call was made at a gathering of 2,000 members of the Four Region Slums Network (FRSN) and People's Movement for a Just Society (P-Move). They handed a list of demands to City Hall, the Agriculture and Cooperatives Ministry, the Transport Ministry, United Nations headquarters on Ratchadamnoen Avenue, and Government House.
Sombun Khongkha, president of the FRSN, was quoted by Thai media as saying that Bangkok is a large and densely populated city where many inhabitants face housing insecurity. The network has demanded City Hall focus on homeless people, and for the government to speed up implementation of its 20-year housing development master plan (2017-2036) to achieve tangible results.
The network is also requesting that City Hall builds homes costing no more than 150,000 baht (US$4,922.85) each, under the government's Baan Mankong Scheme for low-income people. It also wants communities with fewer than 100 households to be registered under the scheme.
In January 2019, it was reported that there had been a surge in the number of homeless people and sex workers in Bangkok. According to the Issarachon Foundation, a non-profit organisation aimed at helping the homeless and sex workers, the number of homeless people in Bangkok had risen by almost 10 percent within a year – from 3,630 people in 2017 to 3,993 in 2018.  
The foundation also said that more elderly and mentally ill people were living on the streets after being evicted from their homes by their families.
The foundation's secretary-general, Atchara Sonwaree, said that of these homeless, 2,424 were males while 1,569 were females. Most homeless people were found in the Phra Nakhon district (687), followed by Bang Sue (302), Chatuchak (277), Pathum Wan (224), and Samphanthawong (204).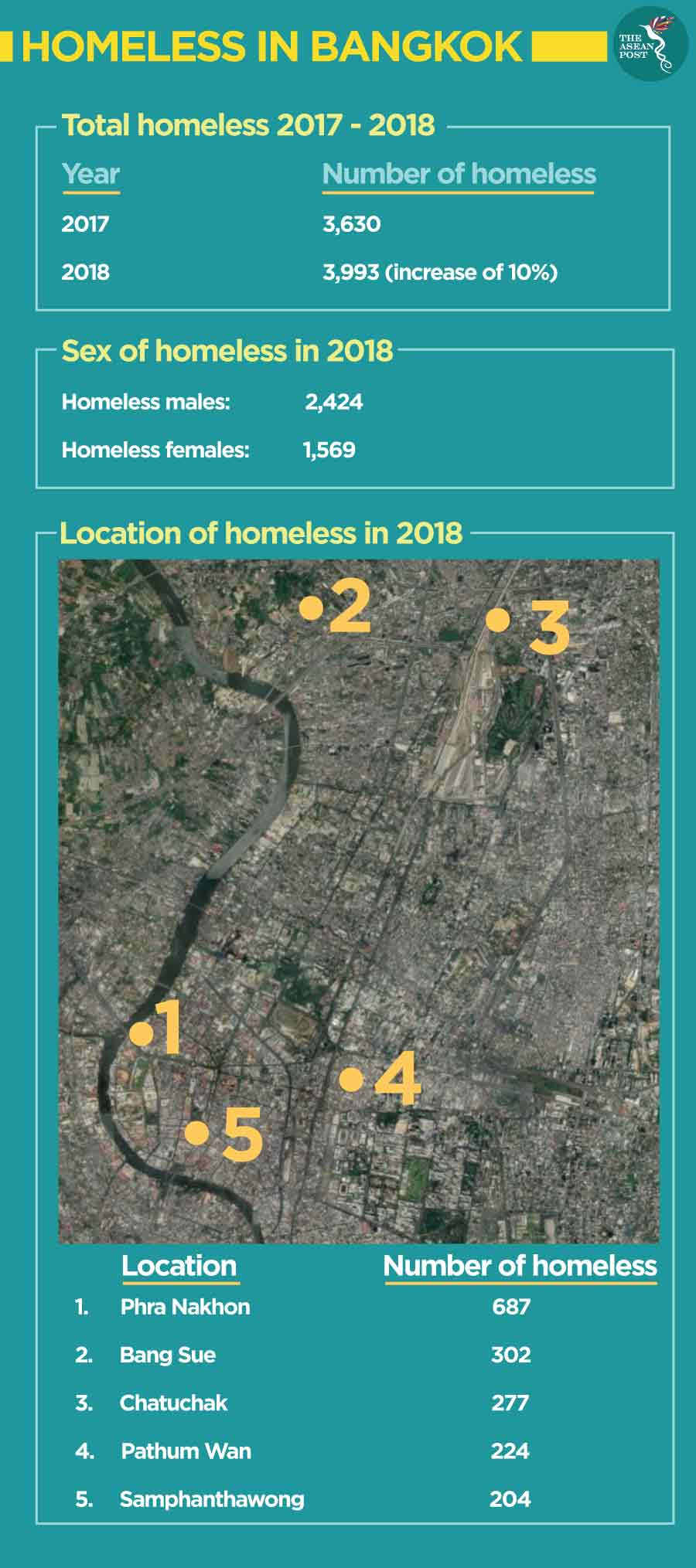 Financial stress
In August, Thai Real Estate Association president Pornarit Chounchaisit was quoted as saying that while an extra 300,000 units of low-cost housing are needed in Bangkok, only 30,000 units are currently being constructed by the authorities. 
He added that despite the economic slowdown, land prices in Bangkok are still appreciating. The lack of low-cost housing means secure home ownership is out of reach for Bangkok's poor, who don't have the assets to secure mortgages from banks.
"We can reduce construction costs, but land prices aren't going down despite the economy," he said at a press conference organised by Habitat for Humanity, a non-governmental organisation (NGO) advocating for affordable housing for all.
Poon Thiengburanathum, the deputy director of Chiang Mai University's School of Public Policy, also speaking at the press conference, said he took out a 30-year mortgage for a modest 50-square-wah house (200 square meters) in Chiang Mai.
While Thailand has attempted to address poverty and the gap between rich and poor has been steadily narrowing with low-income earners making more gains than the wealthy in recent years, the World Bank says inequality is still high in the country.
In 2017, several academics who presented at a seminar on civil state policy at Thammasat University had already warned that due to the government's policy approach to welfare and social enterprise, the poor were getting poorer and the rich were getting richer.
Decharut Sukkumnoed, an economics professor at Kasetsart University, cited statistics from the Office of the National Economics and Social Development Board, which indicated that the number of people below the poverty line increased by nearly 20 percent between 2015 to 2016. Also, some 5.81 million people were living in poverty in 2016, defined as having an income below than US$88 per month.
He said the civil state system allowed big conglomerates, which comprise the highest income group in Thai society, to reap more economic benefits from the government's projects intended to help the poor.
"From the statistics, we also found that the number of poor people is on the rise, because the daily expenses of the poor, especially food prices, are increasing. On the other hand, their income is getting lower, especially the income of poor people in the agriculture sector," he said.
The Issarachon Foundation says that the rising numbers of homeless in Bangkok shows that the government's policies are not tackling the problem at its root. 
To tackle these problems at the core, the foundation proposed that the community play a more active role by providing job training to community members. Once these homeless people are properly trained, recruiters from the Employment Department should find jobs for them. The foundation also proposed that the state allocate a budget to provide financial support to families to ease the financial stress of taking care of elderly members.
Related articles:
Poverty kills in the land of smiles