Gender diversity in boardrooms has become a central component of corporate governance reforms around the world. In a 2015 McKinsey Global Institute (MGI) article titled, 'Why diversity matters', companies in the top quartile for gender or racial and ethnic diversity are more likely to have financial returns above their national industry medians. 
In the highly regulated banking sector where the role of the board of directors is critical, Malaysia leads with the highest representation of women in top positions (33 percent) based on 2019 data compiled by Bloomberg on the three largest banks in each Southeast Asian country. Singapore and the Philippines trailed behind with 13 percent and nine percent averages, respectively.  
Even though another report, 'Women in business', published earlier in 2019 by Grant Thornton has indicated that women in Singapore make up 33 percent of senior management teams, the country has not managed to achieve the same within its banking sector. 
Malaysia was able to outperform Singapore due to the nation's corporate governance code which requires at least 30 percent of women to hold board seats at local firms.
In May 2015, the previous prime minister of Malaysia, Najib Razak, launched the 30% Club, an association committed to bringing more women onto Malaysian corporate boards. The founding chair of the club, Zarinah Anwar, said the association set a target of reaching the 30 percent women representation on public-listed boards by 2020. Earlier this year, the 30 percent requirement of women representation on corporate boards was incorporated in the Malaysian Code of Corporate Governance which public listed companies (PLCs) in the country must comply with. Zarinah explained in a statement to local media that across all 943 PLCs, the number of companies with 30 percent or more women on the board is now 147 whereas the number of companies with no women on the board stands at 304. 
Among the functions of the 30% Club are to assist corporate boards in their engagement with board-ready women and support initiatives to build a pipeline of women in executive and non-executive roles. Singapore's President Halimah Yacob set up a new council in January 2019 to spur board gender diversity. Hikmah Endraswati's 2018 research on 'Gender diversity in board directors and firm performances,' which focuses on Indonesia's Sharia banks, found that the low number of women in banking board rooms is due to banks not promoting women as directors. 
But setting quotas may not be the only way to encourage gender diversity. According to the Bloomberg study, the best performer was Thailand's Kasikornbank, where a certain level of women representation is not compulsory. Bandid Nijathaworn, chief executive officer at the Thai Institute of Directors and a former deputy governor of the Bank of Thailand said that Thailand's high proportion of women in senior financial roles happened without government legislation.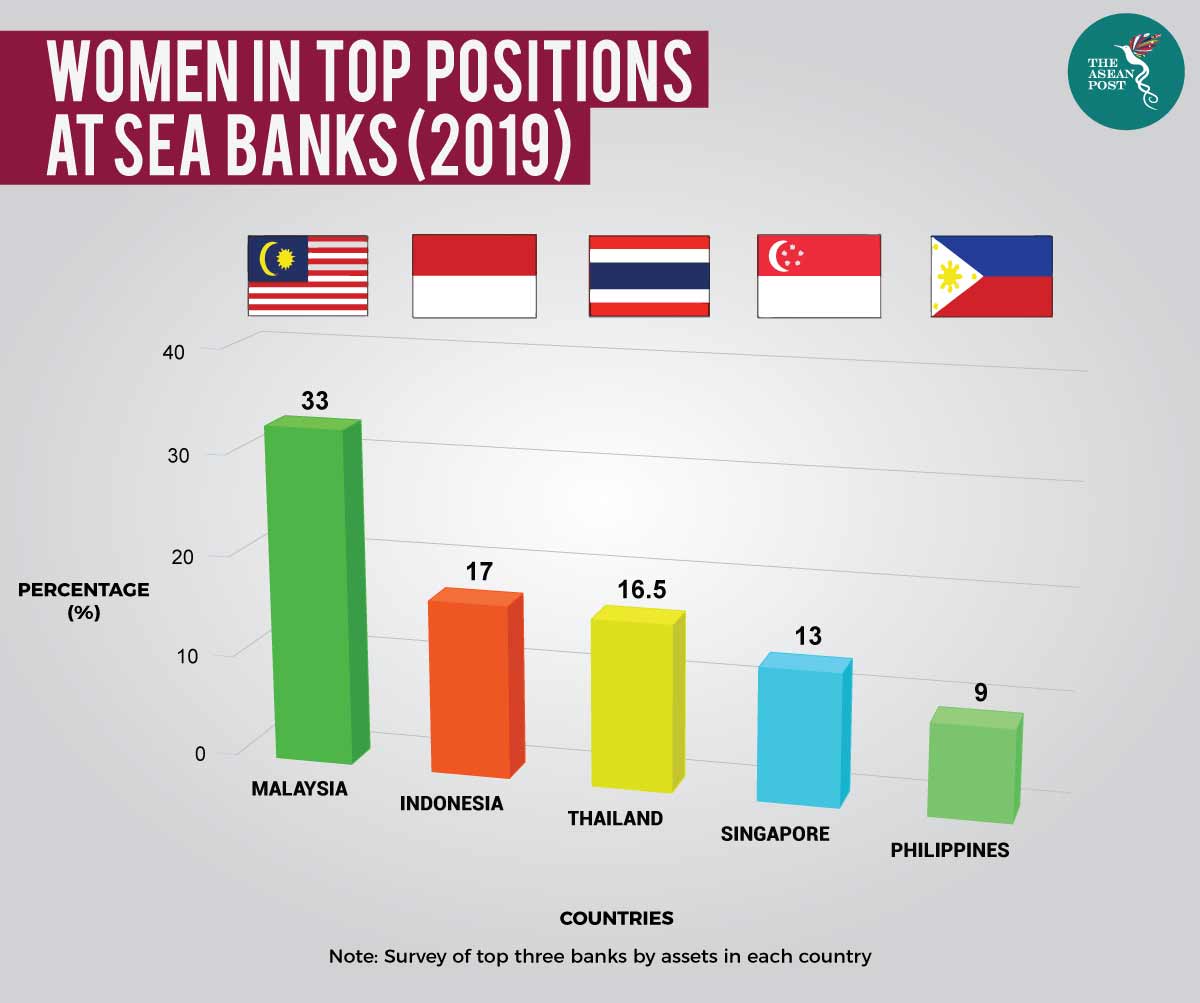 Source: Bloomberg, 2019
Up until 1984, Kasikornbank had almost no female employees. Now, the Bangkok-based financial institution has seven female directors, making up almost 40 percent of the 18-member board. 
"Gender diversity is important, as it allows for board members with different ways of approaching challenges and finding best solutions," said Adit Laixuthai, a Kasikornbank senior executive Vice President.
Banks benefit too
MGI's 2018 report, 'The Power of Parity: Advancing Women's Equality in Asia Pacific,' found that Asia-Pacific economies could boost their collective gross domestic product (GDP) by US$4.5 trillion per year by 2025, just by accelerating progress towards gender equality. According to the report, 25 percent of the gains would come from having more women working in higher-productivity sectors. 
Banks with more women on their boards will perform better in measures including return on assets, as well as bringing overall performance benefits, provided that the bank is well managed. Although greater diversity may not automatically translate to profits, the correlation does indicate that companies that are committing themselves to diverse leadership have come out successful. Gender diverse companies are able to win top talent and improve their customer orientation, employee satisfaction and decision making. Gender diverse banking boards can also improve risk management. 
Bloomberg's data also underlines the spaces for improvement in gender diversity for many of Southeast Asia's banks. Lawrence Loh, an associate professor at the National University of Singapore told local media that "as an outcome, inequality is just not acceptable." In 2018, Loh published research on board diversity and business performance in Singapore-listed companies and found that an increase in the number of female directors by 10 percent would result in an increase in corporate governance. The researchers suggest that female board members can represent the views of the wider employee base, and hence lead to an enhanced understanding of customer preferences. 
Banks benefit when they employ more women at the top. But there are systemic issues surrounding women and their ability to empower themselves and take charge in the banking boardroom. And tackling gender inequality in Southeast Asia remains a cultural shift which is a long-term challenge that requires broad social engagement. While women representation must be encouraged at all levels of leadership, gender equality should cover all aspects of life, whether in the home, workplace or society in general. 
Related articles:
Changing attitudes towards women in hospitality