The work environment has shifted from the traditional static office to a more agile model, one that is driven by the Fourth Industrial Revolution. This digital revolution traces its roots to the last century with Klaus Schwab defining the phenomenon as a fusion of technologies that blurs the lines between the physical, digital, and biological spheres. 
The evolution of technology began with the First Industrial Revolution, which used water and steam to mechanise mass production, followed by the Second Industrial Revolution which shifted power to electric. Subsequently, the Third Industrial Revolution saw the rise of electronics and information technology which will later ground the current digital revolution towards artificial intelligence (AI). 
The Fourth Industrial Revolution moves in parallel with the generation of cohorts born between 1983 and 2000 or commonly known by its obtuse label, millennials. This generation is currently shaping the way everyone lives, works and plays. In 2018 the workspace emphasised connectivity, well-being and community that gave rise to hybrid workspaces. This year's organisational challenges are more focused on digital transformation, adoption of new technology and the digitisation of workspaces. 
Digital at the core
According to Condeco's 2019 report, Modern Workplace: People, Places & Technology, a traditional workspace is divided into cubicles and is no longer sufficient to address the drastic changes precipitated by the Fourth Industrial Revolution. Condeco's survey polled 750 business leaders across six countries, namely the United Kingdom (UK), United States (US), France, Germany, Australia and Singapore, with a focus on exploring prevailing workplace trends. It was supplemented by in-depth qualitative interviews with senior executives in the six chosen countries.
While priorities vary by country, most businesses are 'digital at the core' where everything is already integrated. Digital transformation is the main agenda, while adoption of new technology should go hand-in-hand. 55 percent of participants in the Condeco survey from Singapore were more likely to focus on digital transformation. Over the next five years, most businesses expect the pace of technological innovation to increase together with concerns over talent supply and future uncertainties. 
Digitising the workspace
In the next five years, the biggest concern to workspace digitisation will be the integration of technology into all areas. Other concerns include adapting to changing employee expectations, increasing cost of workspaces and ensuring sufficient variety of workspaces for employees. These concerns encompass everything from having the right computers available to integrating meeting room booking software, and workspace utilisation sensors to run the space as seamlessly as possible.
People are now connected at a global level through the convenience of the Internet, allowing companies to expand their businesses across borders. Over the next five years, cloud computing will be a key component of digital transformation. Cloud technology has a potential of increasing security, improving collaboration and reducing IT costs and carbon footprints.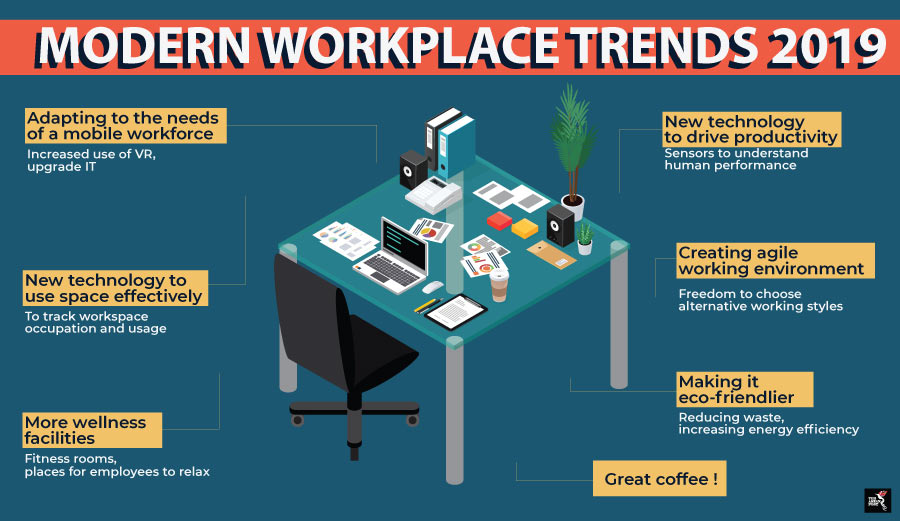 However, despite this awareness of the pivotal role of technology, only a fifth of the companies polled are prepared for the digital transformation. 
Condeco product strategy and design director, Peter Otto explained that modern companies cultivate productivity and effectiveness by dedicating spaces to aid their teams in terms of communications and advanced technology. Businesses emphasised an increase in open plan office space as crucial for the change. The challenge for employers is to provide a variety of workspaces for employees while having sufficient space for everyone. Many companies stated their interest in adapting physical workspaces to be more cost effective and employee friendly.
Companies were asked what were the benefits of investing in a workplace for the future. Answers ranged from the improvement of productivity and creativity and cost reduction to improved well-being and work life balance. Efficient use of and flexible workspaces are vital in improving employee collaboration. An agile working environment or spaces that give staff freedom to work anywhere appealed to Singapore companies. This environment is increasingly common where informal catch-ups are set up as means of reducing the frequency of meetings. 
Making this huge leap may seem difficult for the rest of ASEAN at the moment, but the Fourth Industrial Revolution is fast becoming a fact of life in the region. Both digital and physical transformation of the workplace encourages greater productivity, quality and flexibility in employees. The successful workspace of the future will be one which meets the needs of its users, while creating a space in which they want to be part of.
Related articles:
How 5G can transform Southeast Asia
The shift to a modern workplace in ASEAN