Humanity has to come to terms with the frightening prospect of irreversible global warming. No corner of the world is safe anymore as nations across the globe are already reeling from the impacts of the climate crisis. 
Humankind and all living things on the planet are now in immediate danger as temperatures continue to rise, and flooding and forest fires become more rampant. The writing is on the wall; we simply cannot pretend nor expect the climate crisis to go away. 
Central in the growing climate crisis is global warming. The challenge in a post-pandemic world is to Build Back Better (and dare we say) faster without causing further irreparable harm to the environment. Net Zero carbon emissions is now the holy grail that all nations are in search of. Getting the balance right between the amount of greenhouse gases (GHG) we produce and the amount we remove from the environment is a cornerstone in our fight against global warming.
Getting To Net Zero By 2050 
It is heartening to report that we are witnessing a global coalition coming together in the race to Net Zero by 2050. Along with a growing number of companies, cities and financial institutions, more than 130 countries have set or are seriously considering targets for reducing emissions to net zero by the middle of the century. 
It cannot be denied that while Net Zero is a critical longer-term goal, steep emissions cuts – especially by the largest greenhouse-gas (GHG) emitters – are imperative in the next five to 10 years in order to keep global warming to no more than 1.5 degrees Celsius and to ensure a climate that is liveable for all.  
Of the 191 Parties to the Paris Agreement, more than 150 have so far submitted a new or updated national action plan – called Nationally Determined Contributions (NDCs) – as required by the agreement. Sadly, their planned combined emissions reductions by 2030 still fall far short of the level of ambition needed to achieve the 1.5 degrees Celsius goal.
A Growing Role For Southeast Asia
In the region, Singapore has already rolled out its Green Plan 2030, while countries like Indonesia and Lao have announced their respective net zero targets. A number of other Southeast Asian countries are also in the process of exploring national carbon pricing schemes. However, it is a concern that none of the ASEAN member states have in place climate action plans that meet the clear goals of the Paris Agreement. 
Some quarters argue that existing GHG emissions for many ASEAN member states are already relatively low. When put in a global context for example, the Philippines' emissions account for just 0.4 percent of the global total. So, why should Southeast Asian countries act now? Shouldn't the world largest emitters take responsibility?
Is It Wise To Leave It To The World's Largest Emitters?
As one of the most vulnerable regions to global warming, especially to archipelagic countries like the Philippines and Indonesia, the need to respond quickly and with urgency in Southeast Asia is crucial in the battle. While the cost of action required today is a pretty penny, to baulk now would result in Southeast Asia facing a much larger bill that could run into the trillions of dollars when the crisis goes beyond the tipping point.
From a business perspective, inaction could cost the region dearly. Today, Southeast Asia is a key supplier in many of the primary global supply chains – from resources and food such as palm oil, rubber, and rice, to high-tech manufactured goods and electronics components. Worryingly, many of these supply chains are not yet climate-friendly, which amplifies risks to future competitiveness, while continuing to increase energy demands and emissions.
Malaysia's Sunway – A Frontrunner In SEA's Race To Net Zero
All is not doom and gloom in Southeast Asia's race to Net Zero. In many countries in the region, the private sector is actively leading the way by setting ambitious targets to decarbonize swiftly. 
In Malaysia for instance, the Sunway Group is fiercely committed to achieving its Net Zero carbon emissions targets by 2050 in line with the Southeast Asian country's 12th Malaysia Plan; with its Prime Minister pledging the ASEAN member state's full commitment to achieving its target of becoming a carbon-neutral nation by as early as 2050.
In 2020, the group became one of the first few Malaysian companies to pledge support to the Task Force on Climate-related Financial Disclosures (TCFD), demonstrating its transparency in reporting its risk and opportunities related to climate change.
Sunway has pledged to halve carbon emission across the Group by 2030, as per the United Nations (UN)'s Intergovernmental Panel on Climate Change (IPCC) recommendations. Sunway is also among the first corporations in Asia, and the first in Malaysia, to introduce a carbon pricing framework into its business.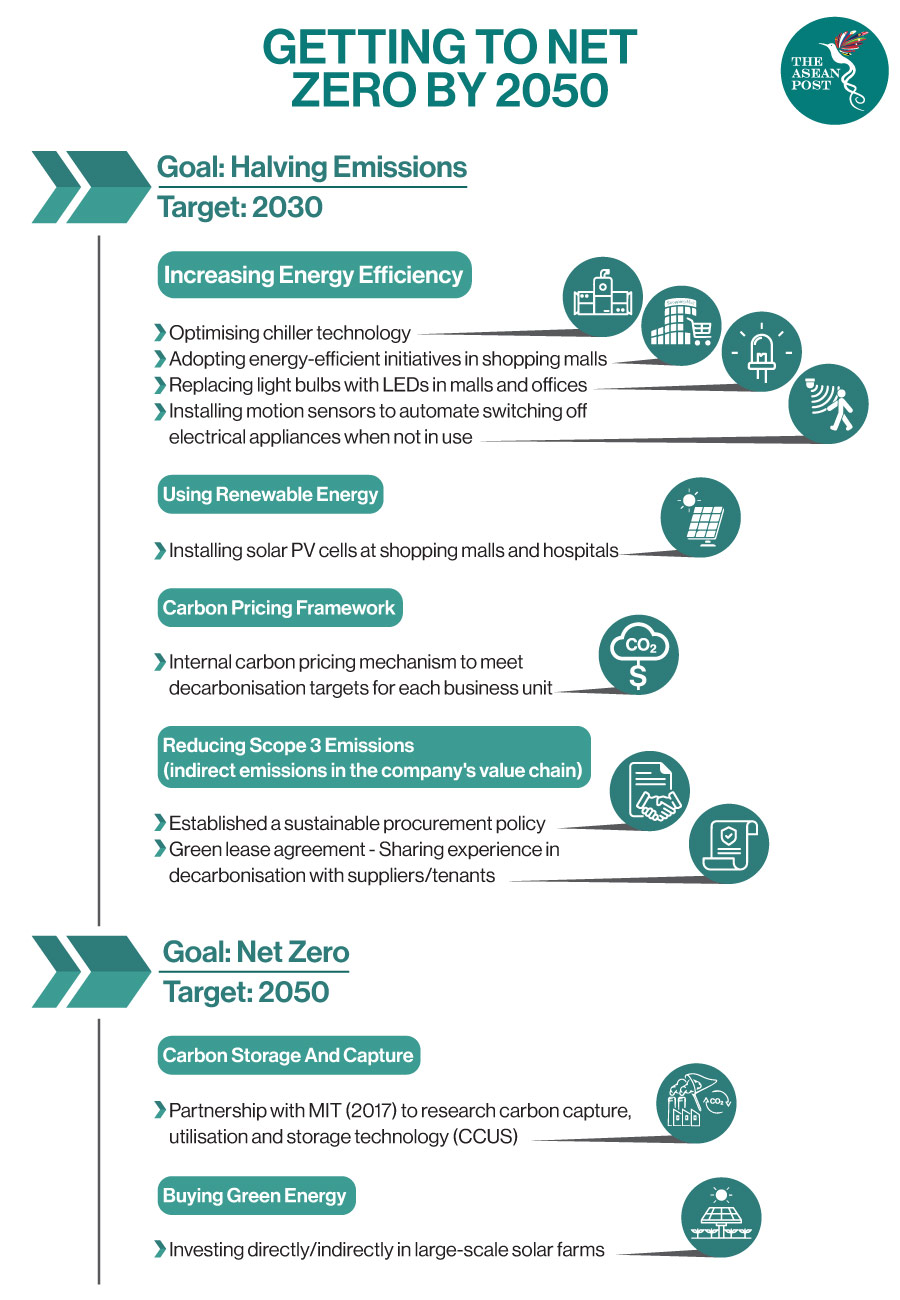 What Is Carbon Pricing?
According to the World Bank, carbon pricing is an instrument that captures the external costs of GHG emissions – the costs of emissions that the public pays for, such as damage to crops, health care costs from heat waves and droughts, and loss of property from flooding and sea level rise – and ties them to their sources through a price, usually in the form of a price on the carbon dioxide (CO2) emitted. 
According to climate change organization Citizens' Climate Lobby, as of May 2021, there were 64 carbon pricing policies in operation and three scheduled for implementation. These included both carbon taxes and emissions trading schemes (ETS), and covered about 22 percent of worldwide emissions.
The list of countries that already practice some method of national carbon pricing includes Argentina, Canada, Chile, China, Colombia, Denmark, the European Union (27 countries), Japan, Kazakhstan, Korea, Mexico, New Zealand, Norway, Singapore, South Africa, Sweden, the United Kingdom, and Ukraine. Other countries that are considering joining them include Brazil, Pakistan, Russia, Serbia, Turkey, and Southeast Asian countries Brunei, Indonesia, Thailand, and Vietnam.
The country with the biggest carbon footprint, China, started with eight regional GHG emissions trading projects in 2013, and in July 2021 launched a nationwide expansion within their electricity sector, with other sectors to be integrated over time.
Launched in May 2017, the World Bank's Carbon Pricing Dashboard is an interactive online platform that provides up-to-date information on existing and emerging carbon pricing initiatives around the world. Key statistics from the dashboard reveal that in 2021 these initiatives accounted for 11.65 billion tonnes of global annual CO2 equivalent emissions (GtCO2e), representing 21.5 percent of global GHG emissions.
How Is Malaysia's Private Sector Leading This? 
Sunway is leading the way in Malaysia. Its unique carbon pricing framework for its business divisions places a monetary value on carbon emissions to guide its business decisions and investment strategies in efforts to hit its 2030 and 2050 targets.
This is done by putting in place an internal carbon pricing mechanism to meet the ambitious decarbonisation targets set for each of its business units. For the period of 2022-2024, the price will be set at RM15 (US$3.55)/tonne of CO2 above a pre-defined threshold level and will be recalibrated progressively in subsequent years.
Business units that fail to meet their targets will need to pay a price by having an amount deducted from their bonus pool. By doing this, the group hopes to send a clear message to operators and managers that they need to start innovating to find solutions to cut carbon emissions – or pay a carbon price.
When engaging its shareholders and management about the sustainability agenda, the group presents the benefits of carbon reduction as a form of risk mitigation.
The group actively communicates the different risks that climate change poses, including physical risks such as flash floods, or transitional risks such as a potential carbon tax imposed by the government, and how it relates to the bottom line – an important consideration for business operations. 
Looking at it from a survival point of view, the group believes that sustainability and survival are two sides of the same coin. It is therefore necessary to be well-prepared to evolve and minimise threats to its survival.
Of paramount importance to the group is the survival of humankind and the environment. One of Sunway's latest initiatives is the establishment of the Sunway Centre for Planetary Health at Sunway University – one of just a handful of such entities in the world. One of the Centre's priority themes is to tackle the climate emergency. This can be achieved by dramatically reducing carbon emissions and strengthening communities to adapt to climate change and its negative consequences.
Carbon Capture – The Next Step
CO2 is recognised as the major contributor to global warming and reducing CO2 emissions is a worldwide priority. New scientific discoveries and innovative technologies are emerging to mitigate carbon dioxide emissions; among them is carbon capture and storage (CCS). 
According to the Massachusetts Institute of Technology's (MIT) Climate Portal, carbon capture and storage (CCS) involves trapping CO2 at its emission source, transporting it to a storage location (usually deep underground) and isolating it. This means we could potentially block excess CO2 from entering the atmosphere.
In Southeast Asia, The Centre for Carbon Dioxide Capture and Utilisation (CCDCU) of Sunway University (member of the EuroAsia Carbon Dioxide Capture and Utilisation Network) in Malaysia strives to continue its contribution towards global climate change issues through education, research and innovation while collaborating with world-class institutions. 
Sunway has also made large investments in the form of research infrastructure and funding to support the global quest for Climate Action (SDG13) with a number of initiatives, particularly the recent establishment of the EuroAsia Carbon Dioxide Capture and Utilisation Network-EACO2CUNet which comprises 29 researchers from 23 Universities across 14 countries and the inking of a three-year research collaboration agreement in 2017 with MIT. The latter is a collaboration to research carbon capture, utilisation and storage technology (CCUS) to make it commercially viable.
"Transitioning to renewable energy is a good solution but we need a diverse plan to tackle climate change. Even forest fires, which are happening everywhere now, unleash huge amounts of carbon into the atmosphere. Even with 100% renewable energy powering our electricity, we will still need carbon capture technologies," says Mohamed Kheireddine Aroua, professor and head of Sunway University's Research Centre for Carbon Dioxide Capture and Utilisation.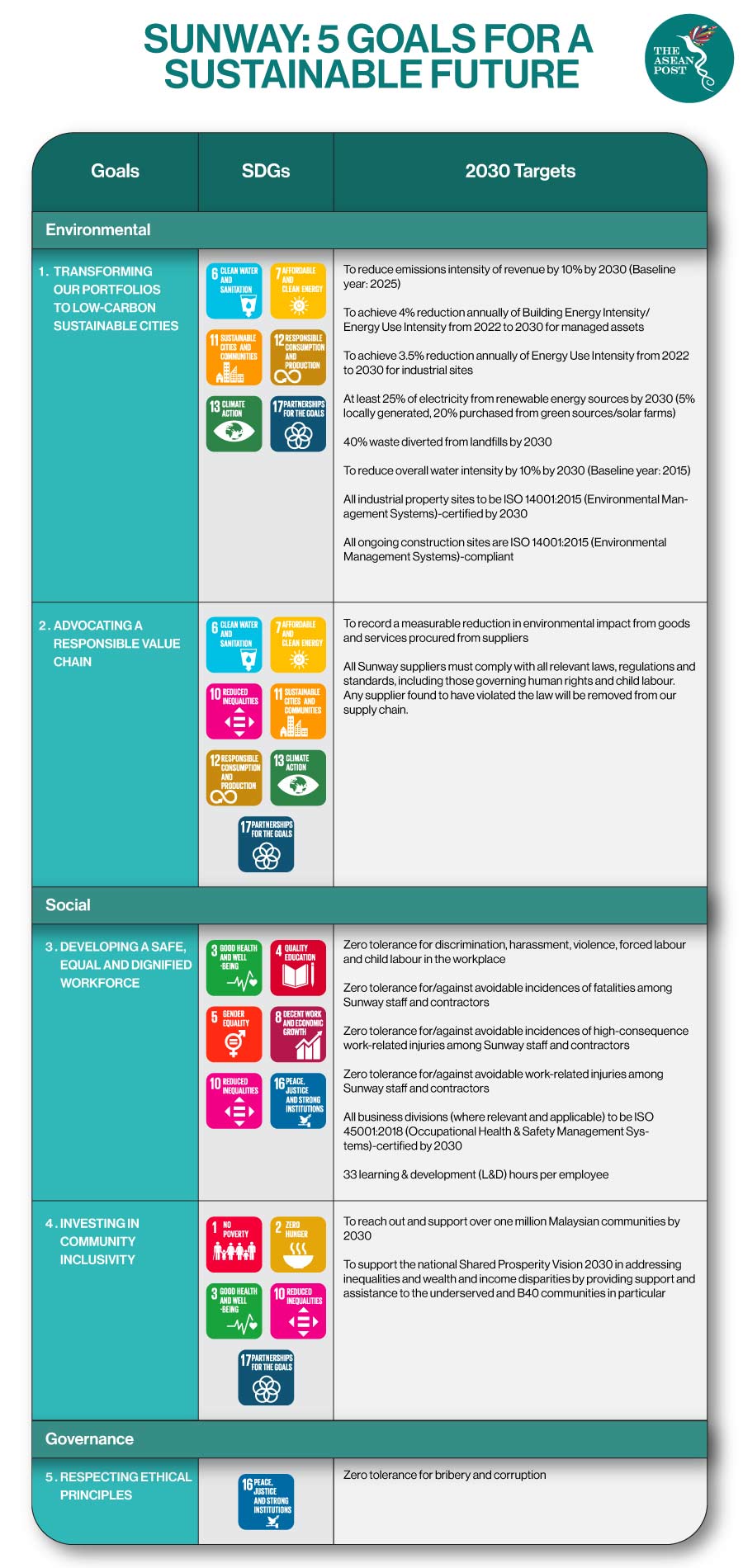 Preparing For The Coming Storm
Humanity has reached the tipping point where the climate crisis is concerned. 
Commenting on the latest IPCC Climate Change 2022 report, UN Chief António Guterres said: "This is not fiction or exaggeration. It is what science tells us will result from our current energy policies. We are on a pathway to global warming of more than double the 1.5-degree Celsius limit" that was agreed in Paris in 2015.
Guterres described the latest IPCC report as "a litany of broken climate promises", which revealed a "yawning gap between climate pledges, and reality."
Scientists are painting a "now or never" scenario, laying the blame on high-emitting governments and corporations who are not just turning a blind eye, but "adding fuel to the flames by continuing to invest in climate-choking industries." 
Fortunately, conglomerates like Malaysia's Sunway Group understand that while the bottom line is important, it has to be tempered with a clear climate action strategy. Sunway has a solid track record when it comes to sustainability, but as the group noted, these initiatives and accolades are not part of a box-ticking exercise, nor should they be for any company.  
Sunway is focusing on what needs to be done now and not merely following reporting frameworks and taking pride in its "feel good" numbers and achievements. Instead of just blindly following the reporting frameworks, Sunway is looking at what needs to be done.  
"Climate change and the sustainability agenda will be the driving force for many across the region. That is why Sunway Group has embraced the 17 Sustainable Development Goals (SDGs) adopted by the United Nations in 2015. The SDGs chart a holistic and comprehensive path to help us build a sustainable future for an ailing planet and its people," said Tan Sri Dr. Jeffrey Cheah, Sunway Group Founder and Chairman.
"Those of us who have benefitted from extracting nature's resources have a special obligation to help revive a bleeding Mother Earth," he added.