Earlier this week, Human Rights Watch (HRW) released its World Report 2020 which looks at key events in 2019. While the report does not rank countries based on a scale from the best to worst upholders of human rights, it does reveal how each of the 95 countries included in the report performed in terms of such things as freedom of assembly, freedom of speech, freedom of religion, treatment of migrants, women's rights and treatment of people with different sexual orientations, key events pertaining to the country, as well as key actors in the country.
While HRW looked at over 100 different countries and territories, only 95 were included in the report. Eight out of the 10 ASEAN member countries were also included into the report with the exception of Brunei and Lao.
Cambodia one-party "democracy"
HRW noted that respect for human rights in Cambodia deteriorated in 2019.
The group cited the controversial 2019 election which saw the Supreme Court dissolving the main opposition party, effectively creating one-party rule. 
It also noted that in mid-November 2019, the government held around 90 people in pretrial detention or prison on politically motivated convictions. 
Indonesia's racist attacks
Of Indonesia, HRW took note the "racist attack" against West Papuan students in Surabaya in August which triggered an uprising in Papua and West Papua provinces. It prompted the Jokowi administration to send more than 6,000 troops to the two provinces. 
At least 53 people, both Papuans and migrants from other parts of Indonesia, were killed in the ensuing clashes. Indonesian authorities also shut down the internet there.
Malaysia's death penalty
Malaysia, at the very least, continued to make slow progress in 2019 in some areas of the governing Coalition of Hope's reform agenda, such as lowering the voting age, strengthening parliamentary independence, and abolishing restrictions on protest marches. 
However, HRW took note that the government backed away from other commitments, including withdrawing from the Rome Statute of the International Criminal Court (ICC) in April 2019, barely a month after filing its accession; retreating from a commitment to completely abolish the death penalty; and failing to carry out commitments to abolish or reform a range of abusive laws.
Myanmar's genocide
For Myanmar, HRW largely focused on the purported ethnic cleansing involving the Rohingya as well as the hundreds of thousands still displaced in Cox's Bazaar, Bangladesh.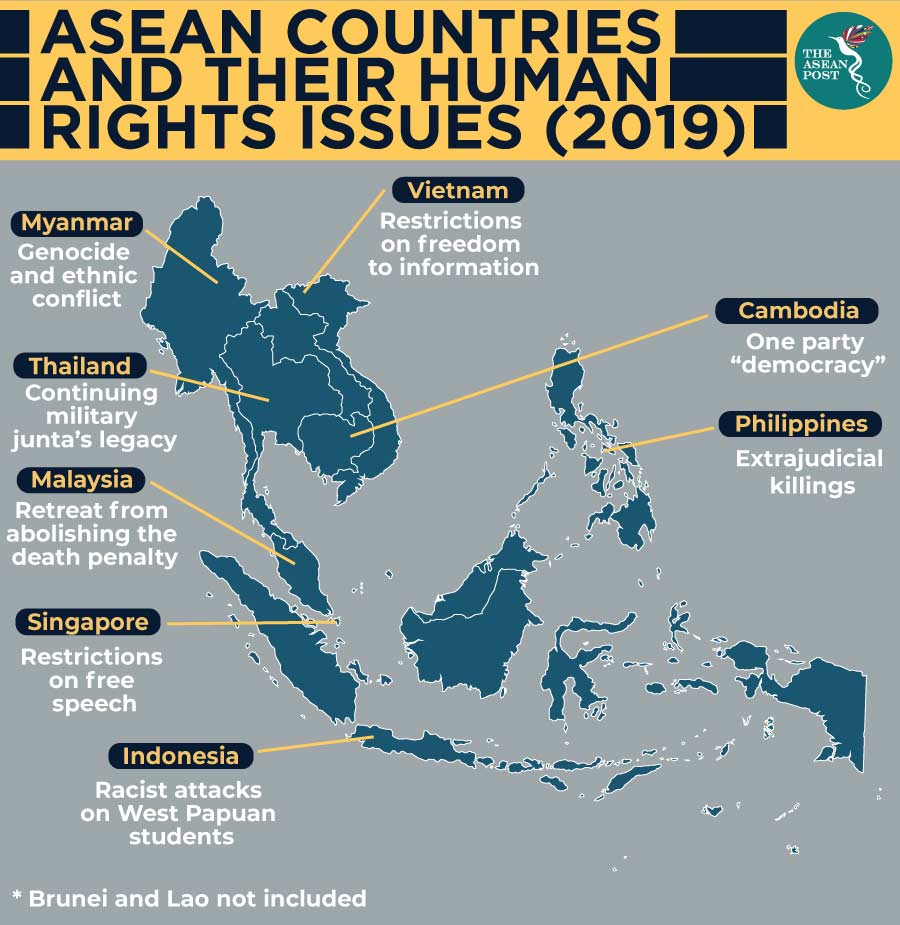 It also mentioned how the fighting between the Myanmar military and ethnic armed groups intensified in 2019. The government had also regularly barred rights monitors and journalists from conflict areas and denied access to United Nations (UN) and international humanitarian agencies seeking to provide food, medicine, and other important aid.
Philippines' War on Drugs
Aside from the Philippine's War on Drugs, HRW also noted that state security forces and government-backed paramilitaries continued to harass, threaten, and arbitrarily arrest, and in some instances attack and kill political activists, environmentalists, community leaders, and journalists.  
Meanwhile, President Rodrigo Duterte's power and influence increases.
Singapore's restrictions on speech
According to HRW, Singapore's restrictions on speech tightened in 2019 with the passage of the overly broad Protection Against Online Falsehoods and Manipulation Act. Authorities continued to use existing laws to penalise peaceful expression and protest, with activists, lawyers, and online media facing prosecution, civil defamation suits, and threats of contempt of court charges.
Thailand's military legacy continues
HRW has accused Prime Minister Prayut Chan-o-cha of continuing the legacy of the previous ruling junta. It noted that while the National Council for Peace and Order (NCPO) disbanded after the new government took office in July, the constitution protects junta members and anyone acting on the junta's orders from ever being held accountable for human rights violations committed during military rule. No redress is available for victims of those rights violations and the government has still not repealed all of the rights-violating NCPO orders.
Vietnam's communist internet
HRW notes that authorities in Vietnam block accesses to websites and request that social media and/or telecommunications companies remove contents deemed to be politically sensitive. Those who criticise the one-party regime face police intimidation, harassment, restricted movement, physical assault, detention, and arrest and imprisonment. 
Police have also detained political detainees for months without access to legal counsel and subject them to abusive interrogations. Party-controlled courts sentence bloggers and activists on bogus national security charges. In 2019, authorities convicted at least 25 people in politically motivated cases.
It's obvious that 2019 has not been a very good year for the ASEAN region in terms of human rights. It is hoped that in 2020, ASEAN will fare better.
Related articles: