This year marks the 25th anniversary of the Fourth World Conference on Women in China and the adoption of the Beijing Declaration and Platform for Action 1995. It is deemed the most visionary and comprehensive roadmap for progressing women's rights globally. 
Yesterday, on the anniversary of the momentous event, more than 170 countries including those in the Asia Pacific region pledged to step up efforts to advance women's rights during a virtual United Nations (UN) summit. 
"In the coming five years, China will donate another US$10 million to UN Women," President Xi Jinping said in a pre-recorded video, proposing another world meeting on gender equality for 2025.
Despite decades of efforts and introduction of policies, progress on women's rights remains slow. 
"Everywhere, women's rights are under attack, as are human rights, from which they are inseparable," said French President Emmanuel Macron, referencing the slow progress of the last 25 years.
"Progress achieved by great efforts is being undermined even in our democracies, starting with the freedom for women to control their own bodies, and in particular the right to abortion," he continued, also pointing out inequalities in schooling, pay, domestic work and political representation.
In fact, even at the UN General Assembly this year, there were only a handful of women speakers among the representatives of participating countries.
According to the World Economic Forum (WEF) 2020 Global Gap Report, it would take another 99.6 years before gender parity is achieved. In other words, there remains a 31.4 percent gender gap globally.
ASEAN member states vary when it comes to their gender gap global rankings. The Philippines sits highest at 16th place while Myanmar is lowest at 114th.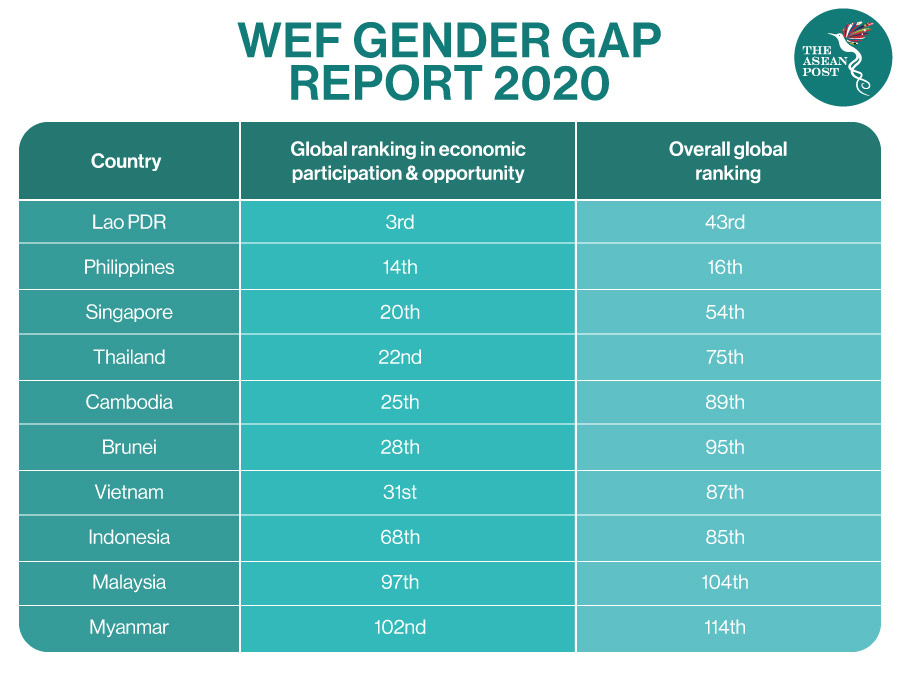 COVID-19 Pandemic
The coronavirus crisis has severely affected people from all walks of life – from children, and refugees, to entrepreneurs and policy makers, among others. Nevertheless, as it is with past events, pandemics affect men and women differently. 
A policy brief published by the UN titled, "The Impact of COVID-19 on Women" highlights the devastating implications the pandemic has on women and girls.
"The pandemic is deepening pre-existing inequalities, exposing vulnerabilities in social, political and economic systems which are in turn amplifying the impacts of the pandemic," stated the UN.
From health to the economy, security to social protection, the impacts of the coronavirus are exacerbated for women simply by virtue of their sex. For example, in the case of economic impacts – although everyone has been hit hard, it is especially felt by women and girls who are generally earning less, saving less, and holding insecure jobs or living close to poverty.
Women workers are also over-represented in sectors that have faced mass layoffs amid the pandemic such as domestic work, garment manufacturing, sex work, hospitality and social care.
The UN had also stressed that as the pandemic deepens economic and social stress coupled with social isolation measures, gender-based violence is increasing exponentially.
In an address last August, UN Secretary-General António Guterres said that the global pandemic has already reversed decades of limited and fragile progress on gender equality and women's rights.
"Without a concerned response, we risk losing a generation or more of gains," he warned.
But the current pandemic is not the only instance in which a crisis threatens the progress of gender equality. 
International non-governmental organisation (NGO) Human Rights Watch (HRW) noted that outbreaks of disease often have gendered impacts. The Ebola virus outbreak of 2014 and Zika virus in Brazil (2015-2016) had particularly harmful impacts on women and girls and unfortunately reinforced longstanding gender inequity.
In fact, over a hundred years ago, when the Spanish flu emerged in 1918 – it almost derailed plans for women's suffrage. Suffragists had been fighting for women's right to vote for 70 years, and then one of the deadliest pandemics struck – infecting one third of the world's population at the time. Social distancing was in place and rallies were inadvertently cancelled.
Back then, American women campaigning for the right to vote were faced with three main challenges; the wrath of the flu, the then-ongoing World War 1 and those opposed to women's suffrage. 
"Everything conspires against women suffrage. Now it is the influenza," a suffragist was quoted as saying in the New Orleans Times-Picayune in 1918. But today, a century has passed since the 19th Amendment was ratified and added to the United States' Constitution in 1920, thanks to the suffragists' perseverance. 
The UN noted that several important landmarks were achieved in 2020 with member countries reinforcing their determination to advance women's priorities and to ensure equal rights and participation in the peace and security agenda, on climate change, on building inclusive economies, and on eliminating the digital divide; so that women have an equal role to play in society.
Related Articles:
Women Bear The Brunt Of Virus Fallout In Workplace