They say that a dog is a man's best friend, and to quote Charles Dickens, "what greater gift than the love of a cat". But that is not the case for some animals who have been brutally abused and killed by humans just for sport.
Animal cruelty is a growing phenomenon and a worrying trend in Malaysia.
A few weeks ago, Salina, a Malaysian shared on Twitter that her beloved pet cat was found dead with all its legs chopped off. The pregnant cat still had a collar on its neck when it was discovered in a box, which means that the culprit committed the act knowing that the cat belonged to someone. 
In a similar situation a year prior, the Malaysia Animal Association, an animal advocacy group, shared on Facebook pictures of a dead kitten found in a state of horror – all four legs dismembered and half of its face cut off.
In perhaps one of the most shocking cases involving animal abuse in Malaysia which dates back to September 2018, a Malaysian man was sentenced to two years in jail for causing the death of a pregnant cat at a launderette. 
"This case is of public interest as it involves torturing a defenceless animal. This attitude is not accepted by society," said Roslan Mohd Isa, a Veterinary Service Department Prosecuting Officer in the state of Selangor in Malaysia. 
According to local media, the launderette manager received a call from a customer, informing that there was a carcass of a cat in one of the dryers. Closed-circuit television (CCTV) footage showed two men, with one of them taking a cat out from under a table in the launderette and throwing it into a dryer. The two men then inserted tokens into the dryer before exiting the shop. The viral CCTV footage caused outrage among Malaysians. 
Unfortunately, it's not just cats and kittens that have been tortured to death – but also dogs, especially strays.
Just last week, Malaysian media reported that local police are on the hunt for a man who is believed to have shot a dog to death with an arrow. In a CCTV recording that was circulated on social media, a man was caught holding an archery tool and shooting wild dogs in the early morning on a weekday.
Meenakshi Raman, President of Sahabat Alam Malaysia (SAM), a non-governmental organisation involved in environment and development issues reported that attacks on dogs and puppies are becoming especially prevalent in Malaysia, with reports of stray dogs being shot, poisoned and even a case of a dog being chopped up and burnt. There have also been reports of dogs being dragged to their deaths.
Rise In Animal Cruelty Cases
According to Malaysia's Veterinary Services Department (DVS), there has been a 30 percent rise in the number of reported animal abuse cases across the country from 510 in 2017 to 662 in 2018. Moreover, there was also an increase of 10 percent from 463 cases in 2016, compared with the previous year. More than 90 percent of these cases involved dogs, followed by cats.
"The number of cases is quite worrying, but it is due to public awareness of the need to address animal cruelty in the country," said the department's director-general, Quaza Nizamuddin Hassan Nizam.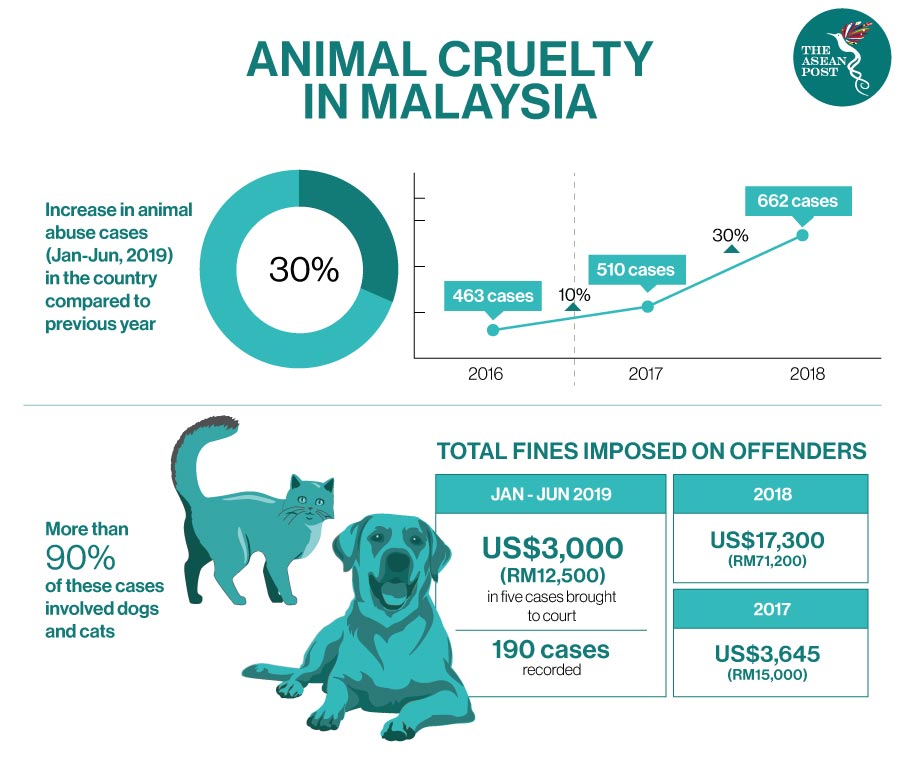 However, these statistics are only the tip of the iceberg as there are many more cases that go unreported or undetected. 
Despite the country's Animal Welfare Act 2015 which ensures that those caught acting cruelly towards animals are adequately punished – many animal abusers get away unscathed.
In an article published last September by a Malaysian news agency titled, "Stop Animal Cruelty," the author suggested two ways to address the issue.
Firstly, more awareness campaigns need to be carried out. Awareness campaigns could be targeted at children in order to educate them about how animals need and deserve to be treated. Other campaigns, meanwhile, can also be targeted at the public to raise awareness on the importance of reporting any case of animal abuse.
Secondly, the punishment for animal cruelty must commensurate with the gravity of the crime. 
Abandoned Post-Pandemic?
According to media reports, the number of people wanting to adopt furry animals as companions when Malaysia when into partial lockdown last year – known locally as the Movement Control Order (MCO) – has risen. 
This has raised concerns among animal rescuers as to what will happen to these newly-adopted pets once life for their owners goes back to normal?
Arie Dwi Andika, President of the Malaysia Animal Society said that it is an unhealthy culture, and abandoning pets when they are no longer wanted should not happen. 
Abandoned pets usually fare very poorly on the streets as they lack survival skills. Therefore, these animals would normally starve to death, become ill, or get killed.
Andika was also quoted in the media saying that dumping pet animals such as cats and dogs had tripled in and around Kuala Lumpur, the capital city of Malaysia during the MCO period.
Animal cruelty encompasses a wide range of cruel conduct such as leaving pets behind unattended for a long period of time, chaining up a pet for life without any chance for the animal to relieve itself, malicious acts as previously mentioned, as well as abandonment.
Related Articles:
Malaysia's Booming Exotic Pet Trade