Malaysia is known as a popular 'destination airport' and transit for the illegal wildlife trade, where an alarming number of wildlife products have been seized. Seizures are common at the Kuala Lumpur International Airport (KLIA), Penang International Airport and in the southern state of Johor, making the country among the top 10 smuggling hubs in the region together with the Philippines, Indonesia, Singapore and Vietnam.
A report by the Wildlife Justice Commission in 2018, titled 'Operation Dragon' revealed that Kuala Lumpur is the easiest port to move wildlife, partly due to traffickers needing to pay significantly smaller bribes for illegal consignments at the airport. Bloated bureaucracy and corruption have made it easy for smugglers to transport their illegal goods, including live animals.
'Someone's pet'
According to the United Nations Office of Drugs and Crime, the global wildlife trafficking industry is expected to be worth between US$7 billion and US$23 billion, annually. Wildlife being traded are endangered and protected under the law. Some of the animals traded are macaques, hornbills, rare parrots, colourful birds, rare reptiles, baby sun bears, deer, tortoises, and leopard cats. These animals are traded as pets, fuelling the lucrative exotic pet trade. 
Some of the pet trade may be legal, with traders owning licenses. But most of the times animals are captured from the wild illegally. In Malaysia, the demand for unique creatures has been fuelled by celebrities and social media influencers showing off protected wildlife as their household pets.
Recent incidents such as the sun bear cub found in Malaysian singer Zarith Sofia Yasin's condominium unit and the two tigers spotted roaming in the northern state of Terengganu have shed light on the exotic pet trade in the country. The tigers were most likely someone's pets because of their tame behaviour, observed Dr Abdul Malek Mohd Yusof, director at the Terengganu Wildlife and National Parks Department.
In early 2019, a former finalist of Dewi Remaja, a national beauty contest, streamed an Instagram live video of herself playing with her dusky leaf monkey, garnering several likes from followers. The species is classified as 'protected wildlife' under the Wildlife Conservation Act 2010.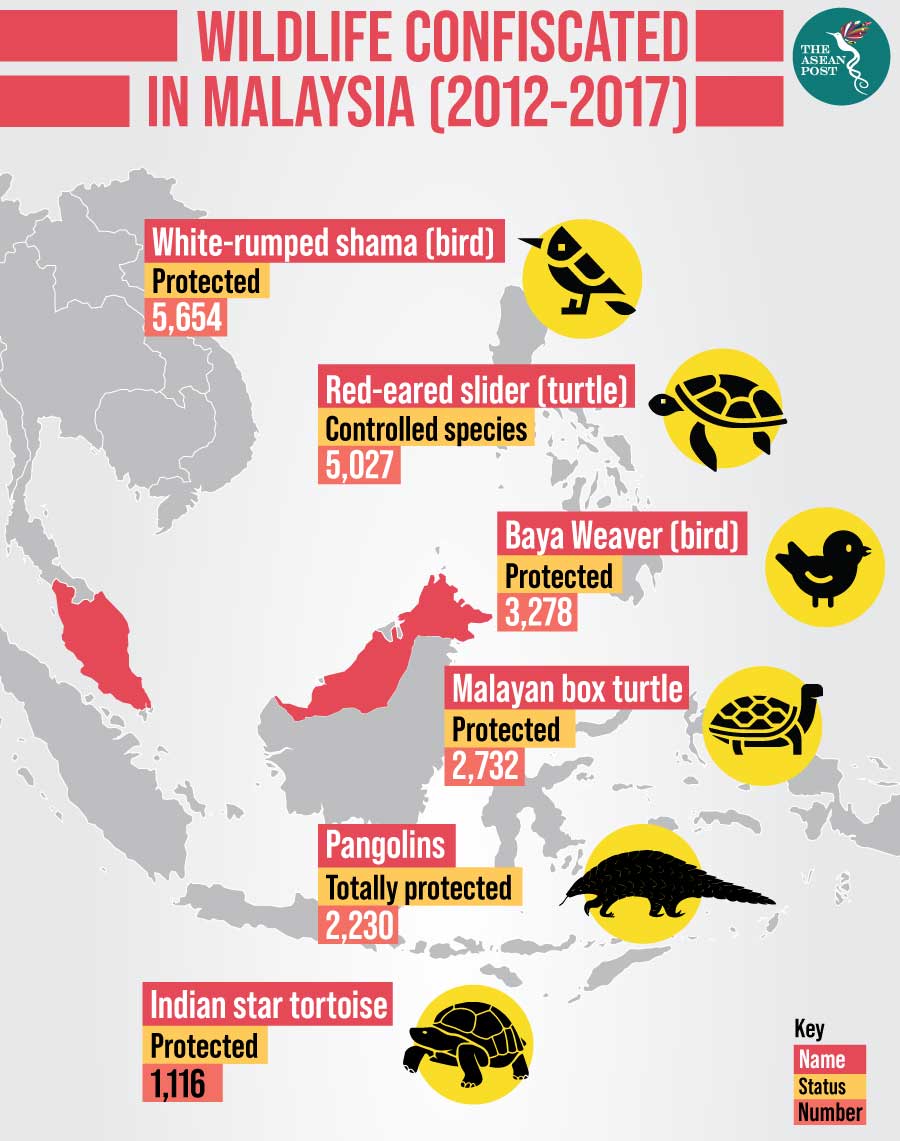 Source: Department of Wildlife and National Parks Peninsular Malaysia, 2019
Abdul Kadir Abu Hashim, director-general of Malaysia's Department of Wildlife and National Parks (Perhilitan) raised concern over the social media trend that could indirectly create more demand and further encourage the trade in illegal wildlife.  
"Most artists or celebrities are public figures with their own fans and followers. Their actions can start trends that are emulated by social media users," he said, adding that protected wildlife cannot be kept as pets as it is an offence under section 68 of the Wildlife Conservation Act unless a special permit is given. Owners of illegal wildlife have been called to hand over their pets to Perhilitan before they are subjected to further legal action. 
Melvin Gumal, director of Wildlife Conservation Society Malaysia is against the practice of keeping exotic pets, calling owners as irresponsible. "Endangered wildlife should remain in the wild and not serve as a plaything to get an influencer to look cool and garner more likes," he said, imploring social media personalities to use their platform to speak out against wildlife crimes instead. 
To date, the most popular animals kept as pets are dusky leaf monkeys, leopard cats, sun bears, slow lorises, various birds, otters and Asian palm civets. The majority of these animals are juveniles or babies, bought online and are often photographed wearing diapers and collars. Rarely are the exotic species captive bred as most are poached from the wild.
Slow lorises have been on the International Union for Conservation of Nature's (IUCN) 'Vulnerable' Red List since 2008 but their numbers in the wild are declining rapidly due to the illegal pet trade.
Poachers to be whipped 
The illegal trade in exotic pets mostly happens over the internet where each animal can fetch up to US$1,000 (RM4,500) on average. 
"The rise of social media appears to have enabled the creation of a thriving marketplace for wild animals as pets where one previously didn't exist in Malaysia," said Kanitha Krishnasamy, programme manager of TRAFFIC in Southeast Asia and co-author to the 2016 report on 'The use of Facebook to trade wildlife in Peninsular Malaysia.'
Unfortunately, Malaysia's Wildlife Conservation Act doesn't address the posting of protected animals for sale on social media. Abdul Kadir said that they are actively monitoring social media portals for illegal trading and possession of wild animals.
Not all animals survive the initial capture, transport, transit and captivity. The Animal Law Coalition reports that 60 percent of wild-caught birds do not survive. The animals that survive would later either die at the hands of their new owners due to ignorance and neglect or eventually are abandoned or surrendered to the nearest animal shelter. 
"We need to have a more comprehensive and stricter law to deter the culprits as the rise of social media and online trading portals has also worsened the situation," said animal welfare activist Lee Lam Thye. 
Perhilitan is currently working to amend the Wildlife Conservation Act 2010 particularly in strengthening the legislation on online trade.
Proposals to combat the illegal wildlife trade include a shoot-on-sight policy and increasing penalties and fines. In May 2019, the Terengganu state court fined two Vietnamese nationals caught poaching US$37,400,000 (RM1.56 million), the highest fine ever for poaching in Malaysia. The Inspector-General of Police (IGP) Abdul Hamid Bador has also recommended that wildlife poachers and smugglers be whipped.
Wildlife, exotic as they are, do not belong in captivity and the pet trade is a threat to a nation's biodiversity. Instead of selfishly keeping them as pets, we should protect their natural habitats and learn to enjoy them in their natural environment. 
Related articles:
Money laundering and the illegal wildlife trade
The plight of Asia's Black Spotted turtles