On Tuesday, social media feeds were flooded with black squares posted by corporations, celebrities, sports stars and the general public – along with the hashtag #BlackOutTuesday. It was reported that the idea was to fill Facebook, Twitter and Instagram with blackout squares, halting other activities on social media to free up the time usually dedicated to these platforms for people to educate themselves on the Black Lives Matter movement. Millions of people from different parts of the world participated in the campaign.
Demonstrations had broken out across the United States (US) following the death of George Floyd – an African-American who died after being arrested by local police outside a shop in the state of Minnesota. Footage of the arrest went viral and showcased a white policeman, Derek Chauvin, kneeling on Floyd's neck while he was pinned to the ground. 
Floyd could be heard repeatedly saying, "I can't breathe," pleading for his life and begging "please, please, please".
Demonstrations over the callous killing of George Floyd have now gone global. Thousands around the world, from London in the United Kingdom (UK) to Auckland in New Zealand – are protesting against police brutality in solidarity with US demonstrators. 
The Black Lives Matter movement which campaigns against violence and systemic racism towards black people – began with the use of the hashtag #BlackLivesMatter on social media back in 2013. This followed the acquittal of George Zimmerman in the shooting death of African-American teen Trayvon Martin in 2012.  
The movement has returned to national headlines in the wake of the George Floyd protests.
The #BlackLivesMatter hashtag can also be widely seen on Southeast Asian social media where thousands of people from the region are showing support for black communities in the US. Nevertheless, there have also been responses from some who believe that the matter does not concern them.
Although the extent of violence against black people in the US is incredibly different than what is experienced in ASEAN, one must admit that colourism, anti-blackness, discrimination, racism and xenophobia are still major problems in the region.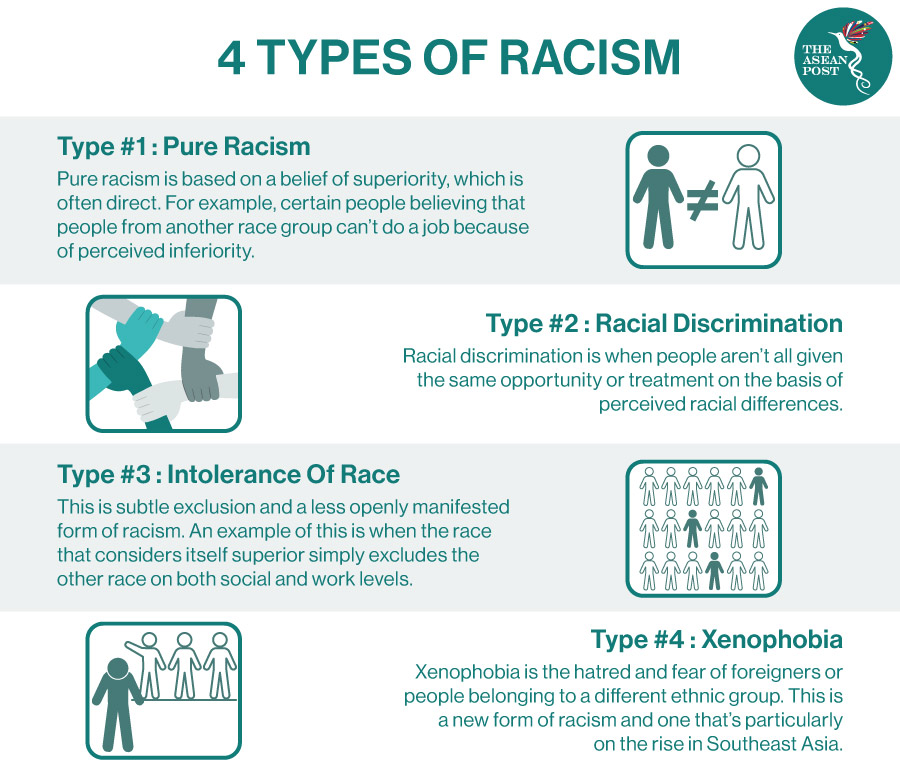 Asians have long associated beauty and wealth with fair-skin. A walk in the beauty isle of any shopping mall in the region would reveal a display of a variety of products that focus on skin whitening and brightening. A media report stated that some people in the region "take rigorous precautions to protect their skin from the sun, preferring a light complexion that has historically indicated that one doesn't labour outdoors." Some women in the Philippines and Malaysia among others have even resorted to harmful options to achieve fair skin, including skin bleaching.
According to market research publisher, Global Industry Analysts, the global skin-whitening market was valued at US$4.8 billion in 2017 and is projected to hit US$8.9 billion by 2027 with Asian countries serving as major contributors. This glorifying of a light complexion could result in further demonisation of darker-skinned people. 
That is just the tip of the iceberg.
Intolerant Southeast Asia
In 2019, a Nigerian PhD student, Thomas Orhions Ewansiha died while in police custody at an Immigration Depot in Malaysia. It was reported that he had a seizure in his sleep. The student attempted to flee during a raid conducted by enforcement officers. However, he managed to produce a valid passport and student pass upon checking.
"The action of the subject in trying to escape created doubts on the validity of the student pass held by the subject," said Immigration Department of Malaysia director-general Khairul Dzaimee. Ewansiha was suspected of committing an offense under the Immigration Act and was held for 14 days for further investigations.
In recent years, the African population in Malaysia has been actively growing, in the form of expatriates and students. Nevertheless, locals often perceive them as being 'illegals', sometimes even 'criminals' and display negative reactions to Africans in general due to prejudice.
Nevertheless, the death of Ewansiha is not the first death under police custody in Malaysia. 
According to human rights group Suara Rakyat Malaysia (SUARAM), the majority of deaths in police custody reported in the media are ethnic-Indians. A local media report revealed that there were 257 deaths in police custody between 2002 and 2016, based on statistics provided by Malaysia's Home Ministry. Nevertheless, it is said that there is a possibility of massive underreporting of deaths in police custody in the media.  
Over in Myanmar, racism has existed for years – and can be traced back to the 1930s when anti-Indian sentiments began to rise in the country. According to media reports, between the year 1930 and 1962, thousands of Indian-origin Burmese had to flee to India. This flight of a minority from then Burma, can now be seen happening yet again with the Rohingya of Myanmar. Branded as "the most prosecuted group in Asia", the community faces alleged repeated violence in the country. Many have journeyed to Bangladesh, India and Malaysia to save their lives. 
"For decades, Rohingya in Rakhine State (on the western coast of Myanmar) have faced discrimination and racially-based restrictions in law, policy and practice. This has intensified since 2012, following waves of violence between Muslims and Buddhists, often supported by security forces," noted Amnesty International in a statement.
ASEAN member state Indonesia is also guilty of racial discrimination. It was reported that in 2019, Indonesia saw a series of protests by Papuans in the archipelagic nation in response to the arrests of Papuan students for alleged disrespect of the national flag. In several locations, the protests turned into violent riots, which resulted in the destruction of buildings and even death. Media reports stated that the riots broke out following allegations of racist abuse and mistreatment of Papuan students. 
"The racism experienced by many Papuans in Indonesia is deeply rooted in culture and history. It can be violent or subtle," Jenny Munro, a cultural anthropologist and lecturer at the University of Queensland noted in a publication titled 'Let's talk more about racism in Indonesia'.
Of course, discrimination, colourism and xenophobia are not only visible in geopolitical affairs across the region, but can also be seen in regional films and some television commercials. For example, Dunkin' Donuts ran a "bizarre and racist" advertisement in Thailand which featured a woman in "black-face" makeup. It was reported that Dunkin' Donuts chief executive in Thailand defended the campaign but a spokesman from Dunkin' Brands later apologised for the controversial commercial. 
It is unfortunate that even in today's world, the colour of our skin is used to define us. However, there are a number of ways that people can take action against colourism: 
1) Educate yourself on the Black Lives Matter movement, anti-blackness, privilege and systemic oppression.
2) Speak up against racism and discrimination.
3) Amplify black voices by reading or listening to works produced by people of colour.
4) Donate to funds such as the George Floyd Memorial Fund or sign petitions that could possibly help in making a difference.
The ASEAN Post stands in solidarity with black America's struggle for justice and also with all those across the region who are discriminated against on a daily basis just because of the colour of their skin. 
Related articles:
'Endemic Racial Discrimination' Exposed In US