A vibrant small medium enterprise (SME) ecosystem holds the key to achieving broad-based and inclusive growth in developing countries. Now with technological advancements, micro enterprises have the same opportunities to reach out to the international market as do SMEs. 
Destry Anna Sari, Chair of the ASEAN Coordinating Committee on Micro, Small and Medium Enterprises (ACCMSME) stressed the importance of providing a conducive ecosystem for micro-enterprises to thrive in. "Given the right ecosystem, support, policies and regulatory environment, the micro enterprises could have the same opportunities as the small and medium enterprises."
According to a 2018 report by Bain & Company, Micro SMEs (MSMEs) in ASEAN greatly contribute to livelihoods, communities and economies in the region accounting for up to 99 percent of business establishments. MSMEs also contribute to more than half of ASEAN's gross domestic product (GDP), while employing more than 80 percent of the workforce. 
The ASEAN Business Incubator Network recently organised an event in conjunction with Innovfest Unbound 2019, to promote exchange of innovation and technology and provide a platform for business networking among ASEAN MSMEs. A total of 32 MSMEs and start-ups were selected to participate, however only seven of them are led by women.
The Mckinsey Global Institute found that if women in East and Southeast Asia were to match the economic activity of their male counterparts, they would add US$900 billion in annual output by 2025, growing the region's GDP by eight percent. 
Barriers for women 
There are 61.3 million women across ASEAN countries who own and operate businesses, as reported by the Global Entrepreneurship Monitor (GEM) 2018. Many of these businesses are SMEs. Yet, even with a high self-employment rate, at around 50 percent, women-owned businesses often lag behind male-owned enterprises in terms of size, and productivity with little potential for further expansion. According to the World Economic Forum (WEF), women's businesses also tend to be less profitable and less resilient to the impact of adverse economic shocks.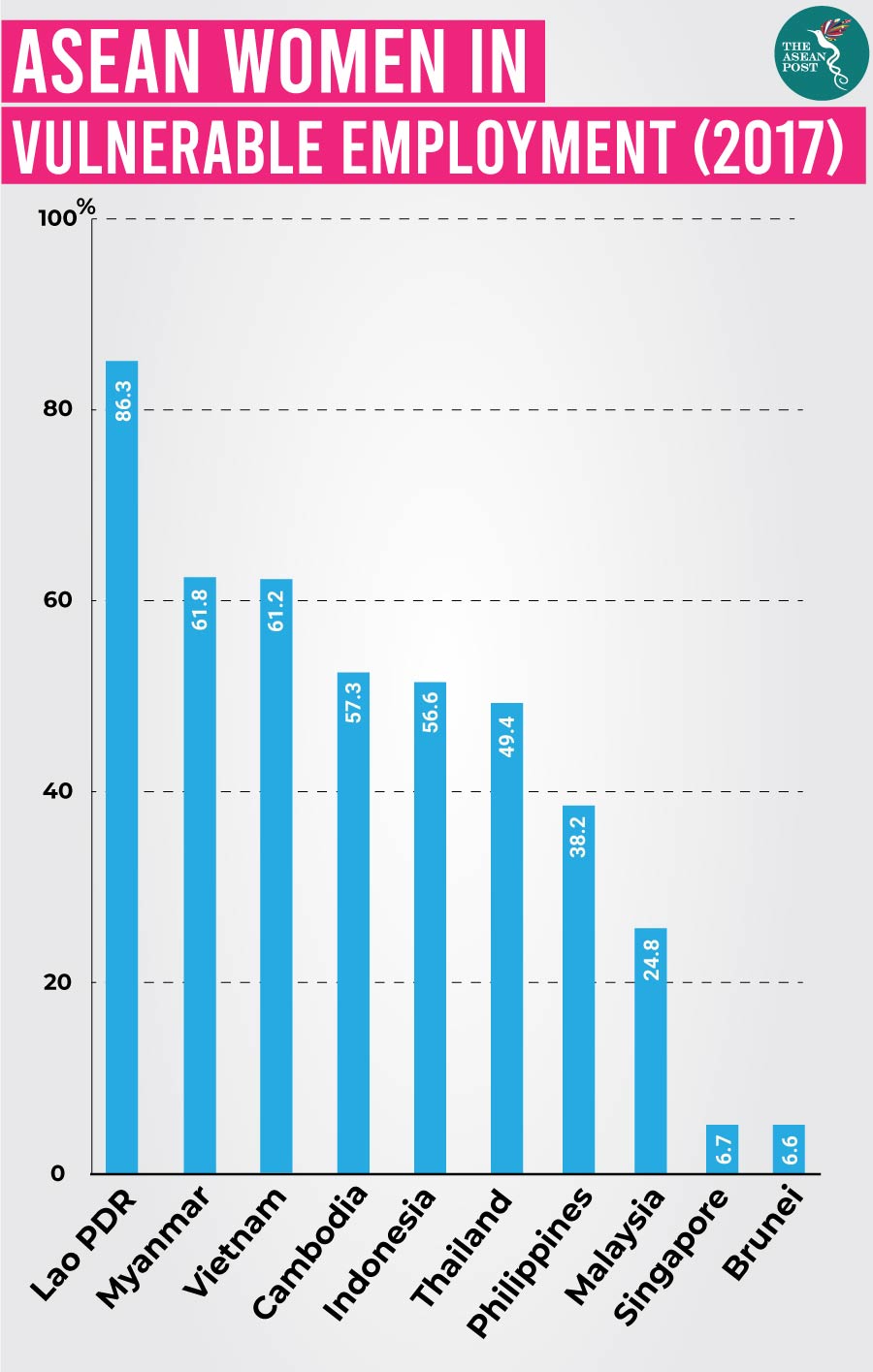 Source: International Labour Organization, 2017
Supported by the Mastercard Center for Inclusive Growth, researchers at Centennial Asia Advisors found that many women entrepreneurs are preferring to stay small, within the shadows of the informal economy. There are several factors that plays into their decisions among which are a lack of confidence to manage larger purchase orders, lack of funding to purchase raw materials or hire additional staff to meet increasing demand, a preference to not recruit new staff outside family members and the need for their husband's approval to take a loan and pledge collateral. 
The research also found that women-owned businesses in Indonesia are often viewed as only sources of supplemental income. The gender gap for financial access also remains wide according to the United Nations (UN) Economic and Social Commission for Asia and Pacific (ESCAP). For loans, banks require collateral and this is something that men are more likely than women to possess. Women-owned MSMEs with adequate access to financing in ASEAN economies averaged only five to six percent of microenterprises, 12 to 15 percent of small firms, and 17 to 21 percent of medium-sized enterprises. Dampened by culture and policy, women continue to build their businesses fully aware of the disadvantages they will face down the line.
The WEF reported that ASEAN nations have made progress towards achieving gender parity in educational attainment but educated young women are not participating in an equal way in the economy. Indonesia has the third best educational attainment in ASEAN (0.986) but its gender economic participation and opportunity (0.610) is the worst. The UN has said that education investment will result in greater economic activity among women but the numbers don't agree. 
Clearly, harnessing women's economic potential will have a significant impact on wealth expansion, job creation and improved livelihood. The social and economic impact of female-owned businesses is substantial. 
Impact funds
Impact investments are funds actively invested in ASEAN businesses for financial and social or environmental return. But Cambodian Support Her Enterprise (SHE) saw that these impact investments were not trickling down to the SME level. They also found that women were not able to access investment as easily as men. 
According to the Asian Development Bank (ADB), women own 65 percent of Cambodia's businesses, but 96 percent of them are informal and micro-sized, with many engaging less than four people. SHE, a 90 percent Cambodian female team are supporting these micro, small and growing businesses to scale, through financing and mentorship. "We want to see that all women are empowered to grow their business, and we believe that their growing contributes to Cambodia's economy as a whole," said co-founder, Loem Lida. SHE's goal is to get one million people to earn an income from women-owned businesses by 2030.
Ernst & Young's 2018 report on Investing in Women (IW) in Southeast Asia, suggests that impact investors need to instil a gender lens investing strategy. A gender lens strategy promotes greater gender equality and also alleviates the economic plight of women and girls, all while earning a financial return. 
"If impact investors look to create stronger social impact – reaching deeper into untapped markets of developing countries, then they need to incorporate a gender lens into their investment strategy," explained Dr Julia Newton-Howes, CEO of IW.
Elevating women's professional ambition by removing barriers to their economic opportunities can help create a robust and inclusive market. Unfortunately, Southeast Asia's economies are overlooking women at their own loss.
Related articles:
ASEAN's commitment to empowering women