Food is synonymous with Southeast Asia. From the mouth-watering delicacies on the streets of Thailand, Cambodia, Malaysia and the Philippines – just to name a few – to the Michelin starred restaurants that serve fine dining quality cuisine with a dash of authentic local flavours.
Yet, there is pressure on our food system to produce 70 percent more food to feed a population of 10 billion people globally by 2050. By then, the population of ASEAN is slated to reach 700 million and its food demand is estimated to increase by 40 percent. It is then imperative to achieve food security, without expanding crop or pastureland all while reducing greenhouse gas (GHG) emissions. 
Food technology is gaining traction in the region where scientific engineering of food has taken mankind a long way on the path to increasing its availability, access and quality.
High value nutrition foods
ASEAN's growth is fuelling an increased demand for nutrition, protein sources and bespoke food and beverage products. According to the World Economic Forum (WEF), the expanding middle class in the region is leading this increase, along with the rise in health awareness and changes to patterns of food intake. The percentage of the urban population within ASEAN is expected to grow to around 65 percent from the current 48 percent. 
Consumers will become more open to non-traditional food as their incomes rise. As they alter their lifestyle decisions and as product choices for consumption change, so too will their diet, all of which will drive the composition of the food trade. There is a vast potential for supplements, functional foods and high-value nutritional products in Southeast Asia. 
Food products that supply nutritional benefits beyond those of regular food are called high value nutrition foods. They are made up of 'nutraceutical' products (e.g. dietary supplements), 'functional foods' (e.g. energy boosting and weight management food products), and 'high-value' agriculture food products (e.g. organically grown and fair-trade food products). 
Based on a survey by information, data and measurement company Nielsen, Vietnamese consumers consider health to be among their top two concerns, while 90 percent are concerned about the long-term health impact of artificial ingredients. 89 percent of Vietnamese are willing to pay more for foods that promote good health.
88 percent of Vietnamese consumers bought new products on their last grocery shopping trip, compared to 76 percent in Thailand, 72 percent in Indonesia, and 68 percent in Malaysia. All these indicate the interest and openness of Southeast Asians to new products launched in the market. 
A growing awareness of food sustainability has prompted a rise in socially responsible food purchases. ASEAN governments are also increasing their focus on investing in preventive health measures while encouraging healthy food innovation, production and technology.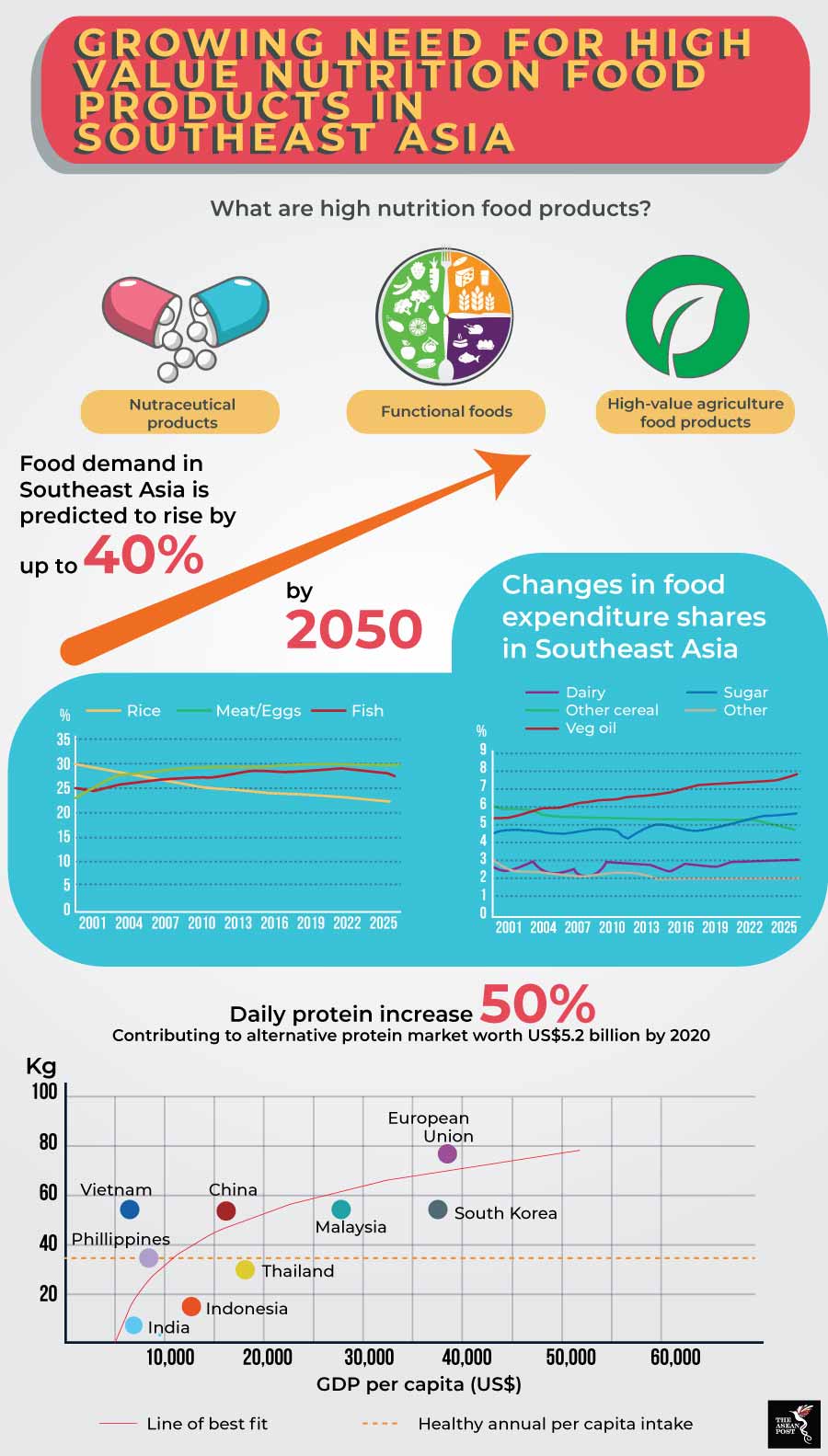 Source: Various
Regional progress
Between 2016 and 2017 there was a notable increase in non-animal sources of protein being consumed by both, urban Thais and Indonesians, who believe that non-animal protein is healthier. According to a 2018 report by KPMG and CSIRO, daily protein consumption in ASEAN has grown by 50 percent over the past three decades, contributing to an alternative protein market expected to be worth US$5.2 billion by 2020. 
Singaporean food-tech start-up, Life3 Biotech, aims to create functional foods which utilise natural, plant-based ingredients. They recently developed a meat substitute product that resembles lab-grown meat and tastes like chicken. Life3 Biotech's plant-based protein 'Veego' is slated to start production this year.
The island nation is also home to Alchemy Foodtech which combines food tech, biotech and medtech to develop foods that can help prevent and manage diabetes. Over in Indonesia, the likes of TaniHub, eFishery and Jala all aim to develop sustainable methods of sourcing and selling organic food products. 
Shiok Meats is a cell-based clean meat company based in Singapore, which produces alternative healthy seafood and meats by harvesting from cells instead of animals. Other meat alternatives are insect protein and algae protein. 
The growing market for functional food in the Asia-Pacific region – projected to be valued at US$5 billion by 2026 – has piqued the interest of start-ups looking to tap into this immense potential. Singapore is also fast becoming a hub for functional foods with the establishment of the Clinical Nutrition Research Centre in 2014. The centre aims to pursue research in understanding how food may be used to prevent and manage chronic disease and to promote healthy aging.
Globally, there is a shift in the way urban populations consume food – whether it is organically sourced, or genetically modified. Today, food technology is fast becoming a mainstream focus as people in general want to know more about the various foods that they consume. 
Related articles:
Food security a key issue for ASEAN