A recent study has found that employee engagement in Singapore continues to be a challenge as it still lags behind the global average. According to the report from experience management firm, Qualtrics, released on Sunday, Singapore's employee engagement was at 47 percent based on such metrics as opportunities for growth and development, management effectiveness, and support and resources.
The study was conducted over 18 days and included 13,551 respondents aged 18 years or older and in employment across 17 countries and regions. About 500 respondents were from Singapore.
Singapore's score of 47 percent was comparatively low to the rest of the world including countries like the United States (US), France, Canada, Australia, and New Zealand which all scored between 53 to 55 percent.
This isn't the first time that a report has pointed towards Singaporeans' lack of employee engagement – the extent to which employees feel passionate about their jobs. About a year ago, in March, global consulting firm, Mercer, released a report titled, "Singapore Employee Engagement Index 2018" in which it placed Singapore in second last place for employee engagement in the Asia Pacific region. 
While Mercer had scored Singapore's employee engagement at 72 percent – not a bad number – it is still a cause for concern as employees in countries like Indonesia, Philippines, and Vietnam all enjoy a much higher engagement rate of 82 percent.
More worrying is the fact that, according to the index, only 67 percent of employees in Singapore were willing to advocate for their companies as good places to work in, compared to the regional average of 76 percent.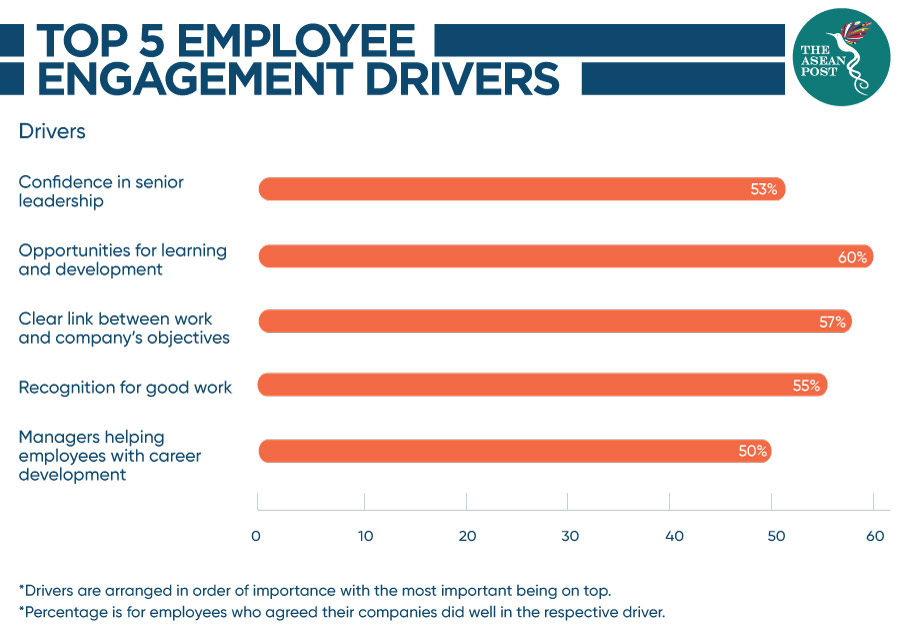 Stress
Pinpointing an exact cause for workplace dissatisfaction in Singapore would be hard to do as the internet is filled with different comments from people with different experiences. 
For example, in March 2014, a Filipino netizen living in Singapore wrote on Quora that aside from steep living expenses, he found that working in Singapore was highly "stressful".
"I did work in a small IT firm before… the atmosphere was great but the pressure was crazy! Sleep was getting lesser, [SIC] deadlines are weekly, no weekends of almost two to four weeks. But I fought on, even though my mind was set on quitting. I stayed for another year even though I feel [SIC] so demoralised. I felt so down because daily scrum [SIC] became daily scrutiny on me."
In September, data insights and consulting company, Kantar released the results of a study which found that bullying in the workplace is exceptionally high in Singapore. It discovered that 24 percent of workers in Singapore said they have been bullied in the workplace in the past year, which is among the highest levels in the 14 countries surveyed. The other two countries which revealed high levels of workplace bullying were Brazil and Mexico.
But that's not all. Singapore employees are also the most likely to be made to "feel uncomfortable" (32 percent) by their employers, compared with those in other countries polled.
The findings also showed that many workers in Singapore are struggling to deal with pressure, with 44 percent reporting that they are affected by "stress and anxiety" at work, above the study's global average of 39 percent.
On improving scores, Qualtrics employee experience senior solutions strategist for Asia-Pacific and Japan, Stephen Choo, said that the study shows that asking for employee feedback and frequency with which organisations ask for said feedback have a direct impact on employee engagement scores. 
"However, what really moves the needle is whether employees feel the company turns their feedback into tangible actions," he said.
The report noted that top drivers of employee engagement in Singapore include a clear link between the work and the company's strategic objectives, confidence in senior leadership to make the right decisions, managers who help with career development, opportunities for development and recognition for good work.
Choo added: "It's critical for businesses to regularly ask (for) feedback, listen and, most importantly, act on it." 
Related articles:
Singaporeans are unhappy at work