A recent study has found that bullying in the workplace is exceptionally high in Singapore.
The inaugural Kantar Inclusion Index compares employee feedback on their diversity and inclusion (D&I) experiences. It interviewed 18,000 people in 14 countries, including 1,050 individuals in Singapore. 
The index covers 24 industries, including health and pharmaceuticals; education; professional services such as legal and accountancy; retail, wholesale and e-commerce; financial services; and the public sector.
Based on survey findings, Kantar found that 24 percent of Singaporean workers said they have been bullied in the workplace in the past year, which is among the highest levels among the 14 countries surveyed. The other two countries which revealed high levels of workplace bullying are Brazil and Mexico.
But that's not all. Singapore employees are also the most likely to be made to "feel uncomfortable" (32 percent) by their employers, compared with those in other countries polled.
The findings also showed that many Singaporean workers are struggling to deal with pressure, with 44 percent reporting that they are affected by "stress and anxiety" at work, above the study's global average of 39 percent.
Types of workplace bullying 
The Asia Law Network published an article on workplace bullying and knowing one's rights and remedies. That article highlights three categories of bullying at the workplace: blatant or subtle, sexual or non-sexual, and cyber-bullying.
Blatant forms may involve hurling vulgarities at an employee, or even physical abuse in the form of shoving or pushing. In May 2015, news broke of a Singaporean who suffered a mental breakdown after constant bullying at the workplace. Among some of the bullying he faced was being humiliated publicly, being screamed at, being ostracised, and at one point a folder was even thrown at his face during a meeting right before his boss screamed at him to "shut up!"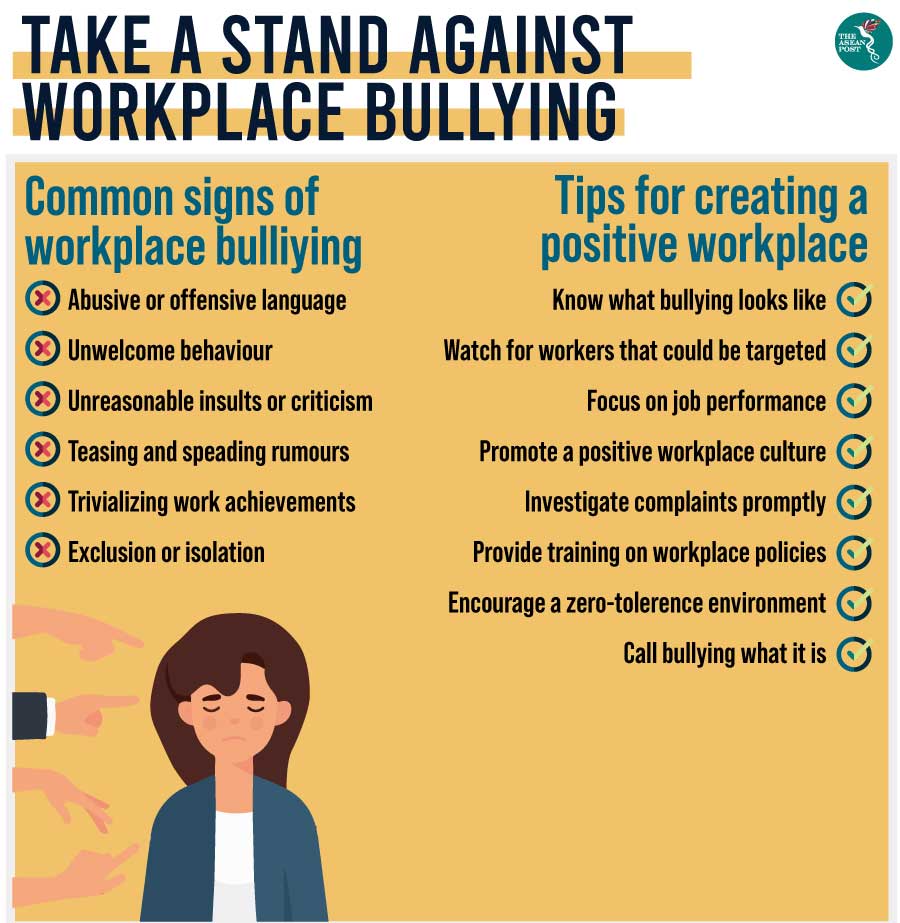 Source: LMC Insurance and Risk Management
Sexual harassment may involve unwelcome physical contact or requests for such contact, sexually coloured remarks and showing obscene images to a colleague. In 2017, The New Paper reported how a Mediacorp employee had made "inappropriate remarks" to a Channel NewsAsia producer, Ms Park Juwon. Specifically, he claimed that she could not be a presenter due to her lack of bodily assets. In addition, The Sunday Times interviewed women in the Singapore entertainment industry in 2017, and obtained many anecdotal accounts of sexual harassment by their superiors.
In this digital age, workplace bullying can even occur on digital platforms, in the form of cyber-bullying.
"Cyber-bullying can occur when a co-worker uploads compromising photos of a fellow worker onto Facebook, where everyone can see it. It can also involve spreading malicious falsehoods about a colleague via a blog post. This may be more serious than conventional forms of bullying, because information published online can reach a wide audience, and can go viral easily. Such information can also be difficult to remove completely from the Internet," the Asia Law Network notes.
Effects
According to a study published on Frontiers in Psychology entitled "Detrimental Effects of Workplace Bullying: Impediment of Self-Management Competence via Psychological Distress", exposure to workplace bullying had negative effects on the worker facing the bullying. The study confirmed its hypothesis that "exposure to workplace bullying is negatively related to self-management ability".
"One potential explanation for this relationship may be based on Ansbacher and Ansbacher (1956), who claimed that stressful circumstances at work (such as exposure to workplace bullying) may be perceived as a threat and lead an individual to active or passive self-defensive behaviours. As Dreikurs (1975) and Dreikurs (1996) also proposed, in stressful circumstances feelings of inferiority increase and, as a consequence, an individual becomes less aware of various choices for his/her reactions and behaviours. Hence, exposure to workplace bullying may impede flexibility of decision-making and increase the likelihood of impulsive behaviour, which is linked to the lack of self-management ability," the study noted.
It is clear then that bosses who bully their employees may be gaining the opposite of what their company truly needs: productivity. This is especially true in fast-paced and competitive Singapore where efficiency and productivity could mean the difference between beating or losing to the competition. It is hoped that as more studies shine the spotlight on workplace bullying in Singapore, that this practice becomes less and less prevalent. 
Related articles:
Thais have a sexual harassment problem