In sharing their opinions regarding what their government should prioritise in the 2020 fiscal budget, 65.9 percent of Thais polled by the Super Poll Research Centre placed healthcare as their top concern. Just behind that, however, 59.8 percent of Thais polled also prioritised good and secure jobs. 
Just like healthcare – which Thailand is thriving in compared to other ASEAN countries – the reason why more than half of the Thais polled mentioned jobs may be slightly confusing to outsiders at first glance. After all, according to Trading Economics, a United States (US)-based financial services company that specialises in economic data, the unemployment rate in the country as of September 2019 was a mere one percent. Numerous other reports have also mentioned Thailand's low unemployment rate for its 69.6 million population.
Nevertheless, dig a little deeper and (like healthcare) the situation is a little more complex.
In the first quarter of 2017, FT Confidential Research (FTCR), an independent research service from the Financial Times, found that job insecurity had risen in ASEAN despite economic recovery in some regions. FTCR polled 5,000 people across five ASEAN economies (Malaysia, Thailand, Vietnam, Philippines, and Indonesia) and found that 22.8 percent of the respondents expressed concern about their job security over the coming six months, up 2.5 percentage points on its survey at the end of 2015.
Greater insecurity was coupled with a rise in the perceived difficulty of finding a new job. The share of ASEAN job seekers saying they were having difficulty rose 4.5 percentage points to 59.6 percent. Malaysians were the most negative where 74.5 percent of job seekers said it was difficult to find new employment, up from 66.2 percent at the end of 2015. This was followed by Indonesians at 59.7 percent, Thais at 59.5 percent, Vietnamese at 49.6 percent, and Filipinos at 48 percent.
In terms of minimum wages, statistics from the Bank of Thailand show that from 2012 to 2016, the minimum wage remained stagnant at 300 baht (US$9.93) a day. In 2017, there was a slight increase to 305 baht (US$10.09) a day, and then in 2018 there was an increase to 325 baht (US$10.75) a day.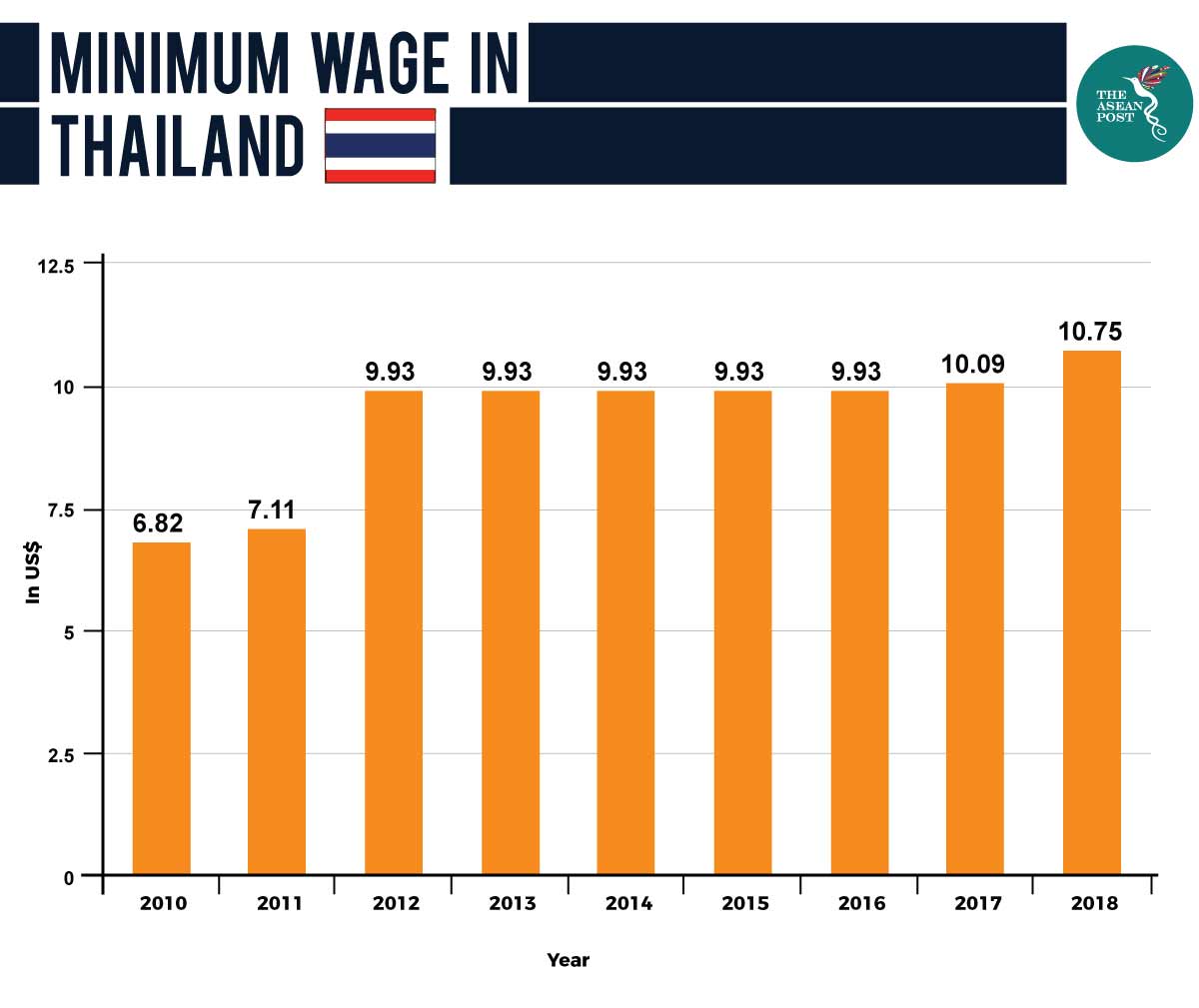 Ageing society
Another factor that could have most Thais worried regarding "good and secure jobs" is the fact that Thailand isn't as young as it used to be. 
According to 2018 estimates by the Central Intelligence Agency's (CIA) World Factbook, the majority of Thais (46.1 percent) were aged between 25 to 54 years old. Meanwhile, only 16.7 percent were 14 years old or younger, 13.8 percent were between the ages of 15 to 24.
Deputy government spokesperson Ratchada Thanadirek said recently that as of 2018, the number of Thai citizens who are aged over 60 accounted for 12 million people, or 18 percent of the population as a whole. Ratchada was speaking after the National Elderly Committee Meeting where the government discussed how best to help the ageing population to continue contributing to society while preparing for old age.
"Most of those aged between 60 and 64 are still in good health and capable of working. However, up to 41 percent of them are unemployed or have voluntarily stopped working, meaning that they now have an inactive lifestyle. Furthermore, statistics show that many Thai people are entering old age without proper preparation," she was quoted by local media as saying.
Good news
Nevertheless, there seems to be good news for Thais as far as being an ageing society goes. 
The government has agreed to have an "active ageing" plan as part of the national agenda. The plan aims to provide and upgrade vocational skills for those over 60, in addition to looking at job creation suitable for that age group.
"The plan also urges employers to hire more elderly staff by providing benefits, as well as encouraging seniors to sign up for the National Savings Fund (NSF) to promote sustainable financial management in old age," Ratchada went on to say.
So, could this "active ageing" plan be the answer to what 59.8 percent of Thais want? We'll have to wait and see. Meanwhile, it's best for Thais to continue sharpening their skills to ensure their marketability in various industries. 
Related articles:
What Thais want to see in 2020 Budget